While the rest of the world has been captivated by the allegations that Kim Jong Un assassinated his own half-brother, North Koreans have remained largely oblivious.
The internet and any form of international media are strictly banned for most of North Korea's 25 million citizens. Their strict diet of propaganda means most North Koreans have little idea about the outside world beyond what Kim's oppressive regime feeds them.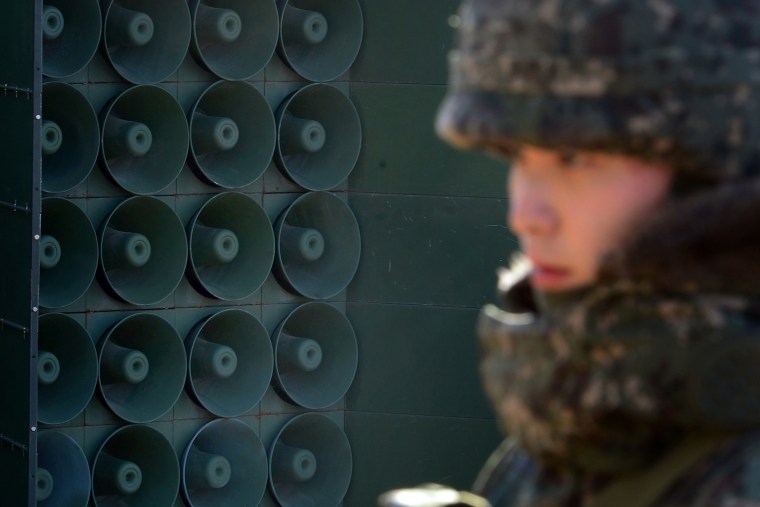 But arch rival South Korea wants to fill in its neighbors on the latest developments.
"We are considering providing information about the killing of Kim Jong Nam into North Korea via loudspeaker broadcast," a South Korean military officer told NBC News.
This tactic isn't new.
South Korea has previously used giant speakers to blast propaganda across the heavily militarized border.
It's also treated its Northern neighbors to K-pop, an abbreviation of "Korean pop music" characterized by high-energy songs and garish colors.
In August 2015, things came to a head when North Korea ordered its troops to enter a "wartime state" and threatened military action unless the South turned its speakers off. The North shot at one of the loudspeakers and the South fired dozens of artillery shells back in response.
After a lull, the South resumed these broadcasts in January 2016 following the North's fourth nuclear test. The broadcasts usually last four-to-six hours and are played at random times during the day.
An unknown number of these giant speakers are dotted across the border and are so loud that they can be heard up to six miles away, according to the South Korean military.
The neighbors remain locked in a tense standoff and are still technically at war. This is because the 1950-3 Korean War ended in an armistice rather than a truce.
Kim Jong Nam died after suddenly falling ill at an airport in Malaysia on Monday. Three people have been arrested and officials are hunting four others, according The Associated Press.
PHOTOS: North Koreans Celebrate Birthday of Kim Jong Il Just Days After Son's Death
Police identified one of the suspects as a woman wearing a top with "LOL" emblazoned across the chest who was filed by security camera.
South Korea's intelligence services believe he was assassinated by North Korean agents, although results of the autopsy have not yet been released.