WASHINGTON — Diplomatic efforts between the United States and North Korea are in peril with Pyongyang shunning talks in response to President Donald Trump's increased public attacks on Kim Jong Un, according to multiple U.S. government and congressional officials.
Joseph Yun, a top American diplomat to North Korea, has been warning of the breakdown in meetings on Capitol Hill and seeking help to persuade the administration to prioritize diplomacy over the heated rhetoric that appears to be pushing the two nuclear powers closer toward conflict, sources familiar with the discussions told NBC News.
The warnings from Yun and Congressional officials come as the president prepares for his first official trip to Asia next month and as tensions between the two nations are near an all-time high. Officials throughout government worry that a lack of diplomacy increases the risks of military action in the region.
They also explain some of the alarmist comments that have been made by Republican and Democratic Senators in recent weeks, most notable Foreign Relations Committee chair Sen. Bob Corker who has said repeatedly that the president is undercutting diplomatic efforts.
While few think that Trump would order a pre-emptive strike, a lack of communication between the two countries or through China increases the chances of miscommunication, leading to a further escalation.
Yun's diplomatic efforts are on their "last legs," one U.S. official said, adding that Yun is frustrated by an inability to communicate the urgency of the diplomatic situation to the White House.
"It is not so much that North Korea is shutting down, it's that the message from the U.S. government is, 'surrender without a fight or surrender with a fight,'" a separate U.S. official told NBC News.
Related: Don't Back Kim Jong Un Into a Corner, Putin Warns
A Congressional aide who has spoken with Yun directly says the diplomat is searching for a "hail Mary" attempt to restart any sort of talks, including perhaps a high-level envoy or dispatching Secretary of State Rex Tillerson.
Yun was not available for comment, but East Asian and Pacific Affairs Bureau spokesman Justin Higgins told NBC News: "We can't comment on allegations from anonymous sources. What I can say is that Ambassador Yun has been faithfully executing the Trump administration's North Korea policy since Jan. 20, including his trip to North Korea at the president's direction to bring American citizen Otto Warmbier back to the United States after a year in captivity." The White House did not respond to a request for comment.
"We are running out of time"
Yun, the deputy assistant secretary for Korea and Japan at the State Department, has told Congressional aides and government officials that the White House has "handicapped" diplomacy.
Corker used similar language when he said recently that tweets from Trump have raised tensions and undercut Secretary of State Rex Tillerson.
"When you kneecap that effort you really move our country into a binary choice which could lead to a world war. So yes, I want him to support diplomatic efforts, not embarrass and really malign efforts that are underway," Corker said on NBC's TODAY on Tuesday.
Trump's war of words with the North Korean leader have escalated in recent months. He warned that Kim will be met with "fire and fury" and in a speech at the United Nations, Trump named him "Little Rocket Man."
The president departs Nov. 3 and will visit with U.S. allies in Japan and South Korea who are increasingly worried about escalating tensions in the region. Trump is also visiting China, which doesn't want to see a collapsed North Korea on its border. China has been financially supporting the regime but is also a critical partner for the U.S. in dealing with North Korea.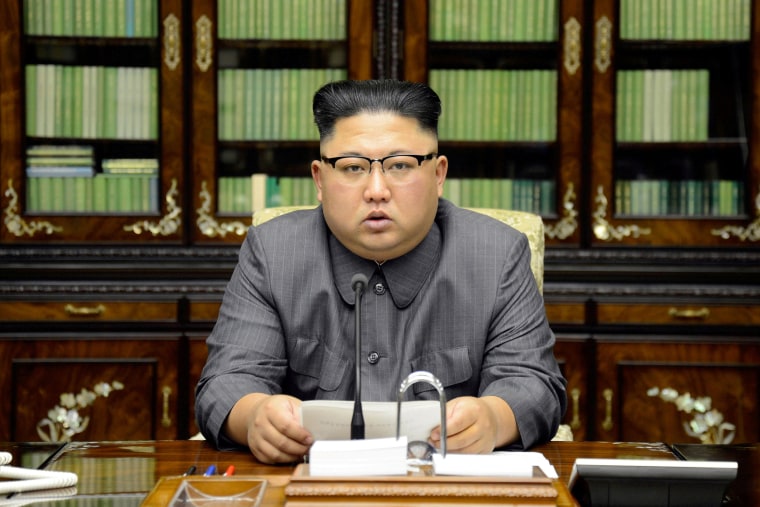 It appears unlikely that Trump will visit the demilitarized zone separating North and South Korea, although the White House says a final decision has not been made. Most presidents since Ronald Reagan have visited the region during an Asia trip. Vice President Mike Pence went earlier this year as did Tillerson.
Tillerson, originally skeptical of diplomacy, has come around to believing that talks with the North Koreans are increasingly important, a Congressional source said, as the country has ramped up its testing of long-range intercontinental ballistic missiles with increasing success and progressing on his nuclear weapons program.
While in China last month, Tillerson said the U.S. is talking directly with North Korea. "We have lines of communications to Pyongyang," he told reporters. "We're not in a dark situation, a blackout. We have a couple, three channels open to Pyongyang. We can talk to them. We do talk to them."
Indian Minister of External Affairs Sushma Swaraj hosted Tillerson for talks on Wednesday and said India will keep its small embassy in North Korea open as a potential channel for diplomatic talks. "I told Secretary Tillerson that some of their friendly countries should maintain embassies there so that some channels of communication are kept open," Swaraj told reporters.
Related: N. Korea Taught Him to Hate Americans. Now He's Off to U.S.
Trump, however, seems to disagree with that approach. He told Tillerson on Twitter that he is "wasting his time" trying to talk to North Korea.
That exchange caused Corker to defend Tillerson and escalate a public feud with the president. Corker recently told the Washington Post that the president has "castrated" Tillerson.
While Corker wouldn't directly respond to stalled diplomacy with North Korea, he told NBC News that "these are the kinds of thing that I'm speaking to."
"Either we're going to deal with this and deal with China (who is key to North Korea) in a serious way and appropriately use diplomacy as one of our levers or we're going to end up with a binary choice. And that's what I've been speaking to," Corker said.
CIA Director Mike Pompeo said last week that North Korea is only months away from perfecting its nuclear weapons capabilities.
Related: Bomb Shelters Are Everywhere in Seoul
"They are close enough now in their capabilities that from a U.S. policy perspective we ought to behave as if we are on the cusp of them achieving" their objective of being able to strike the United States.
Former CIA Director John Brennan has warned that Trump's actions toward North Korea have been "rather provocative."
"I think he's trying to demonstrate that he is tough and he's trying to intimidate opponents, but at the same time he is not experienced at all in international brinkmanship and on these issues," Brennan said on the TODAY last week. "I'm hoping that Rex Tillerson is going to continue some of his efforts to address these issues behind the scenes."
Speaking at a conference last week, National Security Adviser H.R. McMaster said the U.S. is "in a race to resolve this short of military action."
"We are not out of time," he said. "But we are running out of time."