WASHINGTON — A federal grand jury has indicted Donald Trump on seven criminal charges in connection with his mishandling of more than 100 classified documents that were discovered last year at his Mar-a-Lago resort in Florida, making the twice-impeached former commander-in-chief the first former president to face federal criminal charges.
Trump said Thursday night that his attorneys were informed that he has been indicted in the special counsel's investigation into his handling of classified documents. Two sources familiar with the matter confirmed the indictment, one adding that Trump had received a summons to appear in U.S. District Court on Tuesday.
In a post on his social media platform, Truth Social, Trump said: "The corrupt Biden Administration has informed my attorneys that I have been Indicted, seemingly over the Boxes Hoax."
The charges mark the second time Trump has been indicted since he left office, but the news still reverberated through the country, with supporters and critics weighing in on the magnitude of the development. While the first round of charges dealt with Trump's conduct when he was trying to get elected in 2016, the new charges touch on his actions as he was leaving the White House and focus on how he handled some of the country's most sensitive secrets.
Two sources briefed on the seven charges said the charges include false statements and conspiracy to obstruct. All charges are related to retaining documents and obstructing justice. One source noted that seven charges don't necessarily mean seven counts — multiple counts can be associated with each charge.
The nature of the charges was first reported by The New York Times.
Trump lawyer Jim Trusty told CNN a summons his legal team received from the feds included at least one charge related to the Espionage Act, "several obstruction-based type charges, and then false statement charges." Asked whether there was a conspiracy charge, as well, he said, "I believe so." NBC News confirmed that one of the charges was related to the Espionage Act.
A spokesperson for the special counsel declined to comment.
A separate source said the indictment is under seal, which is why the government can't yet comment.
The government had provided hints about possible charges. A search warrant for Trump's Mar-a-Lago property in August said investigators were searching for evidence of three crimes involving the mishandling of sensitive government records, including whether the documents were shared with "unauthorized" people. Justice Department attorneys had since raised the prospect of an obstruction-related crime in court filings. 
Trump and his Republican allies focused their response on trying to blame President Joe Biden for the indictment, even though the investigation had been handed to a separate special counsel.
The White House declined to comment on the indictment. An administration official said the White House wasn't given notice of the indictment and learned about it from media reports.
Asked Thursday about why the American public should trust the Justice Department in the face of Trump's criticism, Biden insisted he has not put his thumb on the scale.
"I have never once, not one single time, suggested to the Justice Department what they should do or not do ... any charges or not bring any charges. I am honest," Biden said.
Fundraising email and monthslong investigation
Trump appeared prepared when he was the first to make the existence of the indictment public.
Minutes after he announced he'd been indicted on Truth Social, he sent out a fundraising appeal citing the charges.
"The Biden-appointed Special Counsel has INDICTED me in yet another witch hunt regarding documents that I had the RIGHT to declassify as President of the United States," the fundraising email said, asking supporters to "make a contribution to peacefully stand" with him.
He later posted a four-minute video on Truth Social in which he said he's "an innocent man" and called the probe "a hoax."
"I'm an innocent person," he said. "I did nothing wrong. And we will fight this out just like we've been fighting for seven years. It would be wonderful if we could devote our full time to making America great again."
A Secret Service official said its personnel will meet with Trump's team Friday to begin security and logistics planning related to his court appearance Tuesday afternoon.
The grand jury's decision is the culmination of a monthslong Justice Department investigation now led by special counsel Jack Smith, who was appointed by Attorney General Merrick Garland.
Smith, who was appointed in November after Trump announced his 2024 run for the Republican nomination, took over existing investigations into Trump's handling of classified documents found at Mar-a-Lago, as well as "key aspects" of the Justice Department's investigation into the Jan. 6, 2021, attack on the Capitol and efforts to obstruct the peaceful transfer of power.
Republicans defend Trump
Some of Trump's fellow Republican presidential candidates and congressional allies blasted the charges as politically motivated.
Florida Gov. Ron DeSantis tweeted that the "weaponization of federal law enforcement represents a mortal threat to a free society," while another of Trump's presidential rivals, Vivek Ramaswamy, said in a statement that "I never thought we would see the day when the U.S. President deputizes the DOJ to arrest his lead rival in the middle of an election." He reiterated his vow to pardon Trump if he's elected president.
House Speaker Kevin McCarthy, R-Calif., called the indictment a "grave injustice." "It is unconscionable for a President to indict the leading candidate opposing him," he said on Twitter.
Newly announced presidential candidate Chris Christie, a Trump critic and former federal prosecutor, said he would wait until he sees the indictment before he comments. "Let's see what the facts are when any possible indictment is released," Christie tweeted.
Trump faces several other investigations. He was separately charged in early April by Manhattan District Attorney Alvin Bragg with 34 felony counts of falsifying business records related to his alleged role in hush money payments toward the end of his 2016 presidential campaign. He pleaded not guilty. He also faces a criminal investigation in Georgia related to the 2020 election, as well as Smith's Jan. 6-related probe.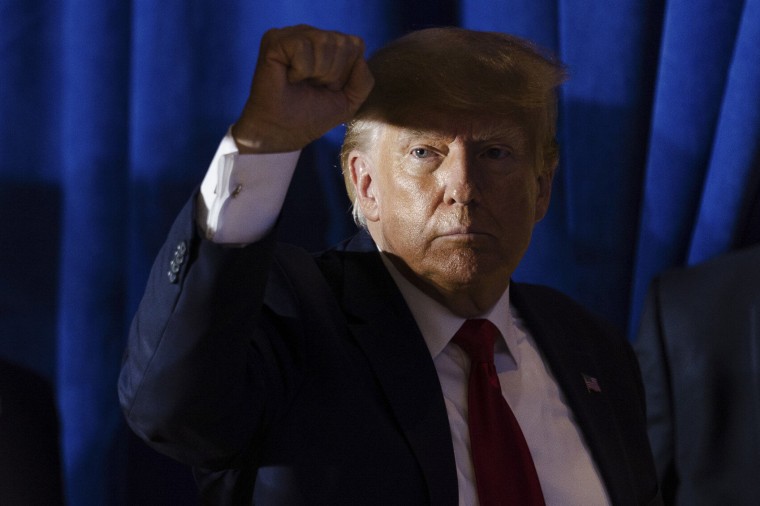 After Trump left office in January 2021, the federal government tried multiple times to obtain files Trump had kept from his time in the White House, and it gave him and his legal team several opportunities to hand them over.
The government eventually seized more than 11,000 pages of government documents from Mar-a-Lago, including more than 100 classified documents, after Trump's team attested that it had done a thorough search for classified documents at the location.
Trump has denied doing anything wrong, rebuffing allegations that he mishandled classified documents by claiming that he had already declassified them.
He has also equated his situation to that of Biden, who was also found to be in possession of classified documents from the Obama administration. But the circumstances are much different.