SAN DIEGO — A man with an untraceable, 9 mm "ghost gun" appeared to randomly open fire in the downtown nightlife district, killing one person and injuring four other people, police said Friday.
"It appears completely unprovoked," said San Diego police Chief David Nisleit at a news conference.
The suspect in the Thursday night attacks was identified as 32-year-old Travis Sarreshteh, who lives near the two crime scenes, the chief said. He was jailed on suspicion of murder and attempted murder with no bail and was due in court May 3, according to jail records.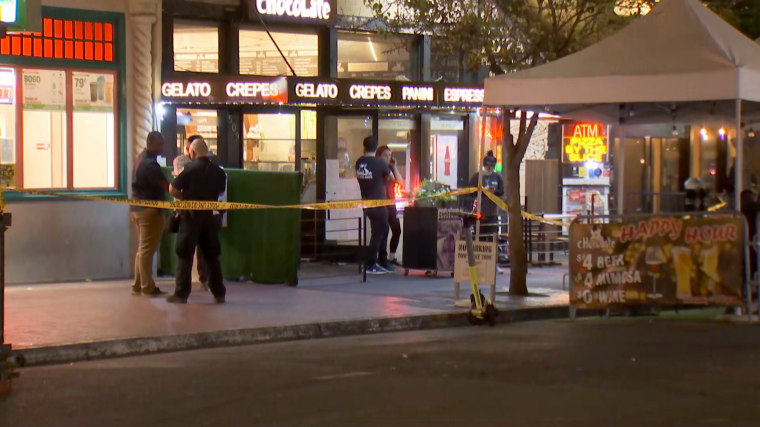 Officers responded to a report of gunfire in the 500 block of J Street, in the Gaslamp Quarter, about 10:30 p.m. Thursday, San Diego Police Lt. Andra Brown said at an earlier news conference.
A shooter walked up to a 28-year-old man near a valet stand and opened fire with no "evidence of a verbal exchange," Nisleit said. The victim's name has not yet been released.
The Pendry San Diego hotel confirmed in a statement that the victim was one of its "valet team members" contracted through Ace Parking. An Ace principal said in a statement that the company was setting up a GoFundMe fundraiser for the victim's family.
After that shooting, the gunman walked northbound to the next block, confronted a group of men and opened fire again, authorities said.
Nisleit said the suspect might have bumped into someone about that time, but that he fired on the group of men "without warning." Four men were injured in the second incident, according to police.
Nisleit credited a former combat medic with saving one victim's life. Two of the men initially suffered life-threatening injuries, he said, but all four are now expected to survive.
As the shooter left the scene, at least two people followed and tackled him but struggled to detain him, the police chief said.
"It was a violent struggle," Nisleit said. "Officers had to use their tasers to subdue him."
The chief praised bystanders who pursued the shooter and those who gave victims medical aide. He said police captured the suspect quicker as a result of the assistance.
The suspect was later taken to a hospital for injuries related to the Taser and confrontations with witnesses.
Nisleit denounced a rise in big-city crime, which includes a cluster of shootings nationwide, and said illegal ghost guns, which can be 3D-printed or purchased in parts online, are a growing part of violence in the border city.
"About one in four of every gun we're recovering right now is a ghost gun," Nisleit said.
The chief said police presence in the Gaslamp Quarter, a tourist draw and playground during the annual San Diego Comic-Con convention, will increase.
On Wednesday, a man suspected of shooting and killing one person and injuring another at a Pennsylvania gas station died in an apparent suicide. Authorities didn't provide details about a potential motive.
On Tuesday, a "troubled employee" opened fire inside a Stop & Shop supermarket in West Hempstead, New York, killing a manager and wounding two co-workers. The suspect was caught at a nearby apartment building on Terrance Avenue in Hempstead.
And last week, authorities said a gunman killed eight people at an Indianapolis FedEx facility before killing himself. Four others who were shot and another who was injured were taken to hospitals. Officials identified the alleged gunman as a former FedEx employee. Four of the eight victims killed were from the Sikh community.
So far this year, there have been at least six large-scale shootings, including the one in Indianapolis, according to NBC News.
Dennis Romero and Bill Feather reported from San Diego and Wilson Wong from New York.