Tampa, Florida, police are imploring community members to come forward after a 7-year-old boy was fatally shot Tuesday when gunfire broke out in a dispute over jet skis.
Officers responded to a shooting just after 8:30 p.m. at a boat ramp off the Courtney Campbell Causeway west of Ben T. Davis Beach, Calvin Johnson, the deputy chief of investigations, said at a news conference Wednesday.
Witnesses told police that a dispute broke out because one group of people were upset that another group were riding their jet skis close to shore where children were playing.
One group got out of the water, Johnson said, and the argument escalated until someone opened fire.
"When the shooting began, the grandfather of the young man who was shot grabbed him and pulled him into the truck when he heard the gunfire going on," Johnson said. "When they were inside the vehicle, a round went inside the vehicle, hit the grandfather in the finger and the young man in the head."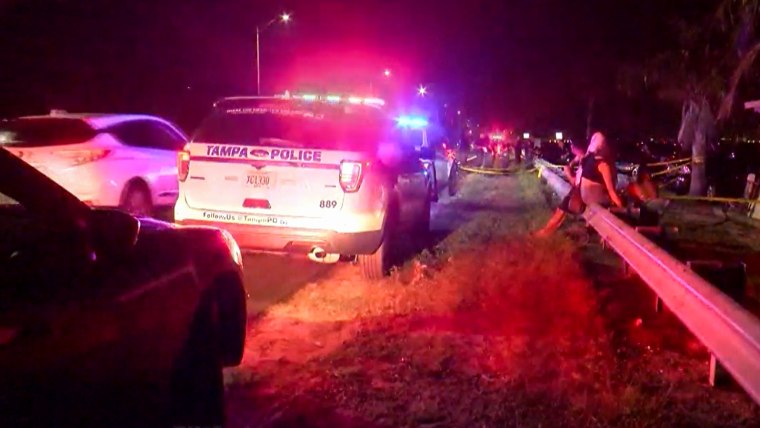 The child was taken to a hospital, where he was pronounced dead. His grandparents identified him as Yitzian Torres Garcia in an interview with NBC affiliate WFLA.
Yitzian's grandfather Juan Carlos Mejia told WFLA that he was trying to shield the boy and placed his hands over his grandson's head inside the truck.
"When I felt the gunshot in my hand, I turned to look at my grandson, and his head turned," Mejia said.
Yitzian was visiting his grandparents from New Jersey and was planning to watch the July 4 fireworks on the beach. His grandmother Marisol Ayala said that type of violence is "not supposed to happen for babies."
The family is begging whoever shot Yitzian to turn himself in.
"He didn't kill an animal. He killed a human being, a baby starting to live that had nothing to do with his fights, with guns or nothing. We're suffering. We lost a life," Ayala said.
Witnesses described the scene as two groups of Hispanic males shooting at one another, police said.
The people, whom homicide detectives are working to identify, fled the beach, Johnson said. The police department urged anyone with knowledge of the shooting to contact it directly or submit an anonymous tip to the Crime Stoppers hotline at 800-873-8477.
Johnson told reporters Wednesday that he was "very angry" at the recklessness of those who know the damage created by gun violence but shoot "indiscriminately."
"We need to do better as a community. Really, as Americans," Johnson said. "We see everybody around the nation, including Tampa, the first thing they jump to is firearms. There is a better way to deal with anything you may be going through other than going to that firearm.
"Once someone is gone, they're not coming back," he added.