A man has been arrested in the death of a New Jersey borough council member who was shot in her car in February, officials said Tuesday.
Rashid Ali Bynum, 28, was arrested in Chesapeake, Virginia, in the death of Eunice Dwumfour, Middlesex County Prosecutor Yolanda Ciccone said at a news conference Tuesday. Dwumfour, 30, was shot multiple times in her car Feb. 1 in Sayreville, where she was a member of the Borough Council.
Bynum was charged with first-degree murder, second-degree unlawful possession of a handgun and second-degree possession of a handgun for unlawful purpose, Ciccone said. He was arrested Tuesday morning and awaits extradition to New Jersey.
It's unclear whether he has an attorney.
A presumed motive wasn't given; it appears the two may have known each other.
"A search of the victim's phones revealed Bynum as a contact in Eunice Dwumfour's phone with the acronym FCF," Ciccone said. "FCF is believed to be an acronym for the Fire Congress Fellowship, a church the victim was previously affiliated with."
Ciccone said that Bynum fit the witness description at the time of Dwumfour's death and that phone device records showed he was traveling from Virginia to New Jersey only to immediately return after Dwumfour's death.
The device records allegedly matched the travel time of what appears to be a rented Hyundai Elantra that license plate readers recorded in toll areas. A witness told police about having seen a suspicious white Hyundai in the area at the time of Dwumfour's death, Ciccone said.
Search records also showed Bynum was looking up Dwumfour's current search, the area of Sayreville and magazines compatible with a specific handgun, Ciccone said.
Ciccone didn't take questions Tuesday afternoon.
Dwumfour sustained "multiple gunshot wounds" and died at the scene, police have said.
Mahesh Chitnis, who served on Sayreville's Human Relations Commission with Dwumfour, said in a tribute post that Dwumfour was shot about 300 feet from his home.
"I am shocked, scared and heartbroken," the post said. "She was a woman full of life."
Dwumfour was a Republican serving a term from 2022 to 2024, the council's website said previously.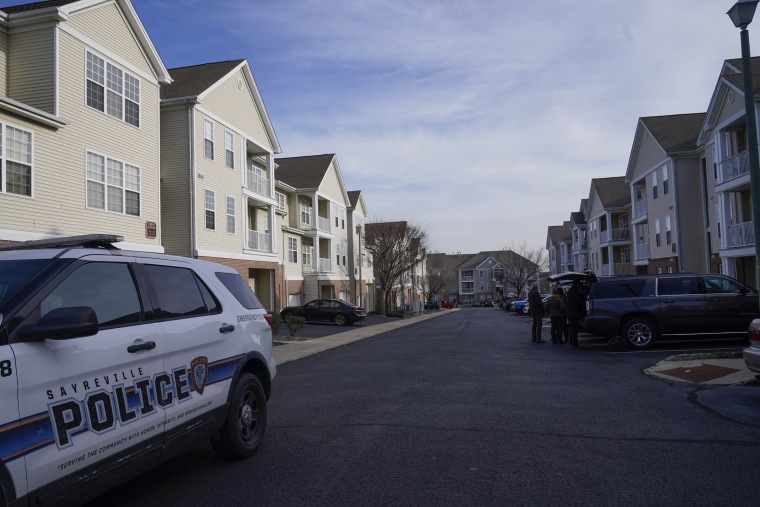 Former Sayreville Police Chief John Zebrowski was selected to fill Dwumfour's seat, according to the news site MyCentralJersey.com.
Dwumfour's family and area residents had expressed frustration with the lack of results in the investigation, according to NBC New York. Sayreville Mayor Victoria Kilpatrick even announced that she would not seek re-election because of threats she had been getting over the case.
"I'm calling this my pause," Kilpatrick said in April. "I have to pause because there's nothing more important than my children and than my family."
New Jersey Attorney General Matt Platkin acknowledged the discontent at Tuesday's news conference, saying the community has raised "a lot of questions."
"I want you to know that the folks behind me and the folks in this community and across the state that work tirelessly on this investigation did so to ensure public safety and to ensure that those questions could be answered," Platkin said. "And I hope that today is the beginning of a healing process and also the beginning of a sense of justice for you."