Police in New Orleans are seeking two men who tried to chisel a mural by mysterious British artist Banksy out of a wall in New Orleans, where it commemorates Hurricane Katrina.
Like all of Banksy's iconic murals, "Girl With Umbrella" mysteriously appeared in 2008 on a wall in the Marigny neighborhood, shortly before the third anniversary of the storm that killed more than 1,800 people.
Police said wooden screens were put up around the mural Friday and two men using power tools began trying to remove the section of wall, drawing interest from dozens of neighborhood residents — who call the mural the "Rain Girl."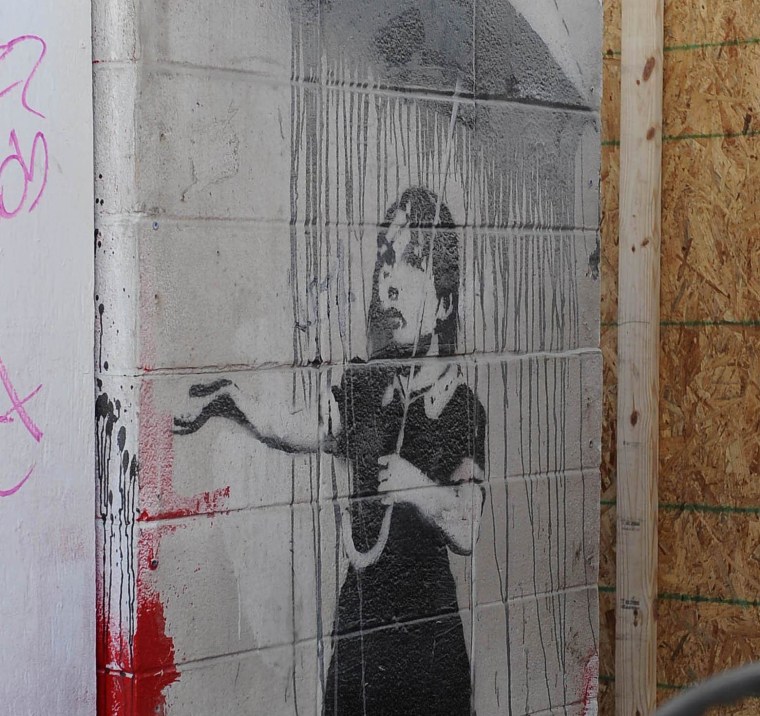 One of the men told onlookers they were removing the mural for display in a Banksy exhibit in the Tate Modern gallery in London.
But as more people challenged the men, they eventually gave up and drove off in a white rental truck, police said. A security guard remained at the scene Monday.
After officials at the Tate said no Banksy exhibit was in the works, police logged the incident as an attempted theft late Friday.
Charlie Varley, a local photographer, published photos on his website of one of the men and the damage they allegedly caused.
Varley told the New Orleans Times-Picayune that the man said his name was Chris and that he was an "art handler" from Los Angeles hired by the building's owner.
A lawyer for the building's owner told the newspaper no one had authorization to remove the mural.
Police said they were seeking two cleanshaven white men about 25 to 35 years old, one of them 6 feet tall with a medium build and the other about 5 feet, 9 inches tall with a stocky build and medium-length hair.
The second man was wearing a Home Depot apron and cap, they said.
— M. Alex Johnson