A man charged in the killing of rapper Tupac Shakur was calm during his arrest last week, criticizing a police officer's driving and asking why officers hadn't brought the media, body camera video released Thursday by Las Vegas police shows.
Duane Keith Davis, 60, was arrested in Las Vegas on Sept. 29 on a murder charge in connection with the fatal shooting of Shakur in 1996.
Davis was arrested while he was out for a walk. He is calm during the arrest and asks for water, which he is given after he is placed in the police vehicle, the video, obtained by NBC affiliate KSNV of Las Vegas, shows.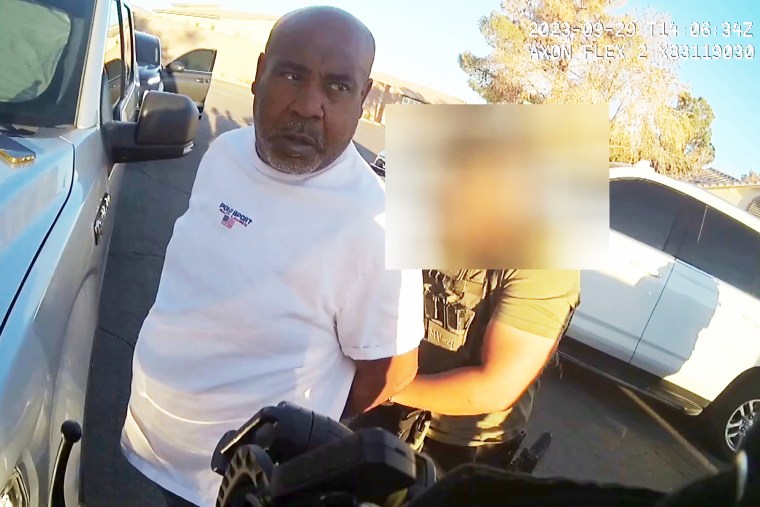 At one point during the drive, Davis criticizes the officer behind the wheel for getting in a line of traffic headed to the freeway, the video shows.
"Were you all following me last night?" Davis asks, and the officer says, "Nope."
Davis then asks, "So why you all didn't bring the media?" The officer says, "Why would we bring the media?" and Davis says, "That's what you all do," the video shows.
In another of the body camera videos released Thursday, an officer asks, "So what they got you for, man?"
"Biggest case in Las Vegas history" Davis replies. "September 7th, 1996."
Davis is not accused of pulling the trigger that night in Las Vegas. Shakur, born Lesane Parish Crooks, died days later on Sept. 13.
The indictment says Davis, also known as "Keefy D" or "Keffe D," and three other gang members with him that night conspired to kill Shakur "by acting in concert throughout."
"Duane Davis was the shot caller," Police Lt. Jason Johansson said at a news conference after his arrest last week.
Davis' arraignment is scheduled for Oct. 19, and he has not yet entered a plea, according to court records.
Clark County District Attorney Steve Wolfson said after a court appearance this week that Davis is expected to plead not guilty at his arraignment.