Thirteen bodies have been found in Northern California in the wake of the deadly Camp Fire, bringing the death toll in the blaze to 42, authorities said Monday.
The grim discovery makes the wildfire the deadliest in the state's history, Butte County Sheriff Kory Honea told reporters, replacing the record held by a Los Angeles brush fire in 1933 that killed 29.
Combined with the Woolsey Fire in Southern California, the number of state-wide deaths from active wildland fires as of Monday night reached 44.
The Camp Fire has burned through 117,000 acres and is 30 percent contained, California Department of Forestry and Fire Protection, or Cal Fire, said in a 7 p.m. (10 p.m. ET) Monday update.
Officials have said the blaze may not be fully contained until the end of the month.
It wasn't clear how many people were still missing after the inferno roared through rural Butte County, north of Sacramento.
Many of the deaths occurred in Paradise, a town of 26,000 in the Sierra Nevada foothills where officials have said that 80 to 90 percent of the homes in residential areas were destroyed. Honea couldn't say what percentage of those areas had already been combed by authorities.
"I'm not going to quantify," he said. "I still believe we're early in this. I believe there's still a lot of work to do."
Honea said he was in the process of assembling an army of personnel and equipment to speed up the process of finding and identifying victims. He said 150 search and rescue workers, two portable morgue units, cadaver dogs and a rapid DNA analysis system had all been requested.
That is in addition to the three teams of anthropologists and 13 search and recovery teams that are already assisting in the effort.
Earlier, President Donald Trump approved an expedited request for a major disaster declaration for the hard-hit state.
It came two days after he threatened to withhold federal payments to California over what he described as "gross mismanagement" of the state's forests — a claim disputed by fire scientists and officials.
But Trump said in a tweet on Monday that he "wanted to respond quickly" to a request for a major disaster declaration to "alleviate some of the incredible suffering going on."
"I am with you all the way," he wrote on Twitter. "God Bless all of the victims and families affected."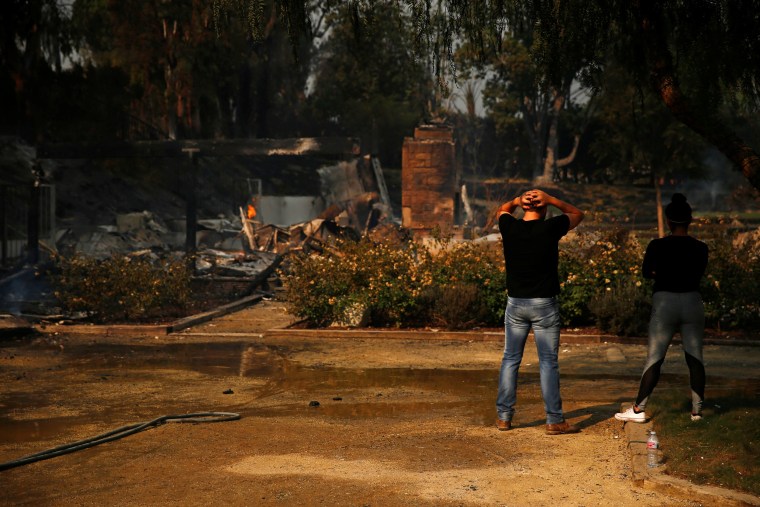 The cause of the Camp Fire is still under investigation, though the Northern California power company Pacific Gas & Electric revealed on Friday that it detected an outage on a transmission line — not far from where the massive blaze ignited, and just before the flames were first reported.
A rep for the California Public Utilities Commission said it's launching an investigation whether the transmission outage could have any connection to the Camp Fire.
Among those to return to Paradise and find a devastated community was Bill Husa, a photographer with Chico's Enterprise Record Newspaper.
He'd lived in his one-story, farm-style house there for a decade, and came back on Saturday to see what was left. With a video camera rolling, he found only a handful of recognizable things where his house once stood: a statue that had been at his father's home, a kitchen table, a milk jug.
"There's going to be so many of us that are scrambling to try and put the pieces back together," he said in an interview. "It's going to be tough."
In Husa's 18 years as a photographer, he said he's covered plenty of fires. "But I've never covered one like this," he added. "It happened so fast."
In Southern California, the Woolsey Fire was still raging across canyons and beaches on Monday. The wind-whipped blaze has consumed 91,572 acres since it started Thursday in Simi Valley, near the border of Ventura and Los Angeles counties, according to L.A. County Fire Chief Daryl Osby.
"As far as 100-percent containment, we'll be out here for the next week or two trying to mop this fire up," Osby told reporters.
Roger Kelly, 69, was lucky enough to find his home in the Seminole Springs Mobile Home Park had survived the Woolsey blaze. But when he saw that some of his neighbors weren't so fortunate and lost it all, he broke down in tears for them.
"I just started weeping," Kelly said. "I just broke down. Your first view of it, man it just gets you."