President Donald Trump's reaction to violent protests against a right-wing speaker at the University of California's Berkeley campus was to suggest he'd pull federal funds for blocking free speech.
The president's threat appears unprecedented, and raises questions about how — or if — he could follow through with it.
U.S. Rep. Barbara Lee, a Democrat and Trump critic who represents Berkeley, called the president's tweet an "empty threat" and "an abuse of power." A congressional aide followed up later by saying Trump did not have the power to withdraw funding from a university on his own.
Frederick Hess, director of education policy studies at the conservative American Enterprise Institute, said he knew of no prior instance of a president linking free speech and federal funding of American universities, which are built on a commitment to fostering civic discourse.
But, Hess said, after President Barack Obama administration warned schools that violations of transgender students' rights could put them at risk of losing federal Title IX funds, some on the right began questioning funding research on campuses "which are not serious about their commitment to make sure of unfettered intellectual debate."
If Trump is serious about withdrawing funding from UC Berkeley, his administration would first have to determine whether federal law allowed it, Hess said. If so, then he could ask Congress to insert language in the Higher Education Act, which is up for reauthorization.
Gary Orfield, the libertarian co-director of The Civil Rights Project at UCLA, said that while the executive branch has the power to try to pull federal funds from public institutions for civil rights violations, it cannot do so on free-speech grounds.
UC Berkeley did everything right, he said, and Trump is wrong.
"This is an effort to intimidate, and the University of California is not going to be intimidated by this kind of nonsense," Orfield said. "This is one of the world's great universities. But a lot of other universities may just give in."
Related: Leslie Jones Rips Simon & Schuster for Publishing Book by Milo Yiannopoulos
The stakes are huge. The University of California receives billions of dollars in federal funds, including 2.9 billion for research, the category that is most vulnerable to Trump's threat. Berkeley, the system's flagship campus, receives about $370 million of that. In addition, the nearby Lawrence Berkeley National Laboratory is entirely supported by federal funds — $827 million.
The university's other sources of federal support — financial aid for students, Pell Grants, work-study programs, fellowships with government agencies and campus healthcare programs — are more difficult to tinker with.
California Lt. Gov. Gavin Newsom, a member of the University of California's Board of Regents, said on Twitter that he was "appalled" at Trump's "willingness to deprive over 38,000 students access to an education because of the actions of a few."
The subject of the protests, Breitbart editor Milo Yiannopoulos, took credit for Trump's response, which followed the school's decision to cancel his Wednesday night appearance after some protesters set fires, wrecked property and assaulted people. The university blamed outside agitators and estimated around $100,000 in damage to property on campus.
Related: Protests, Violence Prompt UC Berkeley to Cancel Milo Yiannopoulos Event
Yiannopoulos wrote on Facebook Thursday: "The days you could silence conservative and libertarian voices on campus and still expect to collect their tax money are coming to an end. I am the catalyst for this change."
His appearance, sponsored by the Berkeley College Republicans, was the last stop in a tour of American campuses in which he has criticized feminists, Black Lives Matter and Muslims. Some critics have branded his comments as hate speech.
Related: Protests Shut Down UC Davis Group's Event With Milo Yiannopoulos
His events — including others that were canceled — have attracted protests that fuel his argument that universities have become resistant to the First Amendment.
While Trump in his Twitter threat referred to "free speech" at UC Berkeley, university officials specifically cited the right to free speech and the First Amendment in refusing calls to ban Yiannopoulos or cancel the event.
The university said that while many students took part in anti-Yiannopolous protests, they did not participate in the destruction.
UC Berkeley police said they made only one arrest, of a non-student, for failure to disperse. Two other non-students were arrested the following morning following attacks on two Berkeley College Republicans while they gave interviews on campus, police said.
Berkeley Chancellor Nicholas Dirks said the university, birthplace of the Free Speech Movement, went to "extraordinary lengths" to prepare for Yiannopolous' appearance — even though his provocative rhetoric "were in marked opposition to the basic values of the university."
"We are now, and will remain in the future, completely committed to free speech not only as a vital component of our campus identity, but as essential to our educational mission," Dirks said in a statement Thursday.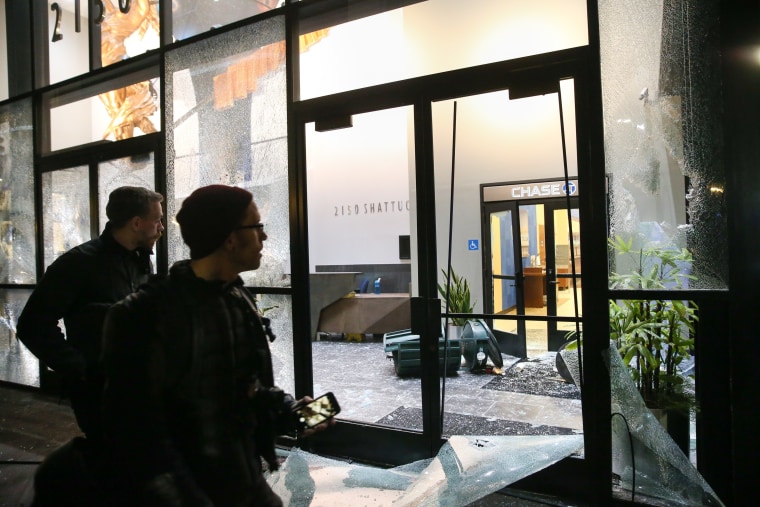 Troy Worden of the Berkeley College Republicans who invited Yiannopoulos, said he was encouraged by the president's tweet.
"I think what Donald Trump is doing is giving a voice to everyone, especially college Republicans who don't feel safe on their own campuses," he said.