Actress Carrie Fisher was many things: a best-selling author, the product of Hollywood royalty, and, of course, Princess Leia, the heroine of the blockbuster "Star Wars" saga.
But what is sometimes overlooked is that she was also a feminist icon.
Fisher, who died Tuesday at age 60 following a heart attack, defiantly marched to the beat of her own drum, especially off-screen, where her blunt-spoken, no-nonsense persona made her a distinct voice in Hollywood, particularly when it came to issues of sexism and ageism.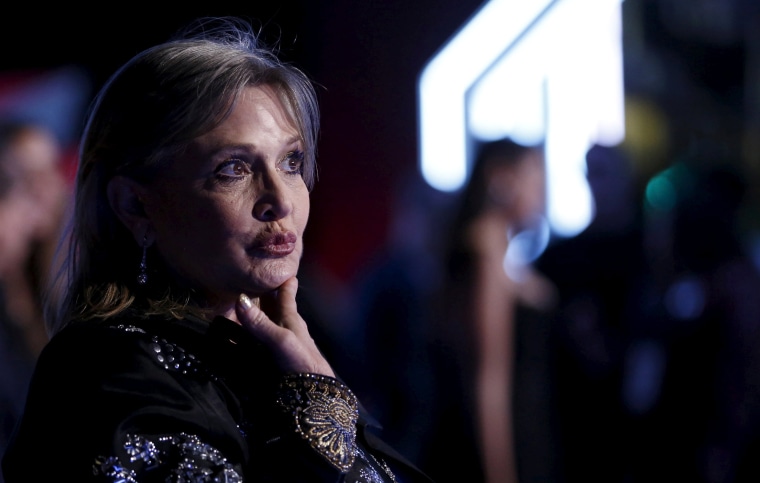 "Carrie Fisher easily could have fit a really predictable mold — a pretty girl who played a princess in a movie once. But she always insisted on being more than that," said Sady Doyle, author of "Trainwreck: The Women We Love to Hate, Mock and Fear."
"She just never let anyone make her smaller or less complex than she was; she owned herself, and that's one of the most important and difficult feminist projects there is."
Related: Carrie Fisher Mourned by Fellow Stars: 'Our Princess Has Passed Away'
As the child of established celebrities — pop star/TV host Eddie Fisher and actress Debbie Reynolds — Fisher was exposed to Hollywood's gender double standards from an early age.
She became a celebrity in her own right as a 20-year-old when the very first "Star Wars" film came out in May of 1977.
Fisher experienced some of the ugly sides of the industry firsthand, with setbacks including decades of substance abuse supplying fodder for some of her subsequent best-selling memoirs.
"She didn't have a perfect life," said filmmaker and an advocate for women in film Naomi McDougall Jones. "I am so impressed and so appreciative of the ways in which she let us see all of that. She let us see her messiness and that actually made her more powerful."
And while the character of Princess Leia was initially envisioned as the traditional role of "the damsel in distress," Fisher imbued the character with a toughness and resourcefulness that blossomed in future installments.
By the time "The Force Awakens" came out in 2015 and Fisher reprised the role for the first time in over 30 years, Leia was a general and fans didn't make a fuss about it.
"As a child there were so few role models for girls that were in charge of themselves and other people ... it was really unique in the landscape of movies aimed at kids," said Glynnis MacNicol, writer and co-founder of The Li.st. "It's hard to separate the character from the actress."
"I can't think of anything else in my lifetime where there was a woman that fierce and so much of an action hero," added Jones, who especially admired the fact that Fisher "took the sex-symbol image off the pedestal and flipped it on its head."
Fisher had long expressed ambiguity about the so-called "slave girl" bikini she was saddled with in 1983's "Return of the Jedi," which may have served as inspiration for decades of cosplay, but smacked of crude objectification to many modern viewers.
Related: Star Wars 'Save Girl' Costume May Be Getting Retired
"Don't be a slave like I was ... You keep fighting against that slave outfit," she cautioned her "Force Awakens" co-star Daisy Ridley during a joint interview with Interview magazine in 2015.
In recent years, she balked at the preoccupation with her physical appearance on the big screen, especially when her male counterparts rarely, if ever, are subjected to the same level of scrutiny.
Fisher made headlines for appearing on screen in "The Force Awakens" at 59 without the aid of age-defying CGI effects, although she did acknowledge that producers pressured her to lose 35 pounds before returning to her legendary role.
"I'm in a business where the only thing that matters is weight and appearance. That is so messed up," she told The Hollywood Reporter at the time. "They might as well say 'get younger,' because that's how easy it is."
Meanwhile, for female "Star Wars" fans, the evolution of her on-screen character has been a gratifying one, and it will be sustained for a least one more film. She had already completed work on the highly anticipated eighth official installment of the franchise prior to her death.
That film, which will debut in December of 2017, will be a bittersweet swan song in a career that served as an inspiration to millions who have now grown up seeing, at least onscreen, a female figure of authority in a male-dominated universe.
"You can't be what you can't see," said MacNicol. "When we don't have stories [with strong women at the center] everyone suffers for it."