The former Staten Island Little League coach who allegedly molested at least four teenage boys back in the 1970s was accused Monday of preying on two young men who played on his New Jersey basketball teams.
Tony Sagona was also accused of molesting a fifth former Little Leaguer on Staten Island in the 1980s, meaning he is now linked to seven sexual abuse cases in two different states spanning several decades, according to three new complaints viewed by NBC News.
"We suspect there are more men out there who will be coming forward with allegations against Coach Sagona," said attorney Bradley Rice, who filed the lawsuits on behalf of the former basketball players in Monmouth County, New Jersey, and the former Little League player in Richmond County, New York.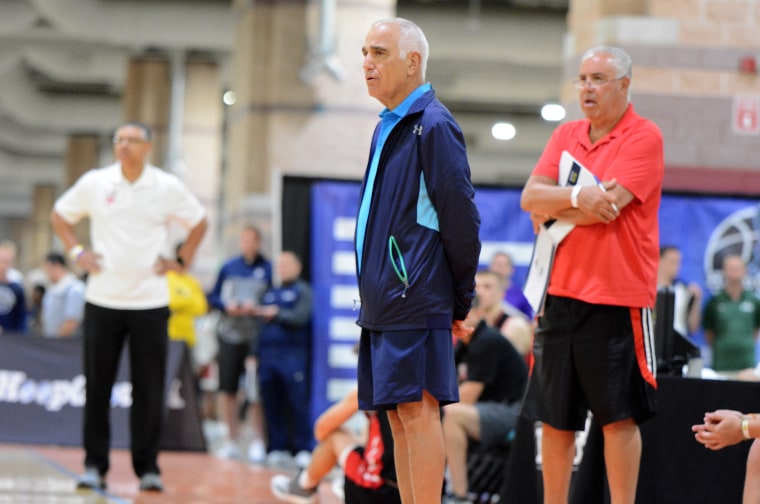 Sagona denies all the allegations. "There was no sexual abuse of any kind and it is simply unfair to come up with accusations 30 to 45 years after the fact, when it is harder to defend yourself," Aidan O'Connor, attorney for Sagona, told NBC News on Monday. "These allegations can ruin someone's reputation — like Tony Sagona — who has devoted his life to helping young men succeed in sports, in college and even going to the pros."
The suits against Sagona, the founder and longtime coach of Jersey Shore Warriors of Morganville, N.J.,were filed a day after New Jersey opened a two-year window during which accusers can file lawsuits against alleged abusers that had been previously barred by the state's statute of limitations.
A similar window opened earlier this year in New York, called the Child Victims Act, allowing Rice to file lawsuits against Sagona on behalf of four former Little League players, three of whom recently recounted their wrenching stories to NBC News.
James Manfredonia, who played on Sagona's teams in the Great Kills Baseball League in the 1970s and said he was 13-years-old when he was abused, told NBC News that he was moved to speak out after learning that Sagona was coaching basketball in New Jersey.
In the first complaint filed Monday, Sagona allegedly began "grooming" a 16-year-old identified in court papers by the pseudonym Richard Roe when he joined the Jersey Shore Warriors to build on his basketball skills and improve his chances of playing college basketball.
What began as a "father-son" relationship soon became sexualized with Sagona insisting that the teenager give him full-body massages or risk losing his place on the team, the court complaint states.
"Sagona also demanded that he watch Plaintiff shave his legs while Plaintiff was naked," according to the court complaint. "With each massage or shave, Sagona would give Plaintiff between $200 and $500 in cash and sometimes would purchase for Plaintiff new basketball sneakers."
If Roe refused, Sagona suggested he would "rethink whether Plaintiff deserved to be on the Warriors."
"Sagona reminded Plaintiff that the players who listen to his rules were the ones that were the most successful," the complaint alleges.
But when Roe rebuffed Sagona's alleged attempt to rape him in 2005 while on a college recruiting trip, the angry coach allegedly demoted him to the "B" team and cut his playing time.
The second former basketball player who filed suit Monday in New Jersey is identified as James Doe. This suit also named the Jersey Shore Warriors and the Amateur Athletic Association (AAU) as defendants.
Doe alleges in the complaint that he began playing for the Warriors in 1991 when he was 15 and that Sagona groomed him for sex during the three years he was on the team. He said Sagona would telephone him daily and demand that he tell him he loved him, according to the complaint.
"During these phone calls Sagona would masturbate," the complaint states. "Eventually this escalated to instances where Sagona would grab Plaintiff's genitals over his pants and/or shorts."
Rice said the AAU and Jersey Shore Warriors enabled Sagona.
"The AAU and the Jersey Shore Warriors welcomed Coach Sagona into their ranks where he had access to new generations of young men," Rice told NBC News. "Coach Sagona abused his position within the AAU to sexually abuse the plaintiff."
Along with his denial of the most recent complaints, Sagona has denied abusing Manfredonia and the other New Yorkers who have already sued him.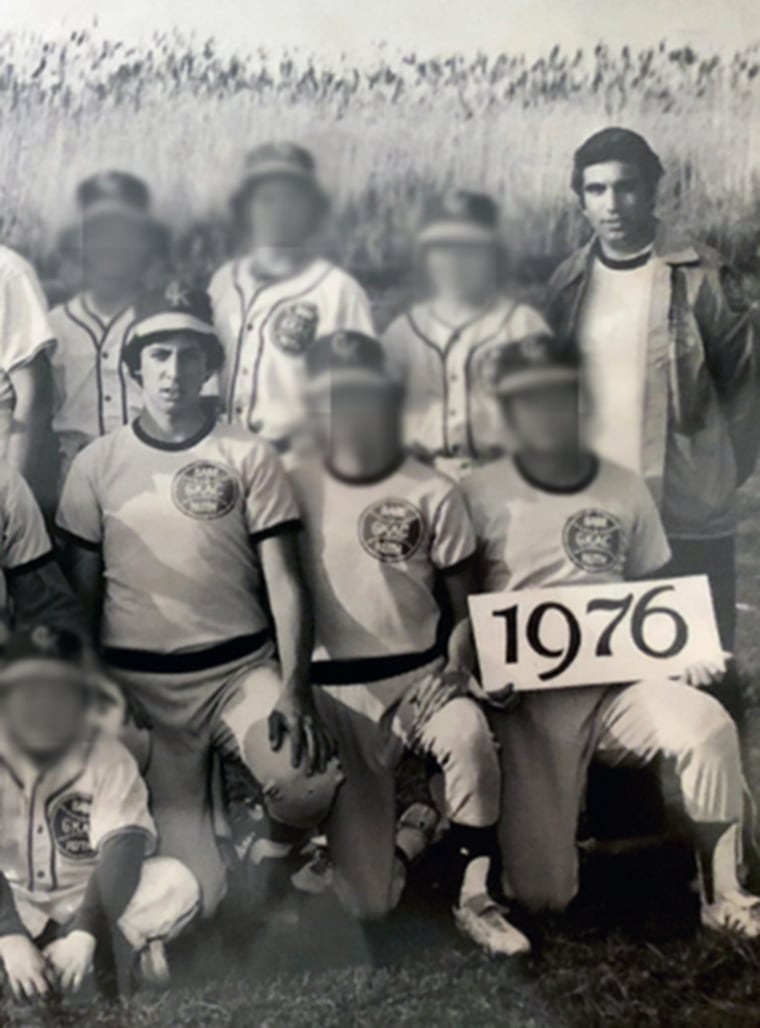 NBC News also reached out for comment about the latest legal developments to the AAU's director of marketing, Rachel D'Orazio. She too did not respond.
In earlier comments D'Orazio insisted that Sagona had not been affiliated with the AAU since 2011 and that he had been blocked from obtaining AAU membership in the future. She did not explain why.
But the Jersey Shore Warriors, the team for high-school age players that Sagona founded in 1987 after leaving Staten Island, continues to identify itself as an AAU team on its Facebook page. And Sagona was listed on the Warriors roster as a coach as recently as this summer.
NBC News reached out to the team via its Facebook page.
The third complaint against Sagona was brought by Rice on behalf of Christopher Hansen, a former Iona College baseball star who wound up signing with the Chicago White Sox in 1987 but whose major league career was ended by injuries.
Hansen alleged in the complaint that in 1981, when he was about 15, he was "groomed and sexually exploited" by a Staten Island parish priest named Father Ralph LaBelle before he was targeted by Sagona. At the time, Sagona was coaching a Little League team sponsored by the American Legion.
Hansen names the New York Archdiocese, the American Legion, Tony Sagona and others as defendants in the court complaint. LaBelle is not named as a defendant but is named within the complaint.
Joseph Zwilling, a spokesman for the Archdiocese of New York, declined to comment on Hansen's complaint. He said LaBelle was defrocked around 15-years-ago. Attempts to reach LaBelle for comment were unsuccessful.
There was no immediate comment from the American Legion to the Hansen lawsuit.
Like the other Staten Island ballplayers who say Sagona abused them, Hansen said in the complaint he was selected by the coach for "special projects."
"Plaintiff was conditioned to trust Sagona, comply with his directions, and respect Sagona as a mentor," the complaint states. "Eventually, Sagona abused this position of trust and what Plaintiff believed was a true friendship turned sexual."
NBC News reached out to Hansen, who confirmed he is the former Sagona ballplayer named in the suit.
Before the latest lawsuits landed, Sagona was for many years a revered coach whose baseball and basketball teams were very successful. He is credited with helping incubate the careers of talented high school players basketball players like Troy Murphy, Matt Carroll, Aaron Gray and Darrun Hilliard who went on to play in the NBA. These players have not publicly accused Sagona of misconduct.
His reputation took a serious hit earlier this year when Manfredonia went public with his allegations and was joined by two other former little leaguers, Bruce Morrison, 60, and Timothy Morey, 58, who said in a lawsuit they too had been sexually abused and assaulted by Sagona.
"I loved Tony Sagona, he was my father figure," Morrison told NBC News. "But he didn't protect me. He abused me."
Another former Little Leaguer suing Sagona is a Staten Island personal injury lawyer named Edward Pavia. He too is being represented by Rice.
Rice's law firm, Nagel Rice LLP, has also used the "window" to file lawsuits on behalf of individuals making child sex abuse allegations against the Boy Scouts of America, the Newark Archdiocese, and other organizations. Those cases remain pending.