WASHINGTON — A controversial televangelist's role as a guest speaker at a large-scale rally Tuesday in support of Israel and against Jewish hate drew mounting criticism as his past remarks about Jews — widely denounced as antisemitic — resurfaced.
The Council on American-Islamic Relations said in a statement Wednesday that Pastor John Hagee's history of "Islamophobia and antisemitism" should have prevented him from speaking at the March for Israel on the National Mall in Washington.
"Hypocrisy does not begin to describe the decision by pro-Israel groups to invite an antisemite to speak at a rally against antisemitism after they spent weeks falsely accusing every pro-Palestine march of being antisemitic," said Edward Ahmed Mitchell, the council's national deputy director.
Mitchell also called on the bipartisan delegation of political leaders who spoke at the rally, including Senate Majority Leader Chuck Schumer, D-N.Y., House Speaker Mike Johnson, R-La., and House Minority Leader Hakeem Jeffries, D-N.Y., to "renounce his bigotry."
"Islamophobia and anti-Palestinian racism are unacceptable. Period," Mitchell said. "So is antisemitism, regardless of whether an antisemite like John Hagee supports the Israeli government."
Spokespeople for Schumer, Johnson and Jeffries did not immediately respond to requests for comment.
'History of hateful comments'
Hagee, 83, also could not immediately be reached for comment through Christians United for Israel, which he founded in 2006 and which bills itself as "the largest pro-Israel organization in the United States." He has courted controversy over the decades, having received fallout following a 2005 sermon posted online in which he suggested God allowed Adolf Hitler to carry out the Holocaust to allow Jews to ultimately return to Israel. Hagee later denied that he condoned Hitler or the Holocaust.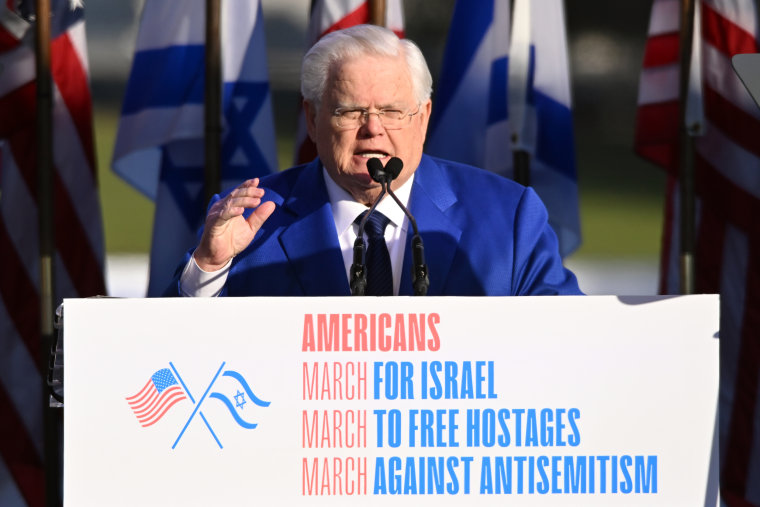 The response from CAIR, the country's largest Muslim civil liberties and advocacy organization, follows remarks from Jewish leaders who spoke in support of the rally but sought to distance themselves from Hagee even before he took the stage Tuesday afternoon.
"Contrary to what I was told, Pastor John Hagee will be speaking at today's rally," Hadar Susskind, the president of Americans for Peace Now, a nonprofit peace advocacy group, posted on social media. "I am horrified that he was given this platform. His history of hateful comments should disqualify him from decent company, much less from speaking on stage. He is not welcome and should not speak."
Rabbi Jill Jacobs, the CEO of T'ruah, a rabbinic human rights organization based in New York City, wrote on social media that progressive groups that support Israel "knew this rally wouldn't represent our values," in part because Hagee was included.
The Jewish Federations of North America, an event organizer, declined to comment Wednesday.
Organizers had seen the March for Israel as a way to show unity among Jewish Americans after the Oct. 7 ambush by Hamas in Israel, which killed 1,200 people and led to about 240 being taken hostage. The conflict overseas has also prompted a surge in antisemitism and bias incidents in the U.S., according to the Anti-Defamation League, with CAIR finding a similar uptick of threats reported by Palestinian Americans and Muslims.
The Washington rally attracted a wide variety of viewpoints among participants about Israel's actions in Gaza after the attack, with some in staunch support of the government of Israeli Prime Minister Benjamin Netanyahu and others questioning his policies while also arguing Israel must defend itself against terrorism.
Hagee was invited to speak under a section of the program called "Voices of Allies," which included Anila Ali, a Pakistani American Muslim and women's rights activist.
Hagee, who founded the nondenominational evangelical Cornerstone Church and a television ministry in San Antonio, has regularly used world events to link his claims of biblical prophecy. In 2008, he gained attention for endorsing Republican Sen. John McCain of Arizona for president.
The move drew criticism from the Catholic League, a Catholic civil rights group, which has described Hagee as an "anti-Catholic bigot."
Hagee later said he regretted comments he made about the Catholic church, and he also walked back previous remarks in which he said Hurricane Katrina was punishment for the LGBTQ community, PolitiFact reported.
A Huffington Post report examining Hagee's comments about Hitler and Jews brought further criticism; Hagee had said in a sermon that "God sent a hunter" and that Jews were killed "because God said my top priority for the Jewish people is to get them to come back to the land of Israel."
McCain ultimately rejected Hagee's endorsement, leading Hagee to say he was misrepresented and tired of "baseless attacks."
Hagee faced controversy again in 2014, when the ADL called on him to apologize after he said Barack Obama was "one of the most antisemitic presidents in the history of the United States of America." Over the years, he has remained a prominent figure among conservative Republicans, becoming an outspoken supporter of Donald Trump and recently hosting Republican presidential candidates loyal to Israel at his organization's annual summit.
At the March for Israel, Hagee was pointed about his continuing support for the Jewish people and Israel's resilience.
"Israel," he said, "you are not alone today, tomorrow or forever."