Three Massachusetts families accused Harvard Medical School of abandoning the donated bodies of their loved ones in a "place of freakish-desecration" where, they said, body parts were picked over "like trinkets at a flea market," according to a class action lawsuit filed Wednesday.
Glenn Wilder, Jeanine Cunningham and Pamela Bishop said they trusted Harvard to care for their relatives but were "shocked and devastated" when they learned this month that cadavers had allegedly been stolen in a theft ring at the school's morgue in Boston and then chopped up and illegally sold.
Morgue manager Cedric Lodge, his wife and several other people have been indicted and accused of trafficking stolen human remains.
The lawsuit says that instead of caring for the remains, Harvard "abandoned them in a facility that was a place of freakish-desecration, where, according to the indictments, criminals were allowed to roam and pick over loved ones' remains for bits like trinkets at a flea market."
It also accuses the school of having lax policies and failing to properly screen and supervise its staff.
Attorneys John Morgan and Kathryn Barnett said in a joint statement: "When these individuals and their families made the generous and selfless decision to donate their bodies, they trusted their remains would be treated with utmost care, dignity, and respect and that their donations would be used to educate the future generation of doctors and ease the suffering of others. Now, these families are left to relive the trauma of losing their loved ones and wonder what happened to their remains."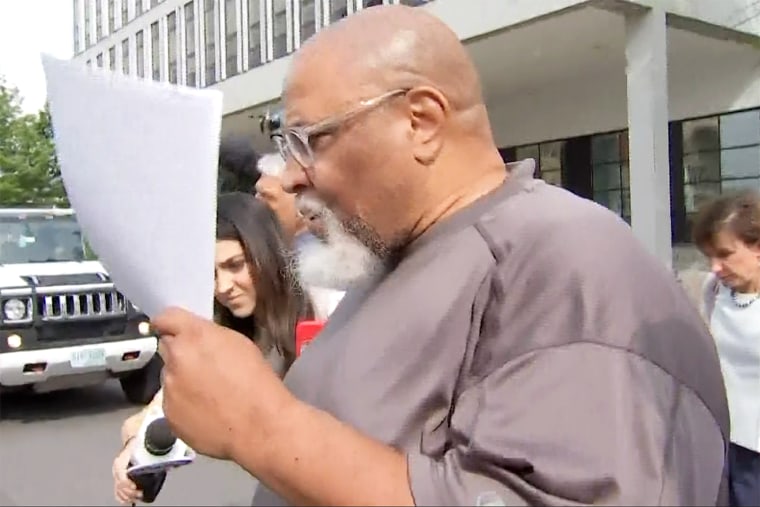 Harvard Medical School said in a statement Thursday that it does not comment on pending or ongoing litigation. In a statement June 14, the dean said the school was "appalled to learn that something so disturbing could happen on our campus — a community dedicated to healing and serving others."
Wilder's father, Glenn Wilder Sr., had told his family he wanted his remains donated to the school's Anatomical Gift Program "for the greater good," the suit says. The family upheld his wish after he died on June 1, 2019.
"As he was dying of lung cancer, Glenn, Sr. told the family that, through this gift, he hoped he could save someone else from the kind of suffering he was enduring," the suit says. "Glenn, Sr. believed that Harvard was 'the bastion of excellence,' and that defendants would treat his remains with the utmost respect, while maximizing the educational, medical and scientific benefit his remains could bestow."
Harvard had the remains for nearly two years before it returned what it said were his ashes, according to the lawsuit.
Cunningham and her four siblings said they donated the remains of their father, Marshall Jolotta, after he died on Nov. 25, 2017, the suit says.
Jolotta "felt that, through this generous gift, he could help others, and he wanted to help make young doctors better," it said.
Harvard had the remains for nearly two years before it returned the ashes to the family.
Bishop donated the remains of her father, Joseph Gagne, after he died on June 4, 2018. She and her sister say in the suit that Gagne wanted to be given to the program "for the betterment of all."
"It was important to him that he be able, with his last, generous, act, to help new doctors, to be part of educating medical students and to provide what help he could for the good of all," the lawsuit said.
His remains were kept at the school for about a year before his ashes were returned to the family.
Lodge, the morgue manager, is accused of stealing organs and other body parts before their scheduled cremations and transporting them to his home in Goffstown, New Hampshire, federal prosecutors said in a statement. Lodge and his wife, Denise Lodge, allegedly sold the remains to Katrina Maclean, Joshua Taylor and others, the statement said. They are all included in the federal indictment, along with another man, Mathew Lampi.
A sixth person, Jeremy Pauley, was charged with criminal information, prosecutors said. Another woman accused of being involved in the scheme, Candace Chapman Scott, was previously indicted in Arkansas.
Prosecutors said that, at times, Cedric Lodge would allow Maclean and Taylor to come to the morgue and "examine cadavers to choose what to purchase." He and his wife also allegedly shipped remains to Taylor and others out of state.
Taylor allegedly took some of the stolen remains back to Pennsylvania, where he lives, prosecutors said. He and Maclean resold the remains for profit, prosecutors said. Pauley allegedly purchased remains from Taylor, Maclean and Scott, who is accused of stealing remains from an Arkansas mortuary and crematorium where she worked, the statement said.
Prosecutors also accused Pauley of reselling remains he purchased to Lampi and others.
An attorney for Taylor previously declined to comment on the allegations. Attorneys for the other defendants have not responded to repeated requests for comment. All of the defendants pleaded not guilty except Pauley, who is expected to plead guilty under a plea deal.
The 15-page indictment does not go into extended detail about what the body parts were purchased for, but it does allege that Maclean shipped human skin to a man in Pennsylvania "and engaged in his services to tan the skin to create leather." It also mentions a payment from Taylor that had the memo "head number 7" and a separate transaction for "braiiiiiins."
The attorneys for the affected families said in their joint statement that they want to "hold everyone responsible for this disgrace accountable."