FALLS CHURCH, Va. — Glenn Youngkin's election as governor two years ago was supposed to spell the end of so-called woke ideology in Virginia's public schools.
But halfway through his term, his policy changes have met resistance in Fairfax County, the state's largest school district and one of its most racially diverse communities.
After Youngkin, a Republican, signed an executive order that prohibits teaching "divisive concepts" or critical race theory, Fairfax County Public Schools adopted an equity policy that commits to creating a "culturally responsive environment" and surveyed students about how well their schools help them "speak out against racism."
The Democratic-led district also pushed back against the Youngkin administration's proposed social studies standards, saying, in part, that they focused on white men at the expense of women and people of color. The state rewrote the standards to address the criticisms.
And this summer, the district announced it wouldn't follow the Youngkin administration's guidance to require students to use bathrooms and play on sports teams aligned with their sexes assigned at birth.
Now, conservatives in the district hope to end the Democratic blockade, with all 12 school board seats in this suburban Washington, D.C., community on the Nov. 7 ballot.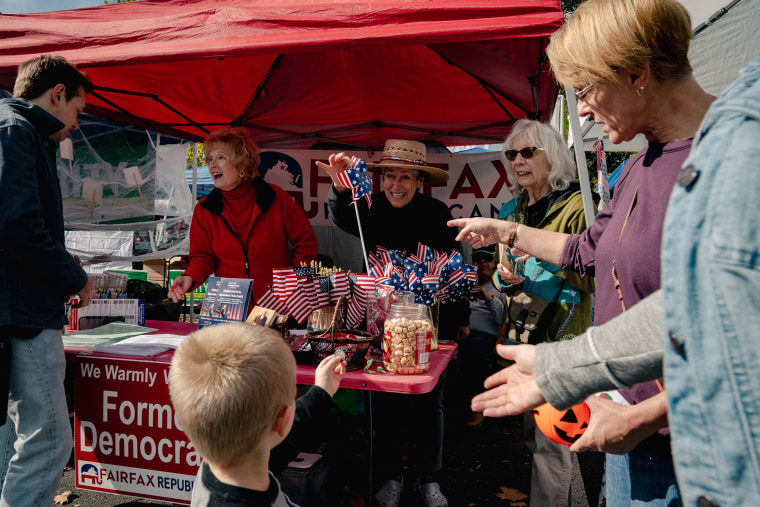 While Fairfax County tends to vote for Democrats, right-leaning parent activists here played an instrumental role in Youngkin's surprise victory in 2021, which fueled a national GOP focus on culture war issues in education. Next week's school board race, which is non-partisan, may test whether voters will reward the Democratic incumbents for holding the line against conservative policies — or whether the "parental rights" movement remains a significant force here.
"If we turn out and we elect all the Democrats, it sends a message that you can't mess with our values and inclusion, you can't mess with progress," said Rachna Sizemore Heizer, a Democratic Fairfax County school board member. "But if we lose seats, then I think it sends a message that the divisive politics is working."
Conservatives say it's the Democrats, not the Republicans, who are injecting divisive national issues into the race. Frustrated with the district's resistance to Youngkin, they hope to nab at least a couple of seats to get a voice on the board so they can raise objections. The GOP-endorsed candidates argue the historically high-performing district has become too scandal-prone — including allegedly mishandling sexual assault cases and failing to provide special education services — to be trusted with a $3.5 billion budget and 180,000 students.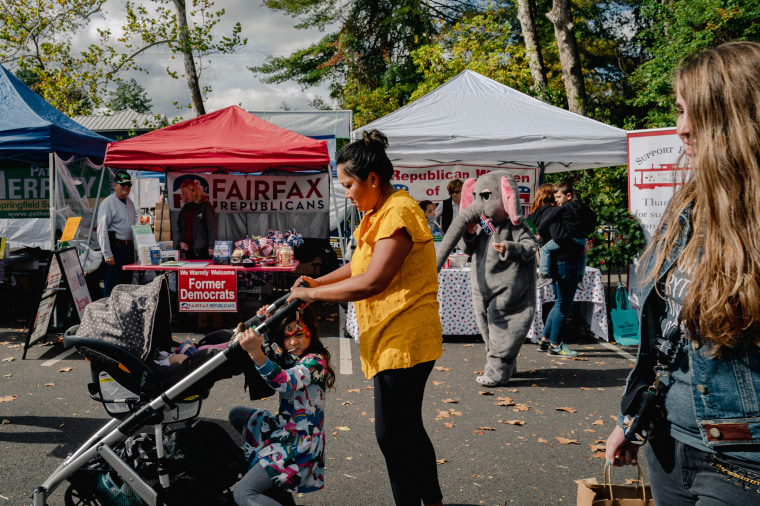 Rory Cooper, a Fairfax County father who previously advised congressional Republicans, said he believes many of his neighbors are concerned that the school board has focused more on being "political provocateurs" than addressing a post-Covid decline in SAT scores and stemming teacher resignations.
"People are still voting based off of what's happening in our schools, not what's happening at a larger political level, which is why you may see Democrats crossing over for more conservative candidates," Cooper said. 
Still, a majority of the Democratic-backed school board candidates have raised more money than their GOP-endorsed opponents — in some cases by a factor of 10. An analysis of early voting data by the local Democratic Party found that most of the ballots turned in by late October came from voters who typically support Democrats.
A spokesperson for Fairfax County Public Schools said the district's SAT scores remain higher than state and global averages and fewer teachers resigned last school year than the year before, but declined to comment further because "it would not be appropriate for us to respond to concerns raised by a candidate running for political office." Current school board members have said many of the issues in the district are challenges facing schools across the country.
Virginia is one of 16 states — including several considered swing states in presidential elections — with school board elections next week. School board races have typically been low-turnout affairs, but over the past three years increasing polarization and discontent around pandemic-era rules and conservative activism over race and gender issues have drawn more attention from local and state political parties. 
Culture war fights take hold
Yet recent polling has shown many voters souring on conservative politicians' focus on culture war fights ahead of the 2024 election. 
In Virginia, a survey conducted in September by the University of Mary Washington's Center for Leadership and Media Studies found that while nearly two-thirds of voters said education was going to factor into their choices on the Nov. 7 ballot, most described their own local schools either positively or neutrally. National polling shows virtually no change in how satisfied Americans are with public schools since 1999.
"You cannot allow only the loudest voices to be what guides the school system," said Karl Frisch, the vice chair of Fairfax County's school board. "It needs to be representative of the entire school community."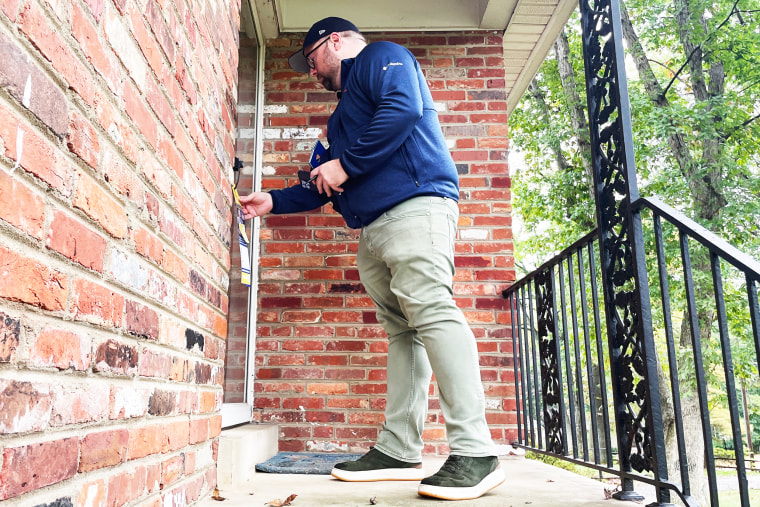 Leveraging a local battle
Fairfax County is home to many federal workers and military employees. Residents tend to be highly educated; it was the first county nationally to achieve a six-figure median income. Voters here have supported Democratic presidential candidates since the George W. Bush administration, but in 2021, conservative parents became more vocal and began drawing a bigger audience for their views — including Youngkin, then a gubernatorial candidate.  
Youngkin's campaign strategists told Politico at the time that they zeroed in on education issues in Fairfax County — such as changes to the admissions policy of Thomas Jefferson High School for Science and Technology, an elite magnet school — to drum up support. 
Thomas Jefferson High School, known locally as TJ, had long admitted students based on standardized test scores, and it was largely populated by Asian American students. During the pandemic, the school board adopted a new admissions policy that instead evaluated the top 1.5% of eighth graders at each middle school. The changes boosted enrollment of Black, Hispanic and white students, but a parents group called the Coalition for TJ criticized it as discriminatory toward Asians and unsuccessfully sued to stop it.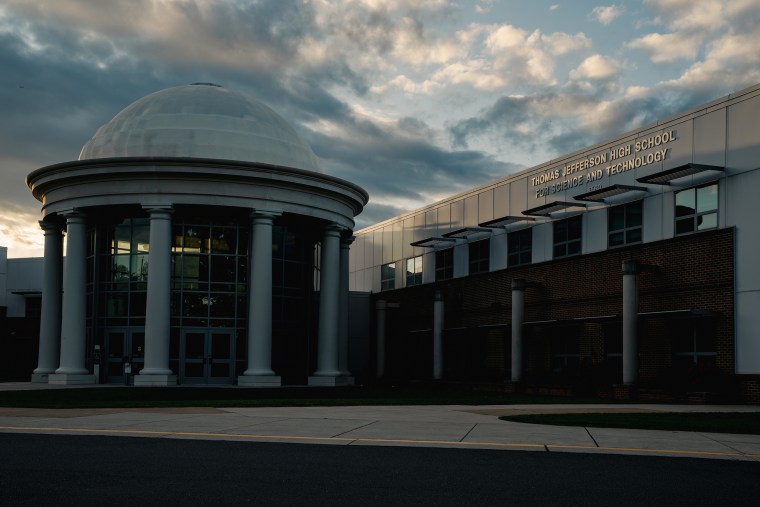 Youngkin, who didn't respond to a request for comment, spoke at a Coalition for TJ meeting and ran advertising asserting that the selective school had lowered its academic standards.
By fall 2021, activists involved with the Coalition for TJ had turned their attention toward lessons and teacher trainings about race. Fox News featured the district extensively on air. Then, at the Sept. 23 Fairfax County school board meeting, conservative mother Stacy Langton raised a new issue that soon became part of a heated nationwide battle: graphic passages in LGBTQ-themed books.
"Pornography is offensive to all people; it is offensive to common decency," Langton declared at the meeting, holding up printouts from the books "Gender Queer" and "Lawn Boy."
Less than a week later, Youngkin cited Langton's complaints about the books at a gubernatorial debate to make the point that schools should listen to parents' concerns. Terry McAuliffe, his Democratic opponent and a former governor, responded, "I'm not going to let parents come into schools and take books out."
McAuliffe's retort is widely considered to have tanked his candidacy; Youngkin won by 2 percentage points in a state that had been trending blue.
One Youngkin ad featured Langton's remarks at the school board meeting. Coalition for TJ members, including Fairfax County father Harry Jackson, campaigned for Youngkin. Saundra Davis, a local mother and military spouse who said she'd long voted for Democrats, appeared in an ad for him. Both Jackson and Davis are now running as GOP-backed school board candidates.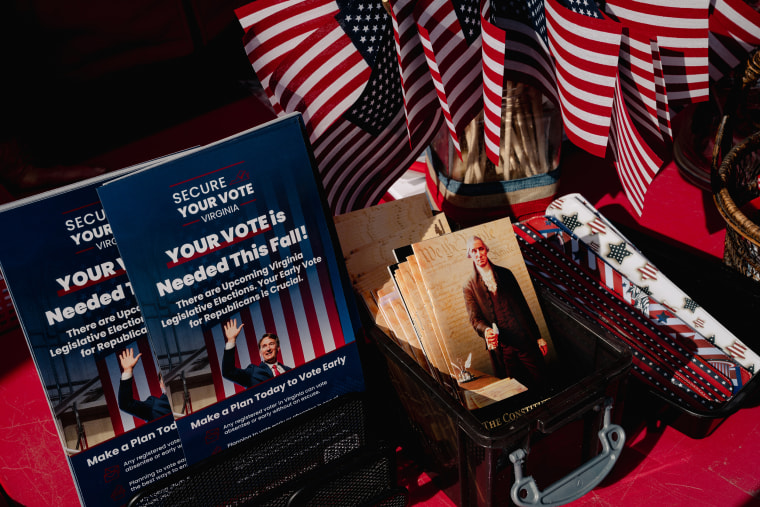 Davis said she was pushed to the right by the Democrats' resistance to reopening classrooms during Covid. 
"The Democrats wouldn't have anything to do with parents who wanted to reopen schools, but the Republicans would let you stand near them," Davis said. "Their proverbial tent is bigger than the local Democrat Party's."
Davis, who is running for one of three at-large seats on the board, advertises herself as a "moderate" on purple flyers. She wants some restrictions on explicit books, and she wants the district to get approval from parents before staff members call students by different pronouns. But if elected, she said, she'd be more focused on addressing a dip in reading scores. She has raised over $91,000, more than any other GOP-backed candidate.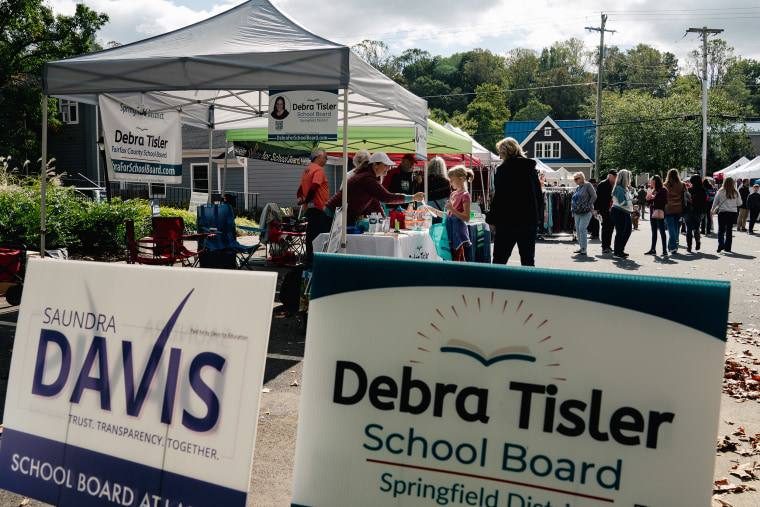 What's on voters' minds
Chris McCormick, the mother of two transgender boys in the district, said her sons' schools were welcoming. She wants the school board to continue pushing back against Youngkin's policies on LGBTQ students — but she also doesn't want the board to focus on politics. 
"I'm not interested in the politicalization surrounding school — it's school," McCormick said. "Let the school board and the school district do what they're meant to do, which is provide an education for our kids, keep them safe and prepare them for a good future."
Many voters agree. When NBC News observed Democratic incumbents canvassing neighborhoods, knocking on dozens of doors, no one confronted them over graphic or upsetting books or accommodations for transgender students. Instead, parents shared their concerns about traffic near bus stops and whether the schools were too big or asked whether the district would consider a four-day week to attract more teachers. 
Much of the campaigning on the ground involves trying to explain to voters which candidates are affiliated with which party, because that designation won't be on the ballot for school board. At the recent Clifton Day Festival, an annual fall event set on the pumpkin-and-hay-bale-lined main street of a small town in the county, Republicans and Democrats handed out flyers showing their candidate slates.
Brian Carr walked away from the school board candidates' tents at the festival unsure who would get his vote. 
As the father of a middle schooler with an anxiety disorder, he said his primary concern was special education services. But Carr said he'd have a hard time voting for a candidate who supported banning books.
"My wife and I can choose what we read or not read for our kid," he said. "I don't need a school board or a state to tell me what my kid can't read. It's something I feel strongly about."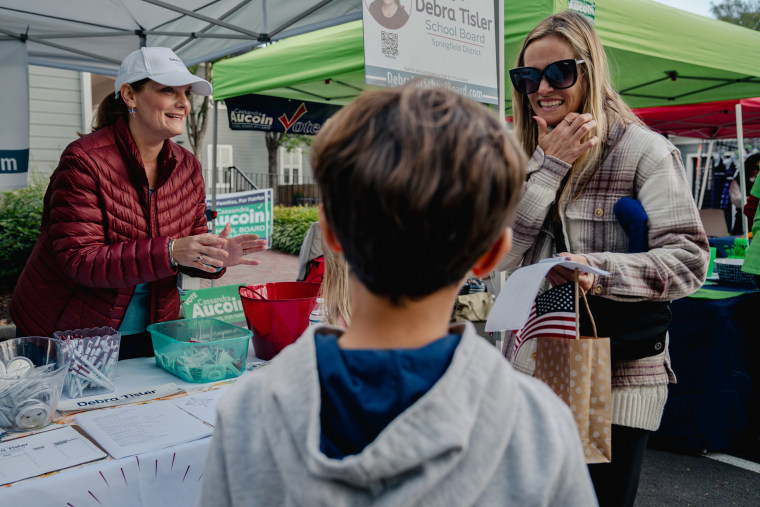 Before Debra Tisler, a former special education teacher, became a GOP-backed school board candidate, she waged a campaign to investigate the district's spending, which turned into a legal battle she won. She said she'd been frustrated with her own yearslong attempt to get tutoring for her dyslexic son, and special education is the main issue she talks about on the campaign trail, but she also relates to concerns parents have over library books with sexually explicit passages.
"When you have graphic pictures of adults or children engaging in sexual activities, it's harmful to children," Tisler said. "And I'm very concerned for our children with autism and intellectual disabilities, as well, because if they see this information — this pictorial form in a cartoon that's very friendly to them — it could make them vulnerable to think that it's OK for an adult to want that type of sexual behavior from them."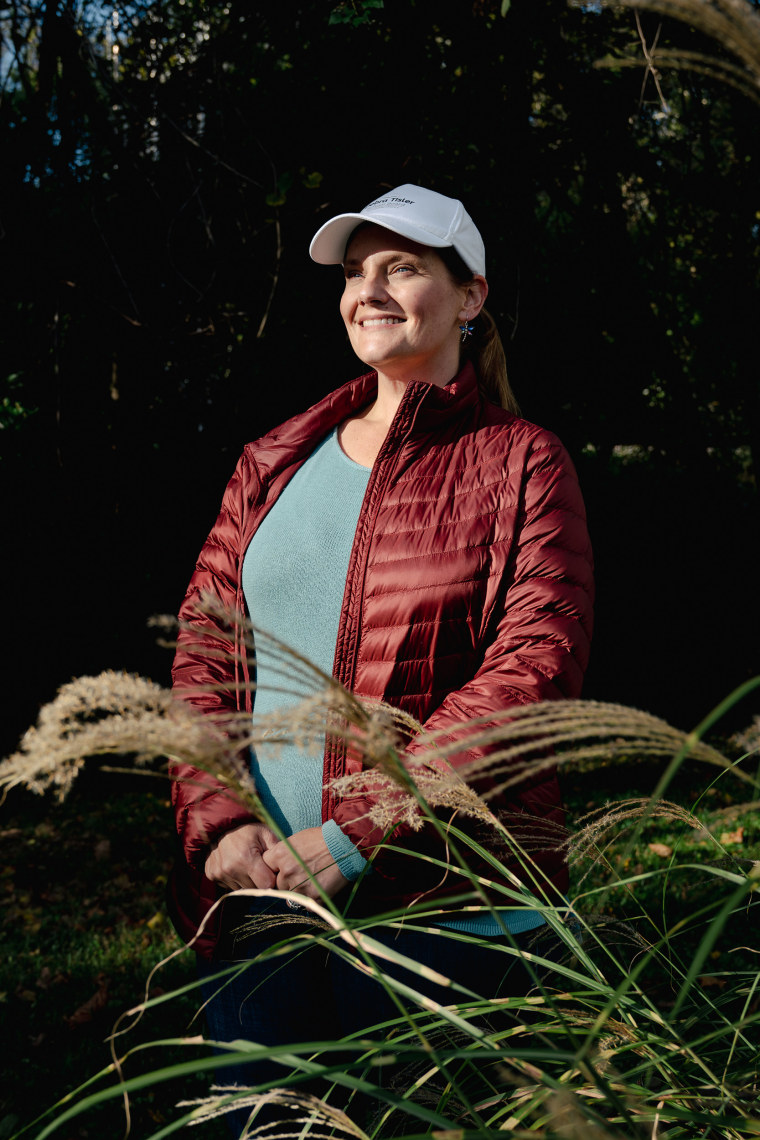 Despite the moderate positioning of some of the Republican-backed candidates, Democrats argue the whole GOP slate is tainted by the fringe views and conspiracy theories espoused by others.
"The Republican ticket is a group of folks that are not serious," said Democratic candidate Kyle McDaniel. "I don't see Fairfax voters buying what they're selling."
One of the Republican candidates, Maureen Brody, attended the Jan. 6, 2021, "Stop the Steal" rally outside the Capitol and has promoted numerous conspiracy theories on Gab, including Pizzagate, the idea that there is a cabal of elite liberals running a sex-trafficking ring. She also praised a video of white nationalist influencer Nick Fuentes as a "good young conservative view." 
Brody said in an email, "Sharing doesn't mean endorsement," adding that she is "extremely concerned" about human trafficking. 
Parents with a variety of political beliefs have also raised concerns about Harry Jackson, the Coalition for TJ member who campaigned for Youngkin and is now running for the school board.
Jackson has been arrested and accused of domestic assault three times. After a previous wife accused him of choking her and pushing her in 2008 and 2010, court records obtained by NBC News show, the charges were dismissed in the first case and he served probation in the second case before charges were dropped in 2012. His current wife accused him of abuse in 2018; he pleaded no contest and was ordered to complete a batterer intervention program, WJLA-TV of Washington reported. 
Jackson emphasized in an interview that he was never convicted, characterized his ex-wife's account as "untrue" and said that he was awarded custody of their child. He added that he and his current wife are still married and that he pleaded no contest because it was cheaper and quicker than fighting in court.
"What's being brought up are personal attacks regarding allegations that were unfounded from over 10 years ago, where I'm bringing up issues that are current today," Jackson said, adding that if elected, he would scrutinize the district's spending and work to protect students from drugs and human trafficking. 
The Fairfax County GOP has stood by its endorsement of Jackson, despite protests from some local conservative parent activists. The party didn't respond to requests for comment.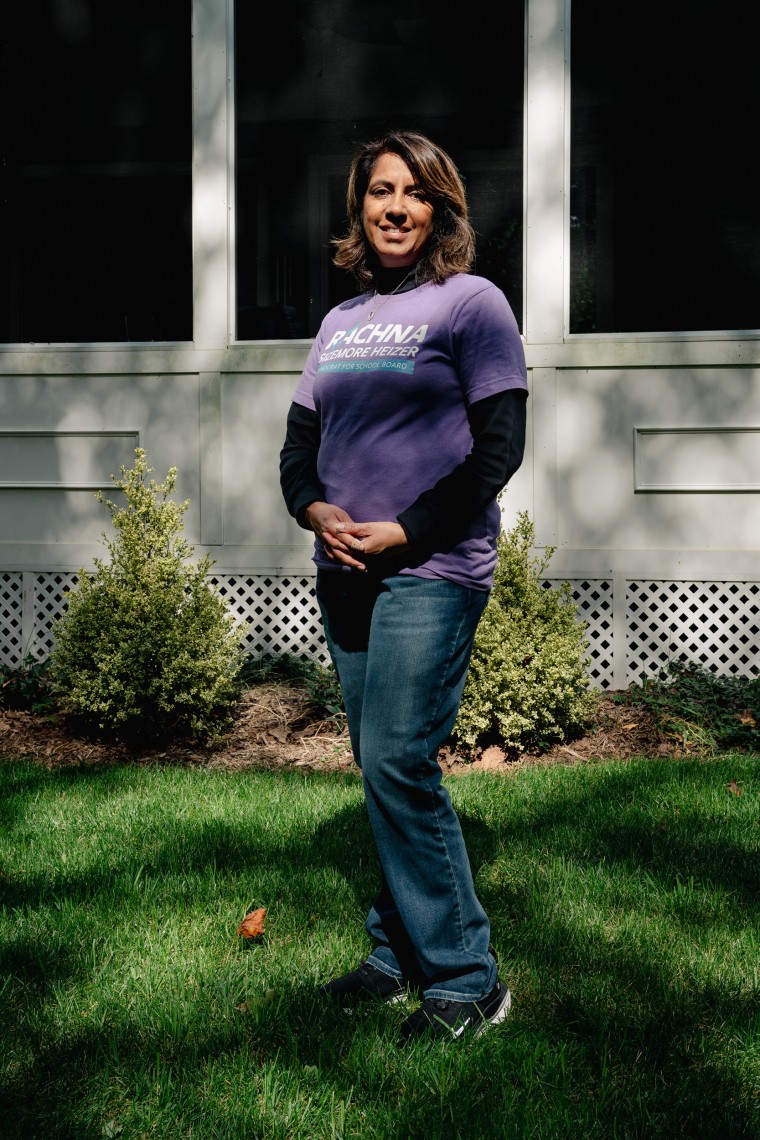 Some of the Democrats are leveraging those divisions and trying to tie the whole GOP slate together. While she was knocking on doors on a recent Sunday, Seizmore Heizer, who is seeking re-election, spoke to a man in his driveway about her opponents. 
"The candidates here in Fairfax who are Republican — they're not the old, moderate Republican," she told him as he flipped through the campaign materials she'd handed him. "There's one who was at the Jan. 6 insurrection; another one has been arrested at least three times, I think, over domestic violence," a reference to Jackson. 
The man's eyebrows shot up as he exclaimed, "Really?"
"These are the folks that are running," she added as the man nodded along, "and these are our kids, and that's our future."