Democratic state officials in California are taking a leading role in fighting the education culture wars at the local level, just as conservatives launch an effort to take the same issues directly to voters.
Three of the top elected officials in the state — Gov. Gavin Newsom, Attorney General Rob Bonta and Superintendent of Public Instruction Tony Thurmond — are pulling a variety of levers to fight back against conservative school board policies banning books and restricting support for LGBTQ students.
They've threatened to fine a school district $1.5 million for refusing to purchase curriculum materials that mentioned gay rights leader Harvey Milk, written legislation to penalize schools that ban books and opened investigations into board decisions by conservatives. Over the past four months, they've entered the local frays to a far greater and more public extent than leaders in any other blue state.
"We should do everything in our power to make sure that our children's rights are upheld, honored and protected — their constitutional rights, their civil rights, their freedom from discrimination," Bonta said in a phone interview. "And it's very strange that some adults are trying so hard to violate those rights."
In his latest move Monday, Bonta sued the Chino Valley Unified School District to challenge a policy requiring schools to notify families when their child identifies as transgender, uses a name that is different from the name on their birth certificate or wants to change the pronouns they use at school. Bonta said the policy puts LGBTQ youths in danger if they come from homes that won't accept them.
"It's wrong, it's illegal, and we're going to stop it," Bonta said.
Sonja Shaw, Chino Valley's school board president, called the lawsuit an abuse of power.
"Once again, you have the political cartel of Bonta, Newsom and Thurmond taking power and dictating what they want to us local elected officials," Shaw said.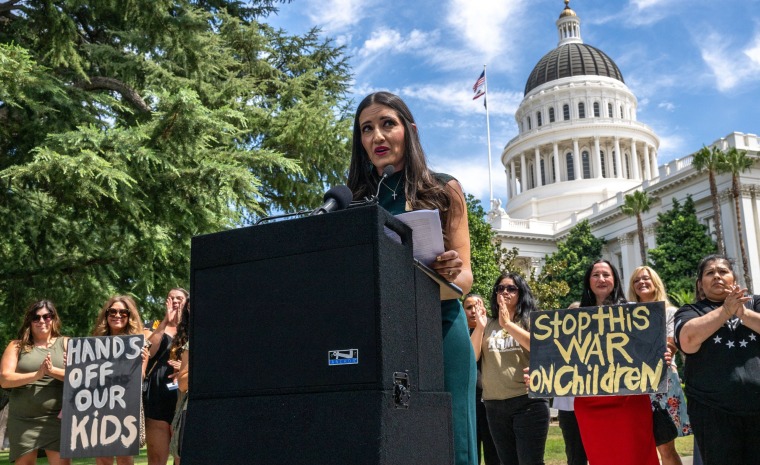 The day Bonta announced his lawsuit, a conservative group called Protect Kids California unveiled a plan to address those issues on a larger scale. The political organization filed paperwork for statewide ballot initiatives seeking laws to require a parental notification policy similar to Chino Valley's, restrict girls' restrooms and sports teams at schools based on children's sexes at birth and ban gender-affirming medical care for transgender children.
Jonathan Zachreson, a Protect Kids California co-founder and Roseville City School District board member, believes the state's Democrats are making a mistake by attacking policies advanced by conservative school boards.
"It's going to bring more limelight and need for our initiatives that we're pushing," Zachreson said. "So, you know, go ahead, Bonta, keep going, keep doing what you're doing and bringing awareness to why we need to have a new law in California's schools."
Democrats hold control of the state government and have blocked similar proposals to restrict LGBTQ students' rights in the Legislature. Protect Kids California will need nearly 550,000 signatures by next spring to get the initiatives on the 2024 ballot.
While national GOP figures have thrown their support behind electing conservative school boards and attacking diversity and equity measures, Democrats have largely left the work to local activists and advocacy groups. There are a few examples of political leaders in other blue states taking action, including in Illinois, which advanced a bill to penalize public institutions that ban books, and in New Jersey, where the attorney general sued three districts this summer, challenging their parental notification policies. But California's Democratic leaders have stood out — and lately they've had plenty to target.
Despite California's liberal reputation, conservative school board candidates succeeded last year in more Republican-leaning pockets outside of California's largest cities, such as in the Central Valley and Inland Empire regions and in Orange County, and they spent much of this year passing rules affecting LGBTQ students, terminating superintendents and restricting the teaching of critical race theory.
Newsom has called some of the school board members "radicalized zealots" who are part of "a national ideological crusade that remains hellbent on silencing diverse communities and erasing our history." 
"Demagogues who whitewash history, censor books, and perpetuate prejudice will never succeed," he said in a July statement. 
Bonta and Thurmond are both exploring runs for governor in 2026.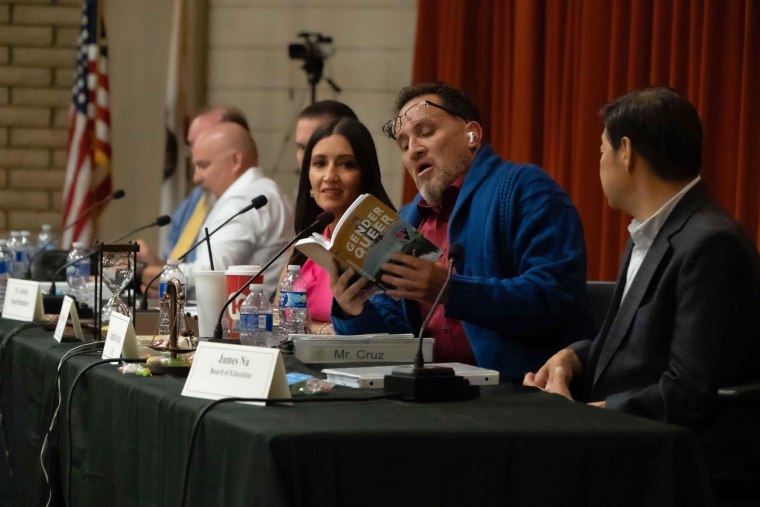 Bonta's lawsuit against Chino Valley, in San Bernardino County east of Los Angeles, alleges the parental notification policy violates students' privacy rights and discriminates against transgender and gender-nonconforming students in violation of California law. The suit describes comments made by school board members at meetings, including one who called transgender identity a "mental illness" and another who said the policy is necessary to counter "The Communist Manifesto's" call "for the abolition of the family."
At the July 20 school board meeting in which Chino Valley approved the parental notification policy, Thurmond, the state superintendent, spoke against it. He asked the board to think of the higher risk of suicide among LGBTQ youths. He got a boisterous mix of cheers and boos from the audience.
Shaw, the board president, responded: "We're here because of people like you. You're in Sacramento, proposing things that pervert children."
When Thurmond tried to continue speaking past his allotted time as the crowd got increasingly raucous, four uniformed district security guards escorted him out of the room. 
In an interview, Shaw said she sees her role as pushing back against state officials who are trying to control her community. 
"I'd rather us not be in this fight, but I'm also one that will not back down from this fight," she said. 
Thurmond said he went to Chino Valley because students had contacted his office and said they were scared that the board policies would create an unsafe environment for them.
"I was a school board member — I believe in local control," Thurmond said in a phone interview this week. "But local control doesn't give you the right to mistreat students or anyone else."
Thurmond said the California Department of Education will file an amicus brief in support of Bonta's suit.
How conservatives are changing education
After Chino Valley passed its parental notification policy, which remains in place, the Coalition for Parental Rights, made up of right-wing advocates and activist groups, held webinars for other school board members about passing similar rules in their districts, emails obtained by NBC News through an open records request show. The coalition said Chino Valley used its model policy, which Shaw confirmed.
The boards of the Temecula Valley Unified School District and the Murrieta Valley Unified School District, both in Southern California, passed similar measures last month. 
Temecula Valley, whose board also opposed materials mentioning Harvey Milk, backed down after Newsom threatened a fine. Now, the state Education Department is investigating complaints alleging that school board members "engaged in discriminatory practices towards students," Thurmond said. The department said it couldn't share additional details; the investigation is expected to be completed this fall. 
Jeff Pack, a co-founder of One Temecula Valley PAC, a political group trying to recall three conservative Temecula Valley school board members, said there's a downside to the involvement from state Democrats in his county, which Newsom lost by 4 percentage points last fall. He said their intervention, like tweets Newsom has directed at his district, can inject partisanship into the local discussions. He said that clouds his arguments that the board members are too focused on ideological fights and are wasting money on them, which Pack thinks would be more appealing to his moderate community.
Pack said his message to statewide Democrats is "if you're going to have the fight, have it." But if they're doing it "as a political launching point," then "stay out of it," he said. "Let us handle it. Because it could hurt us."
Bonta said another the goal of his litigation, if it succeeds, is to also strike down similar parental notification laws in other school districts.
Equality California, a statewide advocacy group for LGBTQ people, welcomed Bonta's suit and said they're "lucky" to have statewide leaders intervening in school board policies.
"We shouldn't put that onus on teachers to force a child to come out when they're not ready," said Tony Hoang, the executive director of Equality California. "We believe, in an ideal scenario, students will be able to have that conversation with their parents but should do so at a time of their choosing, because we know there are many instances where a parent is not affirming and actually could be hostile, and it potentially leads to violence."