The Declaration of Independence. Make America Great Again. Transgender rights. Even the Dakota Access Pipeline. It must be Grammy time.
Grammy Awards producer Ken Ehrlich promised a politically charged telecast Sunday night, and the featured performers and presenters certainly made good, delivering veiled and definitely unveiled criticisms of President Donald Trump, sprinkled with a little support.
Related: Tearful Adele Wins Raves for Insisting on Starting George Michael Tribute Over Again at Grammys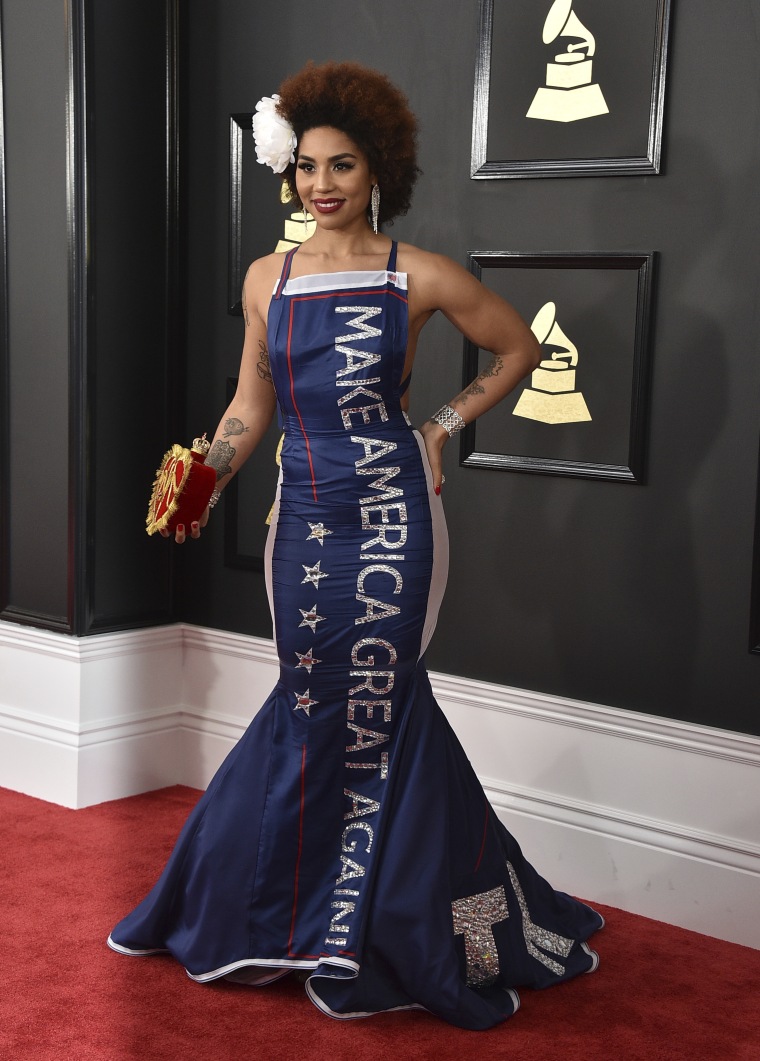 It began even before the telecast got under way, when actor and singer Joy Villa showed up on the red carpet wearing a blue gown emblazoned with Trump's campaign slogan, "Make America Great Again," down the front and his name along the hem.
And the show itself kicked off with politics, as host James Corden included this line in his opening "rap": "President Trump we don't know what comes next. We can survive by sticking together."
Before the last dress rehearsal Sunday, Ehrlich told NBC News he had no problem with performers using the ceremony as a political platform.
"It really is a result of how polarized our country has become in the past year and a half, particularly since November 8," Ehrlich said. "Musical artists are more than words and music. They have feelings and the rights to express them."
The most oblique reference came from actor Laverne Cox, who, while introducing Lady Gaga and Metallica, said simply: "Everyone please Google Gavin Grimm. He's going to the Supreme Court in March."
Related: Grammys Add First Man, Transgender Woman as Trophy Presenters
Gavin, 17, a high school student in Virginia, as born female but identifies as male. He sued in 2015 to win the right to use the school's boys' bathroom at his school, and two years later, the high court will hear the case.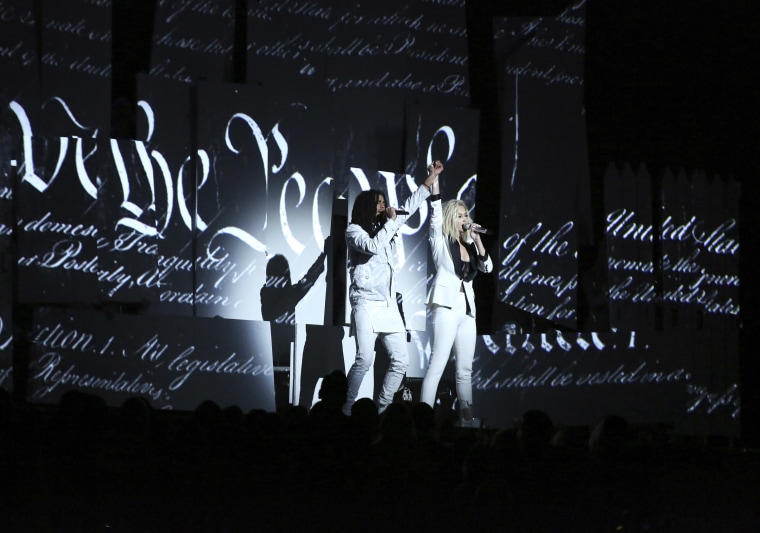 By contrast, a reunited Tribe Called Quest, accompanied by Anderson.Paak and Busta Rhymes, decided to get up in everybody's face. Introducing the pro-immigration anthem "We the People," Busta Rhymes called Trump "President Agent Orange" and other names, and soon after, people representing a large variety of ethnic, national and identity groups joined the ensemble on stage.
As the crowd left the stage, Quest rapper Q-Tip chanted "Resist! Resist!"
Skip Marley and Katy Perry, meanwhile, performed "Chained to the Rhythm" before a projected image of the opening first words of the Declaration of Independence — also "We the People." Perry wore an armband reading "persist."
In addition, Jennifer Lopez — presenting the award for Best New Artist to Chance The Rapper — declared: "There is no time for despair, no place for self-pity, no need for silence and no room for fear. We do language. That is how civilizations heal. So tonight, we celebrate our most universal language, music, as we honor the voices of the past and the present."
Related: Al Jarreau, Legendary Jazz Singer, Dies at 76
And Paris Jackson, Michael Jackson's daughter, introduced a performance by The Weekend and Daft Punk by observing: "We can really use this excitement at a pipeline protest, guys," adding: "NoDAPL."
From the 1973 awards, when Helen Reddy said, "And I would like to thank God, because she makes everything possible," to Kendrick Lamar's shout-out to Trayvon Martin in 2016, musicians have a long history of using the Grammys to address social and political issues.
Just three years ago, Macklemore and Ryan Lewis brought more than 30 couples onto the stage to protest discrimination against the LGBTQ community. Queen Latifah then presided over their marriages — many same-sex unions — live on television.
"You have to separate political from social. I'm very proud of that performance," Ehrlich told NBC News. "It was a social statement. I looked it as nonpartisan and should not get tangled up in the political side of it."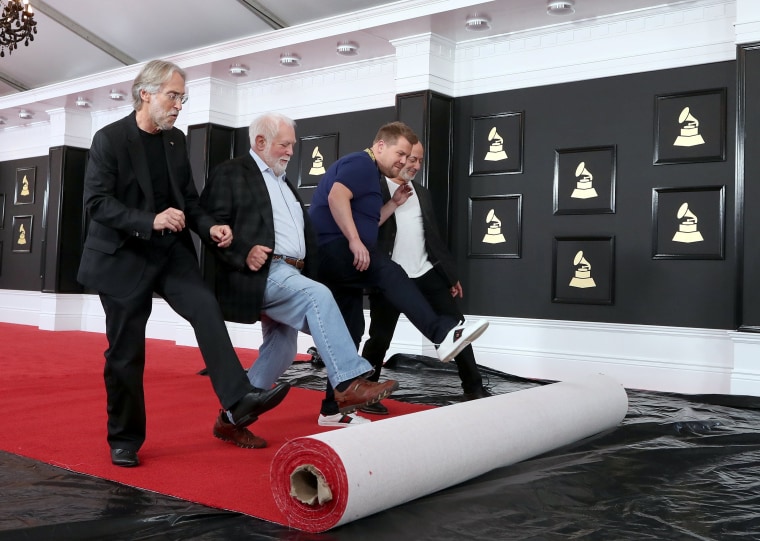 Ehrlich pointed to the music of John Legend and his #FREEAMERICA organization, which aims to address issues of mass incarceration, as well as Beyoncé's music.
"I've sat down with John Legend. I've sat down with Beyoncé. I've sat down with Alicia Keys. I've sat down with Bruce [Springsteen] — our conversations go beyond music," he said. "It's part of their fabric."
And according to Ehrlich, it is an accurate depiction of pop culture.
"Whether it's good or bad, the reality is that celebrities happen to fall into this space of the popular culture," he said. "Have they earned the right to be influential in that regard? Probably some have, and probably some haven't. But we venerate them and listen to them."