Two memos written by the Department of Homeland Security would expand federal authorities' powers to detain and deport undocumented immigrants within the United States.
Obtained by NBC News, the new directives signed by Homeland Security Secretary John Kelly provide greater detail about two of President Donald Trump's executive orders relating to his campaign promises of building a border wall with Mexico and increasing deportation efforts.
The memos were to be filed on Friday, but are still not final. Currently, they await interagency and White House review.
If approved, the memos would order officials to end the release of people captured at the borders while they await hearings, and direct officials to hire additional ICE and Border Patrol agents, as well as send more immigration judges and asylum officers to the border. The documents would also order officials to work with agreeable local police and sheriffs to enforce the new regulations, and allow for expedited removal proceedings for detained immigrants who have been in the U.S. for two years or less.
The memos would also allow authorities to criminally prosecute parents who are undocumented immigrants if they paid smugglers to bring their children to the United States.
"Many of these children fall victim to robbery, extortion, kidnapping, sexual assault and other crimes of violence by the smugglers and other criminal elements along the dangerous journey through Mexico to the United States," the memo obtained by NBC News alleges.
In line with Trump's executive order, one draft memo directs the hiring of 5,000 additional Border Patrol agents and 500 "Air &Marine Agents/Officers." ICE, meanwhile, would be able to hire 10,000 additional agents "as well as additional operational and mission support and legal staff necessary to hire and support their activities."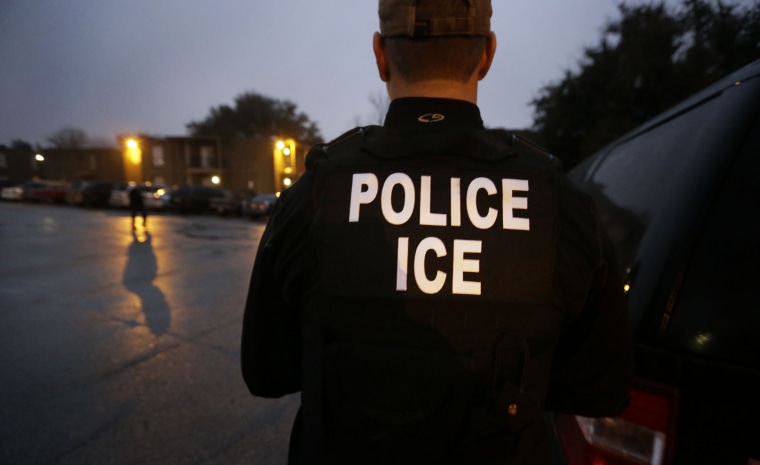 Those hirings would greatly expand ICE, and the memos would allow for Customs and Border Protection to "begin planning, design, construction and maintenance of a wall" — seemingly fulfilling many of Trump's campaign promises, especially those within his Aug. 31, 2016, address on immigration.
"The White House has raised objections to some aspects of these memos and we are working with DHS to finalize the policy," a Trump administration official told NBC News, emphasizing that the White House did not have problems with some of the language.
Related: Lawmakers, After Meeting With ICE, Say All Undocumented Immigrants at Risk of Deportation
"We are not going to offer specific areas where we have concerns. We're not going to litigate this in the open," a White House official told NBC News.
Briefing and supporting materials for the memos will be available "soon."
The White House has acknowledged the memos as they have circulated in media reports. They said the documents are real, but again stressed that they are not final.