Nate weakened to a tropical depression on Sunday afternoon after making landfall near Biloxi, Mississippi, as a dangerous Category 1 hurricane the night before.
Nate had maximum sustained winds of 35 mph at 11 p.m. ET, the National Hurricane Center said. It made a second landfall in Mississippi around 1:30 a.m. ET, hours after it made its first landfall near the mouth of the Mississippi River in Louisiana.
Late Sunday, the storm was wbout 70 miles east-northeast of Nashville, Tennessee, and moving north-northeast at 20 mph.
Although Nate was downgraded to a tropical depression on Sunday afternoon, the storm continued to threaten the region with severe weather, flash flooding and tropical storm-force wind gusts.
According to the National Hurricane Center's 5 p.m. advisory, the storm is expected to dump 2 to 4 more inches — and in some places as much as 6 inches — across eastern Tennessee and north Georgia and parts of South Carolina, North Carolina and Virginia. Areas farther north could expect 1 to 3 inches of rainfall through Monday.
"We are very fortunate this morning and have been blessed," Mississippi Gov. Phil Bryant said at a news conference Sunday morning, noting that there had been no loss of life.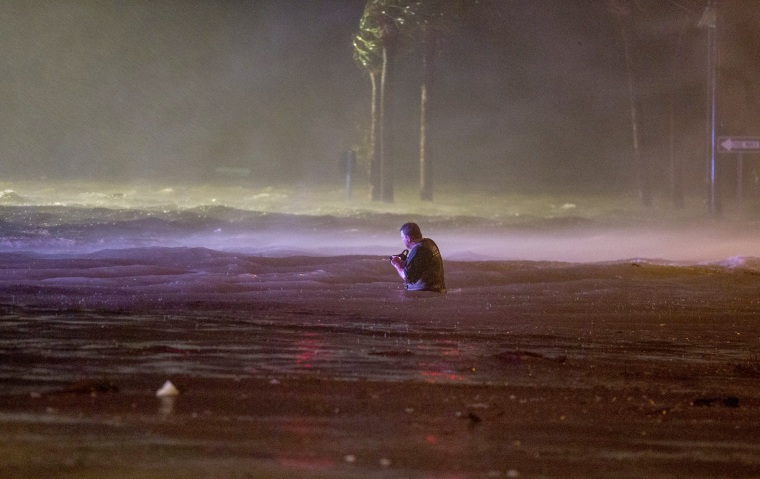 "Some damage has been done particularly to the individual homes that are on the bay and in the areas that the surge caused the primary damage," Bryant added.
People on the Mississippi Gulf Coast had maintained optimism ahead of the hurricane, as many said they were better prepared than they were for Hurricane Katrina, which devastated the region more than a decade ago.
"We did not dodge a bullet," said Mississippi Emergency Management Director Lee Smithson, who emphasized the way the Gulf Coast had rebuilt after Katrina as its saving grace. "If Nate had hit us 15 years ago, the damage would have been much more extensive."
Nevertheless, 15,491 customers in Mississippi were still without power Sunday evening, according to power companies across the state.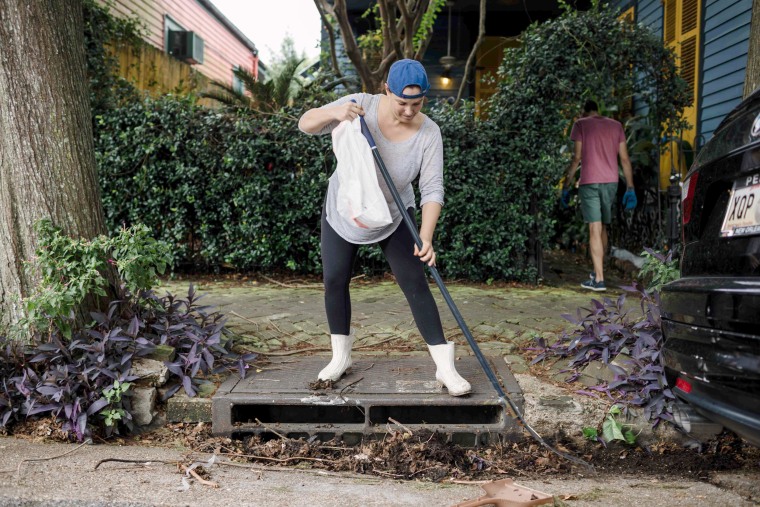 The state's Bureau of Safety and Environmental Enforcement also reported that personnel remained evacuated from 298 of the 737 oil production platforms in the Gulf of Mexico. Workers had also evacuated 14 of the 20 drilling rigs in the gulf.
Hurricane warnings for New Orleans, which had prompted a curfew in the city, were downgraded to tropical storm warnings and the curfew was lifted on Saturday.
Officials had warned of potentially dangerous storm surges of 7 to 11 feet in some places on the Mississippi coast, and surges of 6 to 9 feet in a stretch of coast that includes Mobile Bay.
Alabama Power said that 71,000 customers were without power across the state as of 9 a.m. ET, but that number had decreased to 5,900 by 5 p.m. ET. On Dauphin Island near Mobile, authorities said late Saturday that over 4 feet of water and debris was covering a road and power lines were down.
In Mobile, four shelters were open Saturday night and around 120 people went there to wait out the storm, Mobile Fire-Rescue public information officer Steve Huffman said on MSNBC.
In New Orleans, Tulane University, which had a total enrollment of more than 13,000 in the 2016-2017 year, closed its campus to everyone but on-campus students and essential personnel. Although the hurricane warnings were downgraded to tropical storm warnings for the city, New Orleans recommended that "people shelter in place and use caution" due to high winds.
The storm had been expected to quickly weaken and become a tropical storm Sunday morning. After landfall in Mississippi, Nate is forecast to move into the Tennessee Valley and Appalachian Mountains through Monday.
The storm has already been blamed for deaths in Nicaragua, Costa Rica and Honduras, officials said. Sixteen people were reported dead in Nicaragua, 10 deaths were reported in Costa Rica and one death was reported in Honduras, officials said.