Jury selection began Monday in the murder trial of Lori Vallow, who is accused of killing two of her children, Joshua "JJ" Vallow and Tylee Ryan. 
Vallow has pleaded not guilty to charges of murder, conspiracy and grand theft in the deaths of Joshua and Tylee, who were 7 and 16 when they disappeared in September 2019. Their disappearance sparked a monthslong search, and police eventually found their remains on property in rural Idaho belonging to their stepfather, Vallow's husband, Chad Daybell. 
Daybell, who also pleaded not guilty, is to have a separate trial that hasn't yet been scheduled. He is charged with murder in the death of his late wife, Tammy Daybell, and accused of committing insurance fraud related to her death. 
Vallow is charged with conspiracy to commit first-degree murder in the death of Tammy Daybell.
Vallow's trial comes years after Joshua and Tylee's disappearance made headlines, as the indictment against her and Daybell took months of investigative work and Vallow's mental competency was questioned. 
Prosecutors believe Vallow and Daybell became obsessed with doomsday-focused religious beliefs that led them to commit a series of four murders: those of Vallow's children and each of their former spouses.
Tylee and Joshua reported missing
The Rexburg Police Department formally began a search for Tylee and Joshua in November 2019, after several family members contacted authorities concerned that they hadn't seen or spoken to the children since September.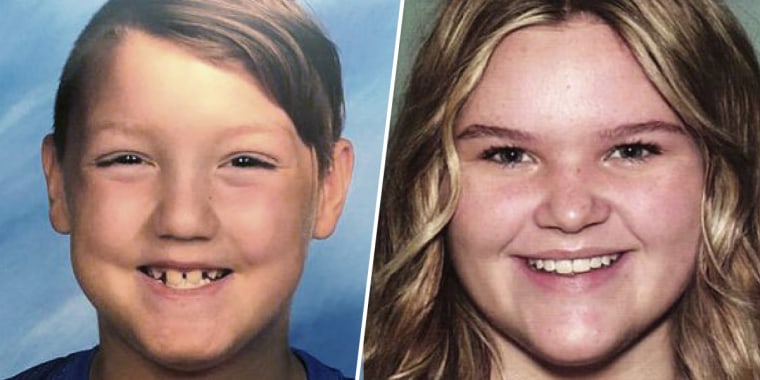 Vallow and her husband told officers that Joshua was in Arizona with a family friend, which police said was a lie. Officers tried to conduct a welfare check on the children on Nov. 26, 2019, but were unable to find them.
Addresses associated with Vallow were searched under warrants the next day, just as investigators learned that she and Daybell had abruptly left Rexburg. Vallow and Daybell hadn't cooperated with the investigation, and by December 2019 they were wanted for questioning in the children's disappearance. 
Police warned that the children could be in danger and put out descriptions.
Joshua, 7, had brown hair and brown eyes and weighed about 50 pounds. 
Tylee, 16, had blond hair and blue eyes and weighed 160 pounds at 5 feet tall.
Joshua, who was adopted and had special needs, was last seen Sept. 23, 2019, at Kennedy Elementary School in Rexburg. The boy was the son of Charles Vallow's nephew.
His grandparents Larry and Kay Woodcock offered a $20,000 reward in January 2020 for information on his whereabouts. They said they last spoke to Joshua in August 2019 on a FaceTime call that lasted less than a minute.
Tylee would have turned 17 on Sept. 24, 2019, but it is believed she died before her birthday. Police said Vallow and Daybell falsely told a witness that Tylee had died a year before, as well as falsely said Tylee was attending a university. 
Tylee's father was Vallow's third husband, Joseph Ryan. He died of a heart attack in 2018 and had been in a bitter custody battle with Vallow over Tylee. 
Keith Taniguchi, his former attorney, told NBC affiliate KSL of Salt Lake City that Vallow had accused Ryan of sexually abusing their daughter and that he had lost custody. Taniguchi said that there was an "extensive" analysis but that no evidence that Tylee had been abused was ever found. 
Media attention unearths chilling allegations
Authorities found Vallow and Daybell in Hawaii together in January 2020, without Tylee or Joshua, and ordered Vallow to physically produce the children to the Idaho Department of Health and Welfare by the end of the month. 
Vallow failed to abide by the order and was later arrested on charges of desertion and nonsupport of dependent children. 
National attention quickly turned to Vallow and Daybell, unearthing troubling details about Vallow. Annie Cushing, Tylee's aunt and Joseph Ryan's sister, told KSL in a February 2020 interview that Vallow was disturbed and "unhinged."
In March 2020, East Idaho News obtained a court document, filed by the ex-husband of Vallow's niece, as part of their own custody battle, which included concern for Tylee and Joshua. Brandon Boudreaux alleged that his ex-wife, Melani Boudreaux Pawlowski, told him that Vallow and Daybell believed that "their children had been possessed and have become zombies."
"She shared concerns that she's been told Brandon needed to die and that may indicate that Tylee and JJ needed to die as well," the document alleges, referring to Joshua by his nickname.
The filing described a cultlike religion that, in addition to zombies, included beliefs in teleportation and "dark and light portals."
Vallow's third husband and Tylee's father, Joseph Ryan, also expressed "real and serious concerns" in court documents in the midst of their divorce and custody battle.
The documents said Vallow was ordered to undergo a psychological evaluation after she told social workers that "death would be an option before giving Tylee to her father, Mr. Joseph Ryan, even for a visit." Ryan died of an apparent heart attack in 2018.
Murder charges issued almost a year after children's remains were unearthed
Police uncovered human remains in June 2020 after they searched a property belonging to Daybell in Fremont County, Idaho. Daybell was arrested on charges of destruction, alteration or concealment of evidence, as well as desertion.
Days later, police confirmed that the bodies were identified as those of Joshua and Tylee. 
"It is not the outcome we had hoped; to be able to find the children safe. Our hearts and prayers go out to the families of JJ and Tylee," Rexburg police said in a news release at the time.
Police said they believed Daybell hid the children's remains on his property sometime from September 2019 to June 2020. Authorities also said the manner of concealment of one of the bodies was "particularly egregious." 
Court documents later revealed that Joshua's remains had been buried in a pet cemetery, and that Tylee had been dismembered and burned in a fire pit. 
Vallow and Daybell weren't indicted on murder charges until May 2021.
Indictments said the couple "did endorse and espouse religious beliefs for the purpose of encouraging and/or justifying the homicides" of Tammy, Tylee and Joshua.
A month later, Vallow was charged with conspiracy to commit first-degree murder in the death of her fourth husband, Charles Vallow.
Vallow's family has said she had long been obsessed with death and the afterlife, and that her marriage to Daybell, a doomsday evangelist and author, pushed her deeper into her beliefs.
The deaths of two spouses revisited
Lori Vallow and Chad Daybell began 2019 married to other people and ended it married to each other after their spouses died. 
In early 2019, Vallow's fourth husband, Charles Vallow, called police to their Arizona home, concerned that she had "lost her mind." He told police that she had taken his car and locked him out of their home after he went on a business trip and that he had been unable to reach her for two days. 
According to video obtained by NBC affiliate KPNX of Phoenix, Charles Vallow told police that his wife believed she was a god and that she believed someone had taken over his body. 
"She's threatened me, to murder me, kill me," he said. "She lost her reality."
"How does she pose a threat to your children?" an officer asked Charles Vallow.
"I don't know what she's going to do with them," Charles Vallow said. "Flee with them. Hurt them."
Police left after they told him that it wasn't a criminal case and that they weren't able to execute a mental health check on his wife at the time. She went to the police department hours later, telling officers that she had caught her husband cheating and that she told him not to come home. 
Charles Vallow filed for divorce a few months before he was shot and killed by Lori Vallow's brother, Alex Cox, on July 11, 2019. Lori Vallow and her brother were questioned at the time but weren't charged, as they claimed self-defense. 
A grand jury charged her with conspiracy to commit murder in the first degree nearly two years after his death, the Maricopa County Attorney's Office said. She will be tried separately, in Arizona, in that case. Cox died in 2019 and was never charged. 
In October 2019, a few months after Charles Vallow died, Tammy Daybell was also found dead of what were believed to be natural causes at the time. Investigators later exhumed her body and conducted an autopsy, which ruled her death was a homicide.
Vallow and Daybell married just two weeks after Tammy's funeral, KSL reported. Police documents obtained by KSL revealed that Charles Vallow had learned of Lori Vallow's infidelity with Daybell 12 days before he died and threatened to tell Tammy. 
Lori Vallow's trial is beginning more than three years after her children's deaths.
Before the murder indictments were returned in May 2021, Vallow was ordered to undergo a mental competency evaluation and was declared unfit to stand trial on two counts of concealment in the deaths of her kids. A judge ordered her to be committed in June 2021 in the custody of the Idaho Department of Health and Welfare for 90 days of treatment. 
She was declared mentally fit to stand nearly a year later.
In April 2022, Vallow was declared to be "restored to competency and fit to proceed" to trial. Idaho doesn't allow for an "insanity" defense and requires that defendants have the competence to understand the charges against them.  
Prosecutors have sought the death penalty against Vallow, but 7th District Judge Steven Boyce ruled against it last month.
CORRECTION (April 4, 2023, 3:55 p.m. ET): A previous version of this article misstated how long it took for Lori Vallow to speak to police after her former husband called for a wellness check in early 2019. It was hours later, not days later.
CORRECTION (April 11, 2023, 12 p.m. ET): A previous version of this article misstated the marital status of Chad and Tammy Daybell when Tammy died in 2019. Chad and Tammy were married at the time; Tammy was not Chad's ex-wife.