Michigan State University is taking steps to fire doctor Larry Nassar's former boss on in the latest fallout from the sex-abuse scandal roiling the campus and the gymnastics world.
William Strampel was the dean of the College of Osteopathic Medicine at MSU, where Nassar had his sports medicine practice until he was publicly accused of molesting patients in the fall of 2016. Strampel infamously told Nassar he was on his side as the first allegations bubbled up.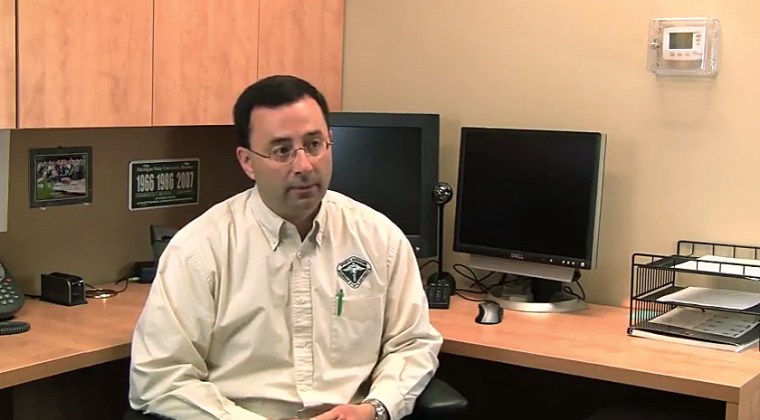 Strampel stepped down from his managerial role last month, citing illness, but now MSU is moving to revoke his tenure so it can terminate him, the university said in a statement Friday.
"William Strampel did not act with the level of professionalism we expect from individuals who hold senior leadership positions, particularly in a position that involves student and patient safety," interim MSU President John Engler said.
"Further, allegations have arisen that question whether his personal conduct over a long period of time met MSU's standards. We are sending an unmistakable message today that we will remove employees who do not treat students, faculty, staff, or anyone else in our community in an appropriate manner," Engler added.
"I sincerely hope the courageous survivors of Larry Nassar will see this as an unmistakable indication that things are changing quickly at Michigan State," Engler said. "I said last week that their efforts would not be in vain. This is just the first step in restoring trust in Michigan State."
MSU also announced it was suspending Suresh Mukherji as chair of the Radiology Department. It did not specify why but said in a pointed statement that it expects all MSU staff to cooperate with Nassar-related inquiries.
The Nassar case has sparked major upheaval at MSU, which is named as a defendant in dozen of lawsuits and is the subject of a criminal investigation by the Michigan Attorney General's Office.
Last month, amid growing criticism of the school's handling of the allegations, President Lou Anna Simon and Athletic Director Mark Hollis resigned. Next week, faculty will consider a vote of no-confidence in the Board of Trustees.
Previously, two Nassar allies were allowed to resign: gymnastics coach Kathie Klages, who allegedly dismissed complaints about the doctor as far back as 1997, and Dr. Brooke Lemmen, who removed patients files at his request after he was suspended. Both have denied wrongdoing.
Strampel, who has not responded to requests for comment, has been under scrutiny for his response to accusations against Nassar.
He allowed Nassar to keep treating patients, with someone else in the exam room, even while he was under investigation in 2014 for allegedly assaulting Amanda Thomashow. When the probe concluded Nassar's bare-handed vaginal penetration of Thomashow was not sexual in nature, Strampel wrote to him: "I am happy to have you back in full practice."
As a result of the investigation, Nassar was required to have someone else in the exam room and avoid skin-to-skin contact if he planned on working in sensitive areas. But by MSU's own admission, that didn't happen and there's no indication Strampel or anyone else took steps to ensure it did.
In September 2016, when the Indianapolis Star began investigating ex-patient Rachael Denhollander's accusations against Nassar, Strampel told him in an email: "Good luck. I am on your side." A sarcastic comment Strampel made about the resulting newspaper story — "cherry on the cake of my day" — was cited by Denhollander during her blistering condemnation of MSU at Nassar's sentencing hearing last month.
Thomashow's attorney, Jim Graves, told NBC News that the action against Strampel "is only the first step, among many, that must be taken quickly to achieve justice and obtain accountability for all survivors."
"Immediate and full disclosure by MSU of its internal investigation of employees, staff and faculty who were on notice of Nassar's egregious conduct is of the utmost urgency to begin the process," he said.