WASHINGTON — Special Counsel Robert Mueller issued grand jury subpoenas in recent days seeking testimony from public relations executives who worked on an international campaign organized by Paul Manafort, people directly familiar with the matter told NBC News.
This is the first public indication that Mueller's investigation is beginning to compel witness testimony before the grand jury — a significant milestone in an inquiry that is examining the conduct of President Donald Trump and his son-in-law and senior adviser, Jared Kushner, among others.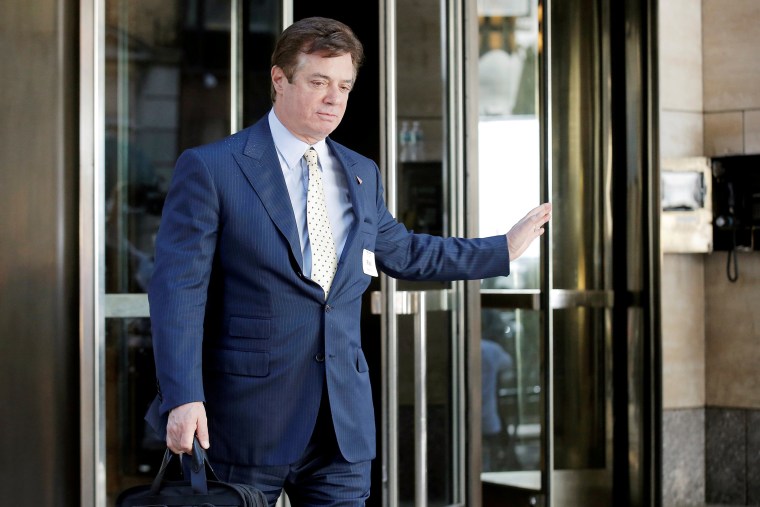 It is also further indication that Manafort, Trump's onetime campaign chairman, could be in serious legal jeopardy.
According to one executive whose firm received a subpoena, Mueller's team is closely examining the lobbying campaign, which ran between 2012 and 2014. Some of the firms involved in the campaign received subpoenas for documents weeks ago, the executive said, and now the Mueller team is seeking testimony.
"We think they are trying to figure out, was this a legitimate project?" the executive said. "From our perspective it was — we did a lot of work. We took it seriously."
Related: Manafort, Flynn Are Key Figures in Mueller's Russia Probe
Manafort, whose Alexandria, Virginia, apartment was raided by FBI agents last month, has emerged as a key figure in the Mueller probe. The inquiry into the lobbying campaign appears to be part of a larger investigation into his work for a pro-Russian Ukrainian political party, his offshore banking transactions, his tax compliance and his real estate dealings, people familiar with the probe have told NBC News.
Manafort also was present at a June 2016 Trump Tower meeting with a Russian lobbyist and a Russian lawyer, along with Donald Trump Jr. and Kushner. NBC News has previously reported that Kushner is under scrutiny by investigators, and that Mueller is examining whether President Trump obstructed justice.
The executive said six firms participated in the public relations effort that Manafort coordinated, paid for by a Brussels-based non-profit called the European Center for a Modern Ukraine. The stated goal was to build support for Ukraine's entry into the European Union.
Two of the firms, Podesta Group and Mercury LLC, worked in Washington with Manafort partner Rick Gates, according to lobbying disclosure records. Three other firms worked in Europe, the executive said. NBC News could not confirm the identity of those three.
At the time, Ukraine was run by a pro-Russian political party that had paid Manafort $17 million for consulting in 2013 and 2014, according to Manafort's latest foreign lobbying disclosure filing, which he filed belatedly under Justice Department pressure.
Related: Guess Who Came to Dinner With Flynn and Putin
The party's leader, Ukrainian President Viktor Yanukovych, fled to Russia during a popular uprising in 2014.
Manafort's spokesman, Jason Maloni, declined to comment.
The Associated Press first revealed the pro-Ukraine lobbying campaign in August 2016, while Manafort was still running the Trump campaign.
The report said the campaign was designed to sway public opinion and included attempts to solicit favorable press coverage in The New York Times and Wall Street Journal.
Related: Trump Surprised by FBI Raid on Manafort Home: 'Pretty Tough Stuff'
At the time, neither Manafort nor the firms had registered as foreign agents. The executive told NBC News that was because the non-profit said that it was not funded by a government or a political party.
In recent months, the Justice Department told the Mercury and Podesta firms that they should have registered as foreign agents, and they did so.
Under the U.S. Foreign Agents Registration Act, people who lobby on behalf of foreign governments, leaders or political parties must file detailed disclosures about their spending and activities to the Justice Department. Willful failure to file the forms is a felony and can result in up to five years in prison — but such prosecutions are extremely rare.
Ken Dilanian and Carol E. Lee reported from Washington, and Tom Winter from New York.