The National Domestic Violence Hotline received more than half a million calls, texts and online chats in 2018 — marking its busiest year ever.
The 573,670 calls and other communications were a 36 percent increase from 2017, according to the hotline, which has provided 24-hour, year-round support since 1996 for individuals affected by relationship abuse.
Hotline CEO Katie Ray-Jones attributed the uptick to several major news stories, such as the allegations of domestic violence against the R&B singer R. Kelly and former White House staff secretary Rob Porter — allegations Kelly and Porter have denied — but also to an evolving cultural mindset in which survivors no longer feel a need to stay silent about abuse, prompted by the #MeToo movement that began in 2017.
"I wouldn't necessarily say that there's more domestic violence happening," Ray-Jones said. "I think what is happening is, there's a lot of discourse around the complexities around domestic violence now."
The hotline helps those experiencing domestic violence, as well as survivors who are trying to rebuild their lives after escaping their abusers — women such as Laura White, 60, of Austin, Texas.
White called the hotline in September 2010, a year after her husband shot her in the abdomen when she tried to serve him with divorce papers. White barely survived and was hospitalized for three months. Afterward, she was living on her own and in constant fear for her safety — even though her husband was behind bars and eventually sentenced to life in prison for the shooting.
"I clutched my cellphone when I went to bed. My cellphone was like an appendage of my body," said White, an anti-money-laundering specialist for a company in the financial industry.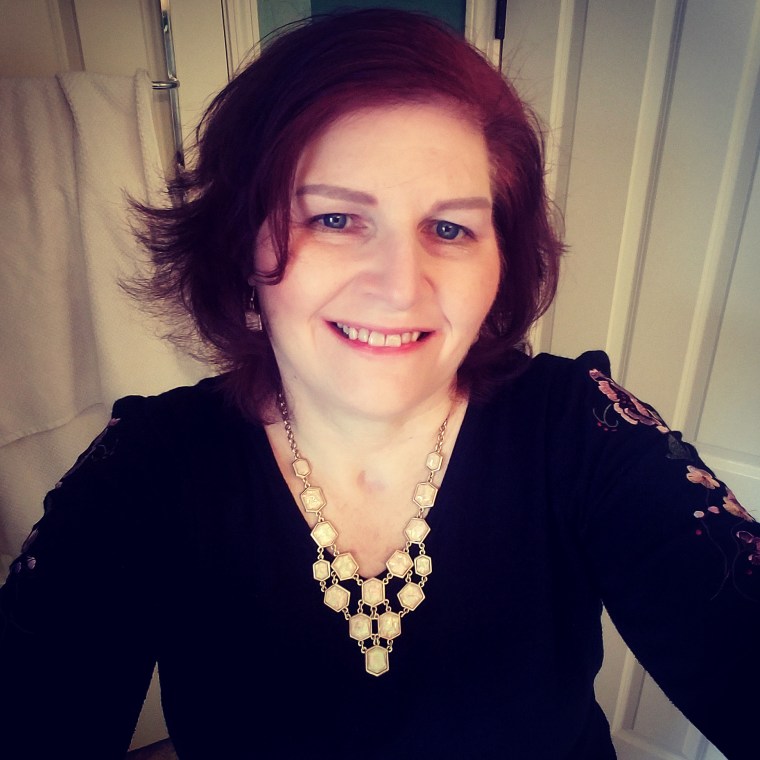 Desperate for help, she called the National Domestic Violence Hotline and shared the verbal and emotional abuse she had suffered during her six-year marriage. She described how something as simple as leaving a hanger on her bed would result in her husband not speaking to her for days, and she recalled the incident that prompted her to leave him for good: He had cursed at her 2-year-old grandson and left him out in the freezing rain, all because he wouldn't stop crying.
The person who answered the phone at the hotline, White said, let her talk for "two hours totally uninterrupted" and then suggested a host of resources, including counseling services through a local women's center and a therapist who could specifically help White get ready to testify against her husband.
"They told me: 'Hey, if you try these and they don't work, call us back. If you try these and they do work, call us back. We are here for you,'" she said. "Just to have somebody to listen who kept saying 'I know how you feel, I understand,' that was amazing — worth so much."
Of those who reached out to the National Domestic Violence Hotline in 2018, 88 percent said they were experiencing some sort of emotional and verbal abuse; 60 percent said they were the victims of physical abuse; 24 percent said they were subject to financial abuse, such as their partners stealing money or limiting access to money; 15 percent reported digital abuse, which includes GPS stalking, relentless texting and unauthorized home surveillance; and 11 percent said they were experiencing sexual abuse.
Joanna Gonzalez-Mondragon, a hotline advocate who has answered the phones since 2016, said she fielded a "huge amount" of callers last year.
"Everyone is in different stages. Some have called previously before, and now are in a different phase of their situation. For example, they left the relationship and now are dealing with co-parenting with an abusive partner and the partner is stalking or obsessively calling them," Gonzalez-Mondragon, 24, said. "Or we will have people call for the first time that don't know a lot about our agency and are a little bit intimidated or afraid to disclose information."
The hotline is confidential, anonymous and free, and helps victims come up with a safety plan to escape abuse. It also connects them with area resources that can help them with legal problems, or shelters that can offer them housing.
Leaders from the National Domestic Violence Hotline, which is funded by federal funds and private donations, presented the 2018 data at a congressional briefing in Washington on Wednesday. At the briefing, they told members of Congress that there was a 48 percent increase in combined visits to their website, TheHotline.org, as well as to loveisrespect.org, the hotline's relationship abuse prevention project geared toward younger people. The primary referral type made by hotline advocates in 2018, they said, was legal resources for victims.
About 1 in 4 women and 1 in 7 men have experienced severe physical violence from an intimate partner, according to the Centers for Disease Control and Prevention.
Ray-Jones said her hope was that the hotline continues to reach those who need it.
"Nobody deserves to be abused. Everyone deserves to be treated with dignity and respect."
"Our heart breaks every time we hear someone say, 'Oh my God, I've been in this relationship for 10 years, I didn't know this existed,'" she told NBC News. "The general public thinks it's just a matter of leaving the relationship and it's all going to be better, not realizing that the path to healing is a lifelong journey. It's not an easy one."
"We want everyone to know yes, it's a journey, but there are resources," she added. "Nobody deserves to be abused. Everyone deserves to be treated with dignity and respect."
If you or someone you know is affected by domestic violence, get help at thehotline.org or by calling 1-800-799-SAFE.