Mark Halperin, a senior political analyst and frequent contributor for NBC News and MSNBC, acknowledged Wednesday night that he had engaged in "inappropriate" behavior around women he worked with while he was at ABC News and said he would "take a step back from my day-to-day work."
Halperin apologized for having pursued "relationships with women that [he] worked with" in a statement to CNN, which quoted five anonymous women, four of them former ABC News employees, as saying Halperin sexually harassed them when he was a top political journalist at ABC News.
"During this period, I did pursue relationships with women that I worked with, including some junior to me," Halperin told CNN. "I now understand from these accounts that my behavior was inappropriate and caused others pain. For that, I am deeply sorry and I apologize. Under the circumstances, I'm going to take a step back from my day-to-day work while I properly deal with this situation."
CNN said it hadn't learned of any incidents after Halperin left ABC News in 2007 after two decades. None of the women reported the alleged incidents — which NBC News has not verified — to ABC News management, according to CNN, which said it wasn't identifying the women because they feared retribution, although one woman said she told a mentor.
Three of the women alleged inappropriate touching, which Halperin denied to CNN. None of the women who spoke to CNN said Halperin ever attempted to exchange anything for sex or suggested he threatened to retaliate against them.
MSNBC said in a statement Thursday morning that in light of the allegations, Halperin would not be returning as a contributor for the time being.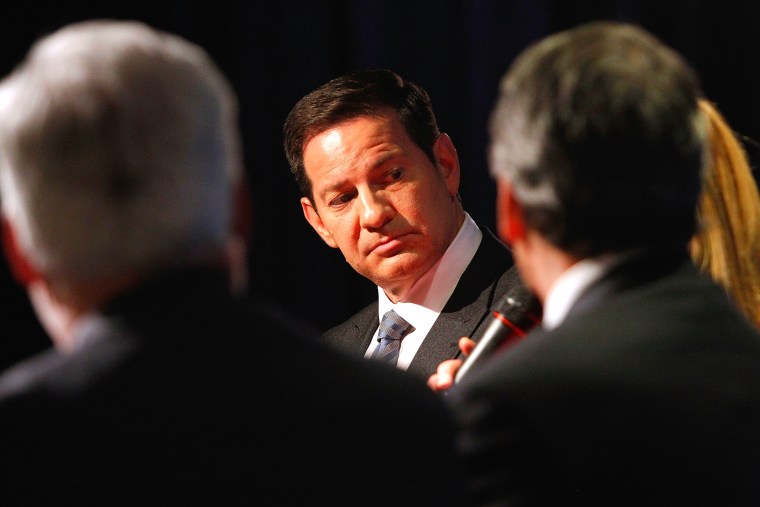 "We find the story and the allegations very troubling. Mark Halperin is leaving his role as a contributor until the questions around his past conduct are fully understood," the statement said.
Halperin didn't immediately return calls seeking comment. In a statement to CNN, ABC News said: "Mark left ABC News over a decade ago, and no complaints were filed during his tenure."
Halperin, who worked for NBC News, MSNBC, Bloomberg Politics and Time magazine after he left ABC News, rejoined NBC News and MSNBC as a contributor and senior political analyst in March. He is a regular guest on MSNBC's "Morning Joe" and on NBC News broadcasts.
He is the co-author, with John Heilemann, of "Game Change," about the 2008 presidential campaign, and "Double Down: Game Change 2012." They were among the co-producers of the Showtime political documentary series "The Circus," the second season of which aired this year.