A man who was paralyzed in 2021 when a Florida police officer shot him in the back with his service weapon instead of a stun gun has filed a federal lawsuit alleging excessive force and negligence.
Michael Ortiz, 43, was paralyzed from the waist down after he called 911 while he was experiencing a mental health crisis on July 3, 2021, according to the lawsuit, filed Tuesday in U.S. District Court for Southern Florida.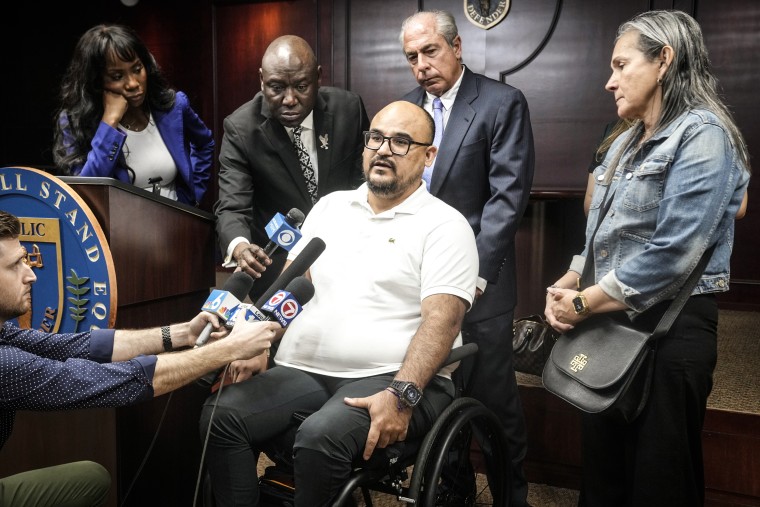 Fire personnel arrived and found Ortiz naked after he had taken a shower to try to calm down, the suit says.
Ortiz "acted with erratic behavior and spoke incoherent and confusing words in Spanish," the lawsuit says.
Three Hollywood police officers also responded. They had physical control of Ortiz, the lawsuit says. One used a stun gun at least twice, and a second officer shot Ortiz, who was handcuffed, in the back, it says.
Ortiz was not committing a crime when he was shot with a stun gun and then a service weapon, the lawsuit says.
Hollywood police said in February 2022 that a review had determined the officer who opened fire intended to use his stun gun but shot his gun instead.
"The department recognizes this is an unfortunate incident and is doing what it can to make sure this doesn't happen again," police said in a statement at the time.
Ortiz's lawsuit says that because he was naked and unarmed, he did not reasonably pose a threat.
"Michael Ortiz needed a helping hand, but what he got was a bullet in the back," attorney Ben Crump said at a news conference Wednesday, according to NBC Miami.
The lawsuit names as defendants the city of Hollywood, its police and fire departments and Officers Henry Andrews, Jhonny Jimenez and Diante Roots.
It accuses Andrews of shooting Ortiz in the back and says Roots used a stun gun on him.
A Hollywood police spokesperson declined to comment Thursday on the suit or the incident. The spokesperson said that Andrews is assigned to desk duty and that Roots and Jimenez remain with the department.
A fire spokesperson also declined comment Thursday.
None of the officers named as defendants could be reached for comment Thursday afternoon.
The lawsuit also alleges poor training and failure to intervene.
"The City of Hollywood Defendants have failed to properly train officers to identify persons who may be afflicted by a mental health crisis, and to properly take actions to deescalate potentially volatile encounters with persons in the public," the suit says.
The police department said in a statement after the shooting Ortiz called 911 reporting chest pains, made suicidal comments and indicated he had taken narcotics.
Officials have said Ortiz emerged from a sixth-floor apartment "naked, combative with the paramedics and visibly agitated." Police have said Ortiz told them he planned to jump from a balcony.
Ortiz, who is in a wheelchair, said Wednesday that his mother is his caretaker and that he feels like an infant because of his physical state, according to NBC Miami.
"My mom is taking care of her son who is more than 40 years old, and she's treating me like I'm 6 months old, changing diapers," he said.