After a five-year investigation sparked by the Jerry Sandusky sexual abuse scandal, the U.S. Education Department has fined Penn State a record $2.4 million for failing to report crimes or warn the public of risks to safety.
The fine is the biggest financial penalty ever levied under the Clery Act, which requires colleges and universities to keep the public informed. Sandusky, the former defensive coordinator for Penn State's football team, was arrested in November 2011.
Sandusky, 72, was convicted in 2012 and is serving a 30 to 60 year prison sentence.
In a 35-page letter, the Education Department itemized Penn State's failures, including not issuing "an emergency notification to its students and employees" after school officials learned there were sex abuse charges coming against Sandusky.
"Penn State officials knew that a man who was about to be charged with more than 50 felonies … had unfettered access to campus buildings and facilities," said the letter.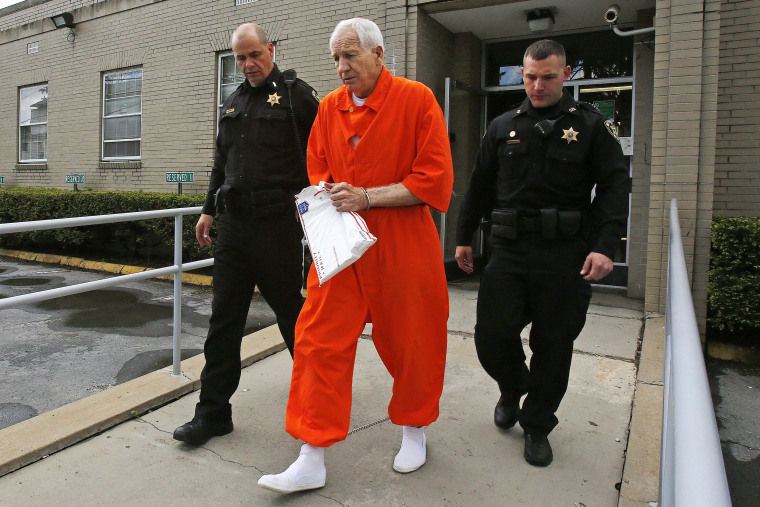 Related: Jury Awards Penn State Whistleblower $7.3 Million in Defamation Case
In a statement, U.S. Education Under Secretary Ted Mitchell said "there must be consequences" for such omissions.
"For colleges and universities to be safe spaces for learning and self-development, institutions must ensure student safety — a part of which is being transparent about incidents on their campuses. Disclosing this information is the law," Mitchell said in the statement.
Related: In Appeal, Jerry Sandusky Takes Witness Stand to Deny Sex Abuse
Penn State said in a statement that it had provided federal investigators with "unfettered access," and that the resulting review was "unprecedented" in scope and duration.
"While regrettably we cannot change the past," said the statement, "today the University has been recognized for significantly strengthening our programs since 2011.The safety and security of our University community is a top priority and we are dedicated to full compliance with the Clery Act and the Drug Free Schools and Communities Act. Today, Penn State has robust Clery training and collection processes in place."
The full 242-page report provides new details on how Penn State handled initial child sex abuse allegations against former coach Jerry Sandusky.
Sandusky was asked to turn over his keys to a football locker room by a football team staffer in 2010 but "Sandusky refused, indicating that relinquishing the keys might be construed as an admission he had done something wrong," according to the report.
A University attorney concluded that because of his status as Professor Emeritus they couldn't take his keys away, according to the report. Eventually, the report says, the school had to change the locks to locker room.
A footnote in the report also says "in a deposition taken as part of a private lawsuit, a former Second Mile official testified that Second Mile senior management instituted a policy in the fall of 2008 that prohibited Sandusky from being alone with children participating in the organization's programs."
The report adds that "nevertheless, Sandusky continued to have an official role with the organization for nearly two years."
Sandusky formed Second Mile, a charity for troubled youth, in 1977. Sandusky was convicted of abusing 10 boys he met through Second Mile.
The report also noted that as far back as 2001 the community should've been warned, and a report should have been made under the guidelines of the Clery Act.
The report says, "we believe that the evidence shows that it was unreasonable for the University not to issue a timely warning in this situation."