A Brooklyn federal judge dismissed the tearful plea for mercy from "Pharma Bro" Martin Shkreli and sentenced him Friday to seven years in prison for defrauding investors.
Shkreli, a snarky social media maven who infamously tried to squeeze AIDS patients by jacking up the price of a life-saving drug, wept as he apologized to the investors.
"This is my fault," he said. "I am not the victim here... Please give me a chance to show what I'm capable of."
But Judge Kiyo Matsumoto, who had the court officer pass Shkreli a box of tissues at one point, was unmoved by his pleading, although the sentence she handed out was far less than the 15 years prosecutors had been seeking.
Minutes later, Shkreli was marched out of the courtroom in handcuffs. He will get credit for six months he has already spent in jail and was also sentenced to three years of probation after his release and ordered to pay a $75,000 fine.
It was an ignominious turn for the fallen entrepreneur, whose attorney had asked Matsumoto to limit his prison sentence to 12 to 18 months.
"For years, Shkreli told lie after lie in order to steal his investors' money, manipulate the stock market and enrich himself," U.S. Attorney Richard Donoghue said. "He will now pay the price for repeatedly violating the trust placed in him by his investors, his employees and the public."
Defense lawyer Benjamin Brafman, who has already announced his intention to appeal the conviction, said he was "disappointed."
"When the guidelines are 25 years and the government is demanding 15 years one would think that a seven year sentence is good," he said. "I thought the sentence should have been less than seven years, but Martin's fine and obviously it could have been a lot worse."
Shkreli, 34, was convicted of bilking backers of the hedge fund he ran and of fraud in connection with the manipulation of stock shares in Retrophin, which was one of his drug companies.
In arguing for a reduced sentence, Brafman argued that none of Shkreli's investors ultimately lost any money and that he never personally benefited from his actions.
Prosecutors, however, contended Shkreli caused anywhere from $9 million to $20 million in losses — and Matsumoto agreed.
On Monday, she ordered the forfeiture of some $7.36 million in Shkreli's assets, including the one-of-kind Wu-Tang Clan album "Once Upon a Time in Shaolin" that he bought at an auction for $2 million.
Sarah Walters, a former federal prosecutor in Boston who ran the economic crimes unit, said Shkreli's punishment fit the crime.
"The seven year sentence for Shkreli is obviously lower than prosecutors were hoping for, but it is still a very significant sentence," Walters said in an email. "Judge Matsumoto considered Shkreli's conduct to be extremely serious and was not particularly moved by Shkreli's arguments of 'no harm no foul' since many of his investors did not lose money in the end."
David Chase, a former Securities and Exchange Commission lawyer, called the sentence a "fair and measured ending to a simply bizarre legal saga."
"The Judge properly considered the serious nature of the offending conduct, Mr. Shkreli's disrespect for the process, the need to send a strong message that such antics will not be tolerated, but tempered by the fact that there was very little, if any, actual investor harm," Chase said in an email.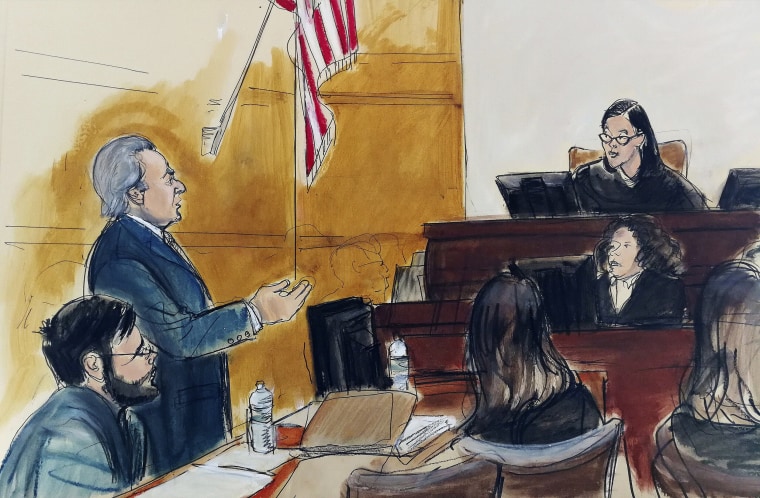 When Shkreli was convicted last summer, he boasted that he would probably spent less than a year at "Club Fed," a cushy minimum-security facility where he could play tennis and Xbox. He got his nickname after posting a photo of himself on Twitter in sunglasses and mimicking a pose from a Flo Rida music video.
But Shkreli quickly found himself behind bars at a tough federal lockup when a judge revoked his bail for offering his Facebook followers $5,000 for a sample of Hillary Clinton's hair when she was on book tour.
The self-styled Wall Street bad boy said it was a joke. But the judge said he was a threat and tossed him into the Brooklyn Metropolitan Correction Center to live among mobsters, drug smugglers and terror suspects while awaiting sentencing.
In court on Friday, a contrite Shkreli told his family not to worry about him and said he was embarrassed and ashamed.
"I was never motivated by money," he said, his voice cracking. "I was trying to grow my stature and reputation."
Shkreli insisted he was "not the same person" he was when he was running the MSMB Capital Management hedge fund.
"I'm here because of the gross, stupid, negligent mistakes I made at MSMB," he said. "This would be a good time to apologize to all the investors of MSMB... I'm terribly sorry I lost your trust. You deserve better."
Shkreli, speaking of himself in the third person, also said he had nobody to blame but himself.
"There was no government conspiracy to take Martin Shkreli down," he said. "I took down Martin Shkreli."
Shkreli's former lawyer, Evan Greebel, was convicted in December of helping him steal millions from his biopharmaceutical company Retrophin Inc. He is awaiting sentencing.