The Florida man who pleaded guilty to sending more than a dozen pipe bombs to prominent critics of President Donald Trump last year was sentenced Monday to 20 years in prison.
Cesar Sayoc, an ardent Trump supporter, sent homemade bombs made of PVC pipe and glass shards to prominent Democrats, including Hillary Clinton and former President Barack Obama, as well as the actor Robert De Niro and CNN headquarters in New York, according to authorities.
No one was hurt and none of the bombs detonated.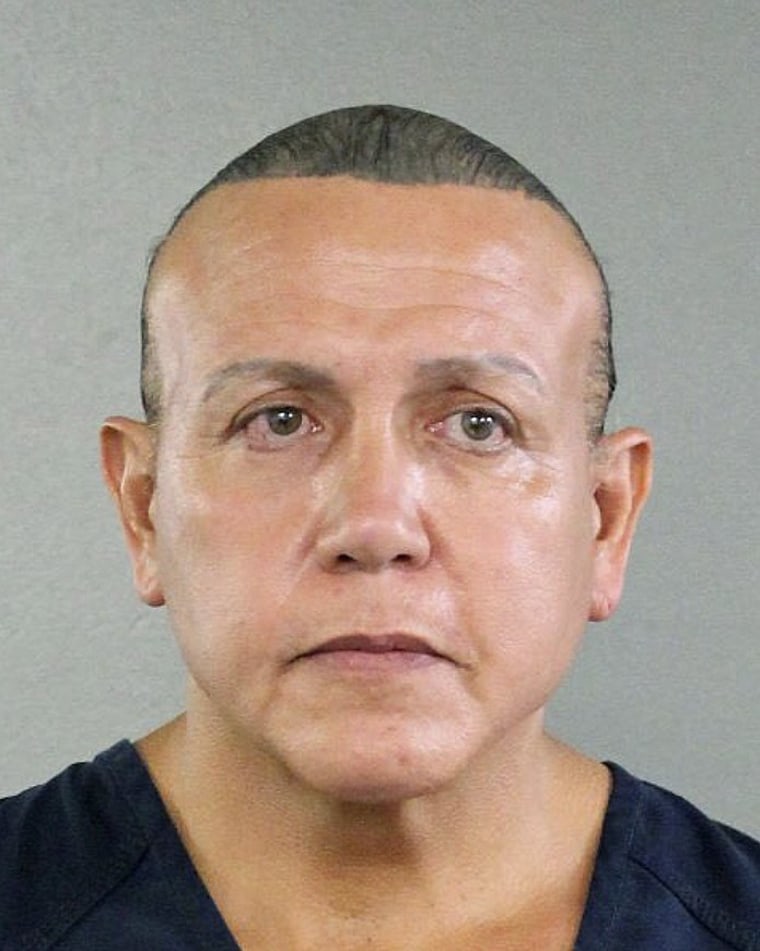 Sayoc pleaded guilty in March to 65 counts, including using weapons of mass destruction and the illegal mailing of explosives with intent to kill or injure. He faced up to life in prison.
The series of mailed pipe bombs, which prosecutors described in court papers as "a domestic terror attack," spurred a nationwide scare last year.
Judge Jed Rakoff said in his sentencing memo that Sayoc became "obsessive and paranoiac," which was made worse by steroid abuse. Rakoff also said he believed Sayoc intentionally designed the bombs so they would not detonate.
These were some of the mitigating factors that kept Sayoc from life in prison, according to the sentencing memo.
"Since Mr. Sayoc is 57 years old, and since federal law does not permit parole, the likelihood is that Mr. Sayoc, even if he proves to be a model prisoner and qualifies for so-called 'good time,' will be about 75 years old before he can be released," Rakoff's memo stated. "No one can pretend this is not, in real terms, substantial punishment; but, in the Court's view, it is no more, and no less, than he deserves."
Download the NBC News app for breaking news and politics
He was arrested on Oct. 26 outside an auto-parts store near Fort Lauderdale, Florida. Sayoc was living out of a white van plastered with stickers praising Trump and slogans condemning liberals and the media. He would shower at the gym where he works out, a Florida-based cousin previously told NBC News.
From Oct. 22 to Nov. 2, the FBI and U.S. Postal Service recovered 16 manila padded envelopes containing improvised explosive devices that were believed to have been sent by Sayoc from Florida, prosecutors said.
Shortly after his arrest, law enforcement sources told NBC News that Sayoc had a list of more than 100 potential targets and did online research on political figures, journalists and entertainers.
Sayoc is also accused of sending the devices, or addressing them to be sent, to former Vice President Joe Biden; former Attorney General Eric Holder; former CIA Director John Brennan; Sens. Cory Booker, D-N.J., and Kamala Harris, D-Calif.; Rep. Maxine Waters, D-Calif.; activist Tom Steyer; and former Director of National Intelligence James Clapper.
Sayoc grew up in North Miami Beach with his two sisters and was thrown out of his house as a teenager, his cousin Lenny Altieri told NBC News in October last year. Altieri called his cousin a "loose cannon" who abused steroids and a "lost soul" who became estranged with his family.
"He's been in the strip clubs since he was 22, that was his life," Altieri said. "He was a male dancer and he wanted to be a wrestler. He was taking steroids. He was all buffed up. ... He was built like a rock."
Sayoc has a criminal record in Florida and was arrested in 2002 for making a bomb threat, according to Miami-Dade County court records. He pleaded guilty. There were also two arrests, one in 1992 and the other in 2014, for petit theft.
Sayoc also had a misdemeanor arrest on his record in North Carolina, where he was charged in 1999 for possession of a stolen car, records show. And in 1995, he was charged in Minnesota with theft and possession of crack cocaine.
In May 2015, Sayoc also said that he was the victim of a robbery, according to a Broward County Sheriff's report obtained by NBC News. The report says that 11 items of clothing worth roughly $7,000 were taken from Sayoc.
Listed under the "make" section of the report, describing the nature of the clothing, was the president's name — "Donald Trump."
A registered Republican, Sayoc appeared to attend a Trump rally in West Palm Beach, Florida, in 2016. His Facebook page and Twitter accounts reviewed by NBC News in October contained several postings in support of Trump.