A Starbucks barista who printed the word "PIG" on the labels of an Oklahoma police officer's order on Thanksgiving was fired, the company said.
The officer, a member of the Kiefer police department, went to the Starbucks in Glenpool to pick up five drinks as a show of thanks for 911 dispatchers working during the holiday, according to Kiefer Police Chief Johnny O'Mara. Kiefer is about 20 miles south of Tulsa.
When the officer got his order, and saw the word "PIG" was printed on the cups' labels, he contacted the police chief, who called the store and spoke to a manager.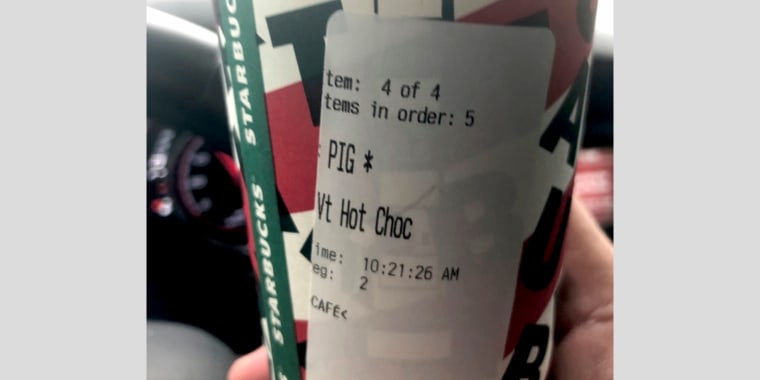 O'Mara uploaded an image of one of the cups on Facebook on Thursday, prompting a response from Starbucks.
"What irks me is the absolute and total disrespect for a police officer who, instead of being home with family and enjoying a meal and a football game, is patrolling his little town," O'Mara wrote in the post that was widely shared and has since been taken down. O'Mara said the store manager offered to reprint the computer-generated labels.
O'Mara also said in the Facebook post that the label "pig" is "another tiny symptom and a nearly indiscernible shout from a contemptuous, roaring and riotous segment of a misanthropic society that vilifies those who stand for what's right and glorifies the very people who would usher in the destruction of the social fabric."
The officer told ABC affiliate KTUL TV that the barista contacted him, apologized and said it was meant as a joke.
In a statement Friday, Starbucks said it had apologized to the officer and that the employee who printed the labels with the "offensive word" used poor judgment and was fired for violating company policy.
"This language is offensive to all law enforcement and is not representative of the deep appreciation we have for police officers who work tirelessly to keep our communities safe," Starbucks said.
In a separate joint statement, Starbucks and the Kiefer Police Department said they would leverage their platforms to promote greater civility.
"In the coming days, Starbucks will be meeting with the Kiefer Police Department to begin discussing ways to work together, including a jointly hosted Coffee with a Cop event at Starbucks where local law enforcement can meet with baristas and members of the community to discuss the critical role dispatchers and police offers play in keeping our communities safe," the statement said.
After the barista's firing, O'Mara told Fox News in an interview Friday that he would like for Starbucks to reconsider.
"I'm asking for civility here," he said. "Starbucks is working very well with me and my department, and we're hoping we can take this moment, where a mistake was made, and turn it into something that highlights the ability to be civil to one another."
In July, Starbucks apologized after a barista in Arizona asked six officers to leave one of the company's stores in a Phoenix suburb because a customer reported feeling unsafe. Starbucks said the officers "should have been welcomed and treated with dignity and utmost respect" but were made to feel "unwelcome and disrespected."
In May 2018, Starbucks closed 8,000 locations across the country for an afternoon of anti-bias training after two black men were handcuffed and arrested by Philadelphia Police for sitting in a Starbucks without ordering. The company later apologized to the two men.