At least 24 people were killed, several others injured and tens of thousands of households and businesses left without power when a tornado struck parts of Nashville and central Tennessee early Tuesday, officials said.
The deaths occurred in at least four counties, including Davidson, where Nashville is, and Putnam, Benton and Wilson, according to officials. At least 18 of the deaths occurred in Putnam County, officials said Tuesday. An earlier death toll for Putnam was listed at 19, but had mistakenly counted a death that was not storm related.
"We have had loss of life all across this state," Gov. Bill Lee, who declared a state of emergency, said. Besides those confirmed dead, some people are unaccounted for, he said. "There are folks missing."
Lee said that the devastation he witnessed was "heartbreaking," but that he was proud of residents who helped each other in the aftermath.
"In the worst of circumstances the best of people comes out, and that's what we're seeing here in Tennessee," Lee said. "It is as we would expect."
The carnage in Tennessee marked the most deadly tornado event in the United States since 23 people were killed in Lee County, Alabama, exactly one year ago, on March 3, 2019.
This is the second most deadly tornado event in Tennessee history, according to the National Oceanic and Atmospheric Administration's Storm Prediction Center. Twisters killed 38 people in Tennessee on March 22, 1952, and 22 died in a tornado on Feb. 5, 2008, according to federal authorities.
Two people, killed by flying debris on McFerrin Avenue, were identified as Michael Dolfini, 36, and his girlfriend, Albree Sexton, 33, Nashville police announced. They had just left Attaboy Lounge, where Dolfini worked, police said.
At the height of the power outages, more than 50,000 homes and businesses were dark — and about 47,000 customers were still without electricity by late Tuesday afternoon, according to the Nashville Electric Service.
President Donald Trump said he would visit Tennessee later this week.
"I want to send my warm wishes to the great people of Tennessee in the wake of the horrible, very vicious tornado that killed at least 19 people and injured many more," Trump said Tuesday in Washington, at the National Association of Counties Legislative Conference.
"We're working with the leaders in Tennessee including their great Gov. Bill Lee to make sure that everything is done properly. FEMA is already on the ground and I'll be going there on Friday."
The severe weather damaged dozens of homes and buildings, and as Tennesseans get ready to vote in Super Tuesday primaries, state officials were scrambling to ensure residents can still get to the polls.
Download the NBC News app for breaking news and politics
At least 45 buildings collapsed in Nashville, and police said that there were multiple buildings with damage, primarily in the downtown and the east precincts.
"Emergency responders are working to ensure persons can get out and secure the areas," police said.
The tornado was spotted northwest of downtown Nashville and took aim at parts of the city, National Weather Service meteorologist Faith Borden said.
Video posted to Twitter showed what appeared to be extensive damage to an apartment complex.
Blakeley Galbraith, a resident of the Vista Apartments in Nashville's Germantown neighborhood, said the fire department rushed to save people trapped in her building.
It was "chaos," she said.
"Our apartments got hit the worst in our neighborhood," Galbraith said. "Cars on top of our garage were overturned."
There was 6 inches of standing water in her top-floor apartment when she fled the building, leaving behind "everything," she said.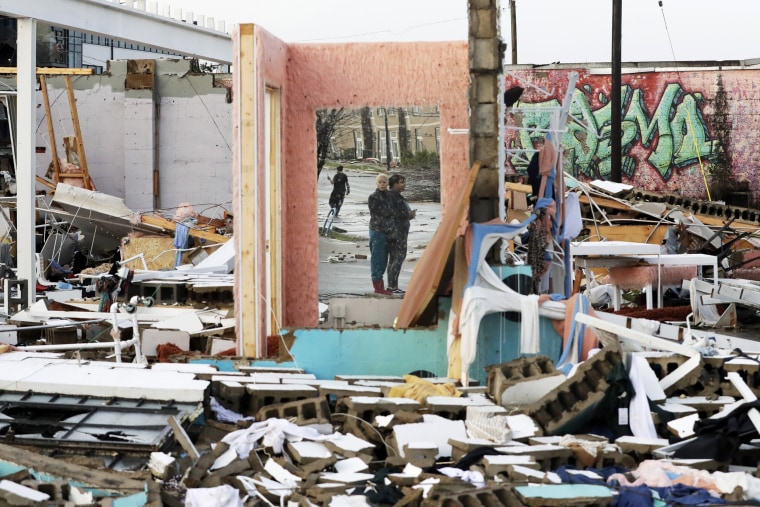 Main Street in east Nashville was closed at 1:30 a.m. and covered in half-fallen trees and other debris, The Tennessean newspaper of Nashville reported. Part of a building had also collapsed onto the road, the newspaper reported. Photos showed what appeared to be heavy damage to some buildings and vehicles.
Council member Brett Withers tweeted that the Five Points neighborhood took a direct hit.
Nashville schools were to be closed Tuesday because of damage throughout the city, officials said.
It was "a devastating night in Nashville," U.S. Rep. Jim Cooper, D-Tenn., tweeted, adding that he would work with the mayor's office on a request for federal assistance.
"Last night was a reminder about how fragile life is," Nashville Mayor John Cooper, the congressman's brother, said at a press conference Tuesday morning. He added that rescue personnel in the city are continuing to examine collapsed buildings to ensure all residents are accounted for.
He described the tornado as a "massive act of nature."
"There was no stopping that," the mayor said, referring to an AutoZone store that is now "missing."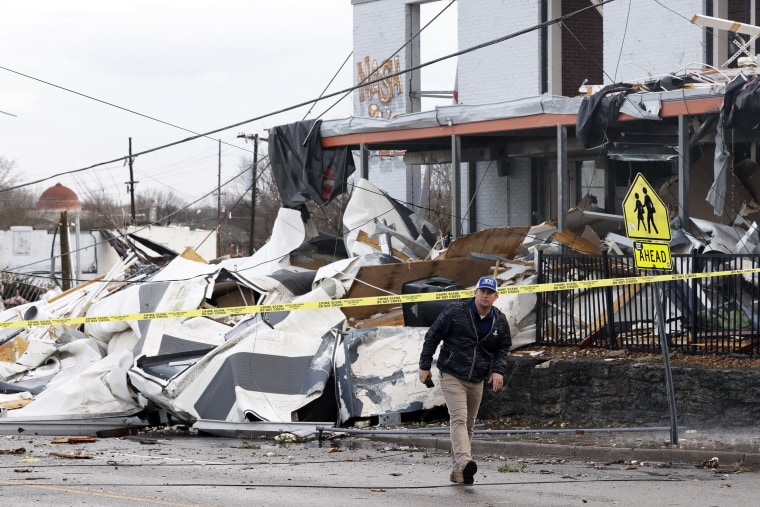 Later on Tuesday, Cooper formally declared a statement of emergency, in an executive order that City Hall said would streamline "efforts in acquiring and distributing necessary supplies and services to affected residents."
Cooper said the Hands On Nashville website crashed three times as more than 5,000 people signed up to volunteer to rebuild the city.
Nashville suburbs Mount Juliet and Lebanon appeared hard hit, the weather service said. Police in Mount Juliet, east of Nashville, reported that the town of around 30,000 had significant damage and multiple injuries.
"We have requested mutual aid from allied agencies. We continue to search for injured. Stay home if you can. Watch for downed power lines," the police department tweeted.
The sheriff's office in Wilson County, which is home to Mount Juliet and Lebanon, reported "extensive damage to many homes" and road hazards.
Tennessee is one of 14 states voting on Super Tuesday, and some polling locations were damaged in the storm, according to NBC Nashville affiliate WSMV.
All Nashville polling locations will open an hour later than usual, and some sites, fewer than 10 percent of the total, have been moved, the mayor said.
Officials are working to make sure all polling locations in affected areas will be open for the required 10 hours, Tennessee Secretary of State Tre Hargett said on Twitter.
The weather service said that as of 2:50 a.m., there were no longer tornado warnings in middle Tennessee, but warned that storms in the area had lightning and heavy rain and that 40-50 mph winds were possible. "Storms could quickly become severe, so stay alert!" the weather service tweeted.