The string of suspicious packages, most filled with explosive devices, sent to high-profile figures critical of President Trump and CNN's New York offices have been intercepted by authorities over the past week leading to at least one arrest on Friday.
As the Secret Service and FBI continue to investigate the attempted attacks, here is everything we know about the pipe bomb scare:
Who is the suspect?
Cesar Sayoc, 56, a Florida resident, was taken into custody on Friday morning after police raided a home in Plantation, Florida. Authorities were seen placing a tarp over a white van with dozens of Trump pictures and decals covering the windows shortly after the arrest. The van was seized by officials and was taken to a secure facility.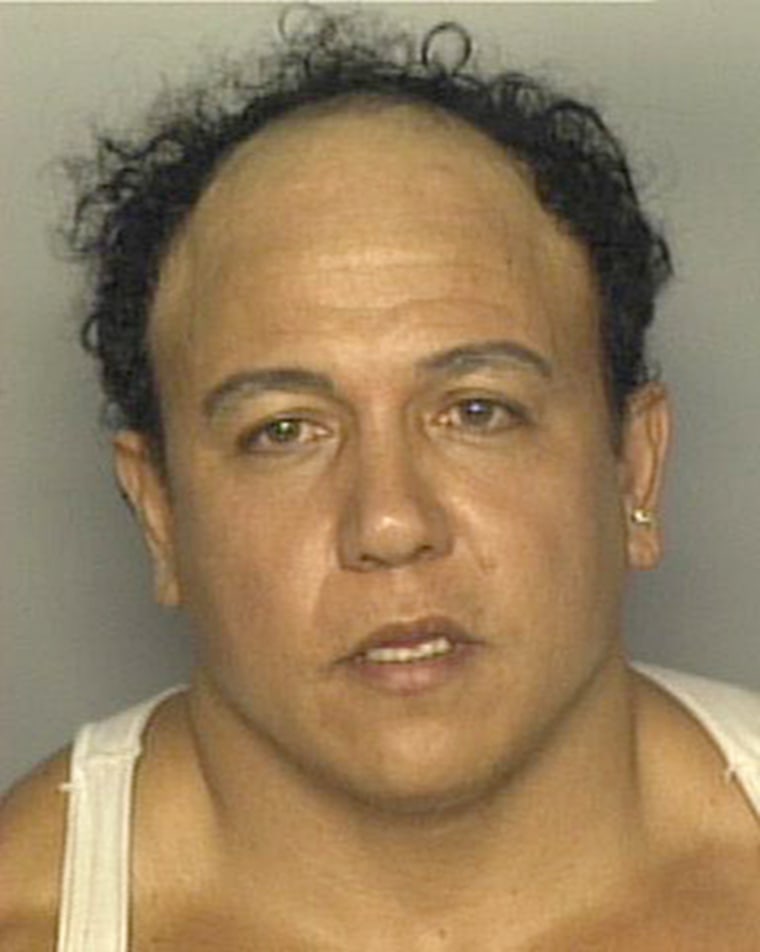 He was charged with interstate transportation of an explosive, illegal mailing of explosives, threats against former presidents and certain other persons, threatening interstate communications and assaulting current and former federal officers.
He faces up to 48 years in prison, authorities said during a news conference on Friday.
DNA evidence taken from some of the packages was used to help arrest him by comparing it to other DNA authorities had on file. Sayoc was previously arrested in Miami-Dade in 2002 when he made a bomb threat.
He is a registered Republican who has lived in New York, North Carolina, Michigan, New Jersey.
Who has received a package?
The first package was found Monday in the mailbox of billionaire investor George Soros' Bedford, New York home. Law enforcement officials detonated the device as a precaution, and no one was injured. Soros was reportedly not at home at the time.
Secret Service intercepted a second package on Tuesday that was addressed to Hillary Clinton's home in Chappaqua, New York, a suburb of New York City. Clinton was in Florida at the time, her spokesman said. Former President Bill Clinton was at the couple's home, but officials said the bomb was found at a mail facility before it could reach its destination.
On Wednesday, authorities found more packages addressed to former President Barack Obama, Rep. Maxine Waters, D-Calif., former Attorney General Eric Holder and former CIA Director John Brennan.
Secret Service intercepted Obama's package in Washington. Holder's package had the wrong address on it and wound up being sent back to a bogus return address that belongs to Rep. Debbie Wasserman Schultz's office in Sunrise, Florida. All of the packages listed Schultz's office as the return address, officials said.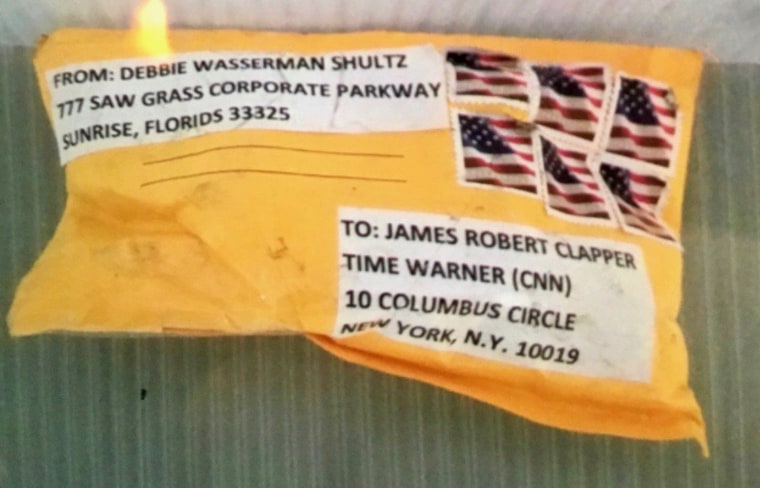 Waters received two packages, one intercepted at a mail facility outside of Washington, D.C., and another found in Los Angeles.
The package addressed for Brennan was mailed to CNN's New York City headquarters causing an hours-long evacuation of the building.
Two suspicious packages sent to former Vice President Joe Biden and another to actor Robert De Niro were discovered on Thursday. The ones addressed to Biden were found at a postal facility in New Castle, Delaware, and at another facility in Wilmington, Delaware. Authorities found a package meant for De Niro at his Tribeca building in Manhattan.
An additional package also containing an explosive device was found at a mail facility in Opa-locka, Florida, on Friday addressed to Sen. Cory Booker, D-N.J. Former U.S. Director of National Intelligence James Clapper also had a package addressed to him that was intercepted at a mail facility in Midtown Manhattan.
Authorities intercepted two more packages on Friday, one addressed to Sen. Kamala Harris, D-Calif., and another to billionaire hedge fund manager Tom Steyer. The package for Harris was seized at a postal facility in Sacramento and the one addressed to Steyer was found at a postal facility in Burlingame, California.
What were the bombs made of and how destructive were they?
The bombs were made from PVC pipe with a digital timer attached to set off the detonator and contained powder from either a low explosive or pyrotechnic, as in fireworks, law enforcement officials told NBC News on Wednesday. X-rays of the devices showed there could be pieces of shrapnel inside the pipes.
The bomb addressed to Brennan had been wrapped in tape and a non-combustible white powder was found in the manila envelope, officials said. All of the bombs had matching characteristics, but some of them were not capable of exploding because of flaws in the way they were made.
Authorities said they are still trying to figure out if the defects in some of the bombs were intentional — to make them appear as convincing hoaxes — or simply the result of bad construction. Still, officials said the bombs should be treated as dangerous and New York Police Commissioner James P. O'Neill said during a news conference on Thursday they are "treating them as suspected explosive devices.
The devices have sent been sent to the FBI's laboratory in Quantico, Virginia, to be analyzed.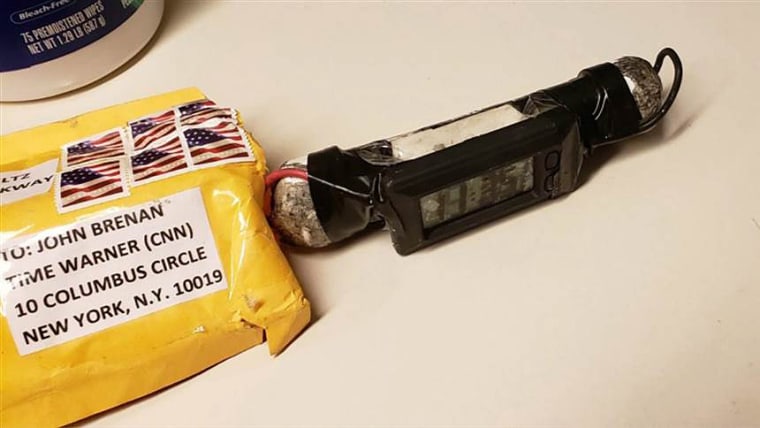 Where did the bombs come from?
Law enforcement officials believe some of the bombs mailed to Trump critics may have passed through a U.S. Postal Service facility in Opa-Locka, the largest mail procession facility in South Florida.
The facility, about 13 miles north of Miami, process mail sent to all parts of the country but only handles packages, the U.S. Postal Service said. On Thursday, officials said they believe 10 of the packages may have passed through the Opa-Locka location.
Why weren't the stamps on the packages postmarked?
All of the pipe bomb packages contained Forever stamps, but some of the packages were not postmarked sparking questions about how they could be mailed without it. Three officials explained to NBC New York on Thursday that some of the manila packages were not postmarked because they were too soft and could not go through the postal machines.
USPS says on its site that there are some instances where a postmark is not required.
"Postmarks are not required for mailings bearing a permit, meter, or precanceled stamp for postage, nor to pieces with an indicia applied by various postage evidencing systems," it says.
Is this terrorism related?
President Trump at an event Friday said, "These terrorizing acts are despicable, and they have no place in our country. No place."
However, authorities did not charge Sayoc with terror-related crimes.
Attorney General Jeff Sessions and FBI Director Christopher Wray declined to speculate about Sayoc's possible motives.
Sessions said Sayoc appeared to be a political partisan, "but that would be determined by the facts as the case goes forward. I'm not able to comment on that."
And Wray added, "We're concerned about people committing acts of violence under any motivation."
Clapper told CNN the attempted attacks on Democrats and others are "serious" and clearly "domestic terrorism."