The excommunication of a Mormon feminist has a progressive podcast host worried that he could face the same fate next week.
John Dehlin is scheduled to meet with a church leader, known as a stake president, on Sunday to discuss allegations of apostasy.
Sign up for breaking news alerts from NBC News
The doctoral student, who tackles issues like gay rights in his popular "Mormon Stories" podcast, said he's faced such scrutiny in the past without being drummed out of the Church of Jesus Christ of Latter-Day Saints.
But after an all-male panel excommunicated gender-equality activist Kate Kelly on Monday, Dehlin fears a line is being drawn in the Utah sand.
"It feels like the church is wanting to clamp down," Dehlin told NBC News.
The stake president, Bryan King, referred inquiries to church headquarters. A spokesman said he could not comment on individual cases, which are handled at the local level, but denied there was any attempt to stifle debate.
"What causes concern for Church leaders is when personal motivations drive those conversations beyond discussion, and a person or group begins recruiting others to insist on changes in Church doctrines or structure," the church said in an email.
Experts say thousands of Mormons may be excommunicated every year from a church that has 15 million members worldwide, but Kelly's punishment is one of the highest-profile examples in decades.
Kelly — who founded a group called Ordain Women and advocates opening the lay clergy to women — was told that she can only be readmitted if she shows "true repentance" and abandons her cause.
Dehlin said he is bracing for a similar ultimatum.
"I think the church is bothered by my podcast. In that podcast, we explore difficult issues like homosexuality, feminism, racism and difficult historical problems with the church.
"It's the only podcast that tries to explore both sides of difficult issues. And it's become so popular, it makes the church very uncomfortable."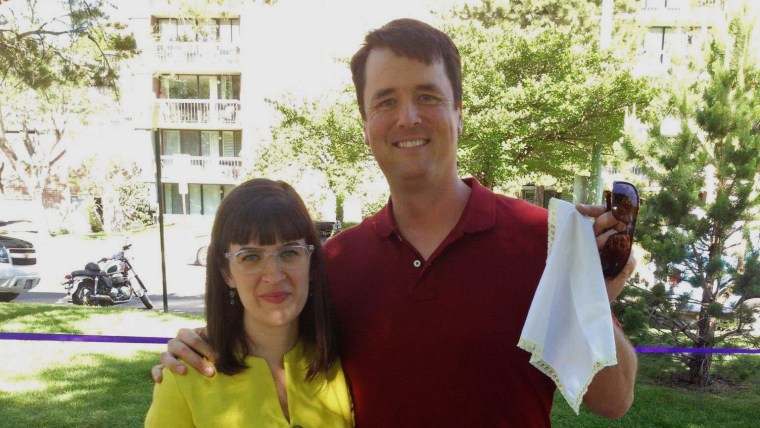 Dehlin said that while some of his listeners have told them that they left the church as a result of the frank conversations on his show, "thousands have told me it's helped them stay in the church."
"Nobody wants to die on the sword but the biggest problem confronting the LD church is its unwillingness to explore difficult issues," he said. "It's a plague on our culture and the church."
Dehlin, who is married with four kids, said he has been investigated by the church at least three times — most recently a year ago, when he had to meet every week with his former stake president.
He said he was cleared to remain a Mormon, but that in January, his bishop accused him of possibly being a "wolf in sheep's clothing" and said he planned to initiate another investigation.
At that point, Dehlin said, he wrote an email to the bishop saying that he no longer wanted to be considered a member of the ward or be contacted by church officials but would still be attending Sunday services.
The June 7 letter from King asked whether Dehlin wanted to resign church membership and pointed to statements he has made questioning some Mormon teachings.
"If you choose not to have your name removed then I think we are to the point where I should convene a formal disciplinary council on your behalf for apostasy," the letter said.
Dehlin said King has three choices after Sunday's meeting: drop the matter, investigate further, or convene the disciplinary council and put him on the road to possible excommunication like Kelly.
"I'm really sad for Kate and I am a little bit worried that I'll have the same fate," he said. "But I'm trying to go into the meeting optimistic and hopeful that cooler heads will prevail."