A "violent sex assault offender" accused of holding a kidnapped woman captive in a makeshift cinderblock cell in his Oregon garage may have other victims, the FBI said Wednesday.
Negasi Zuberi — a 29-year-old who goes by the aliases "Sakima," "Justin Hyche" and "Justin Kouassi" — was arrested July 16 after the woman escaped and was able to flag down help.
He has been linked to four violent sexual assaults in at least four states, officials said, without detailing the locations.
He's been charged with one count of interstate kidnapping.
Authorities honed in on Zuberi one day after he traveled from his Klamath Falls, Oregon, home to Seattle, Washington, where he solicited a prostitute and kidnapped her, the FBI's Portland Field Office said in a news release Wednesday. 
He posed as an undercover police officer, flashing a badge, pointing a Taser, and placing the woman in handcuffs, before putting her into the backseat of his car, according to the criminal complaint.
"He then traveled roughly 450 miles with the woman, sexually assaulting her during the trip," the FBI release said.  
Once at his home, he put her into a makeshift cell he constructed in his garage of cinderblocks with a metal door that couldn't be opened from the inside, officials said.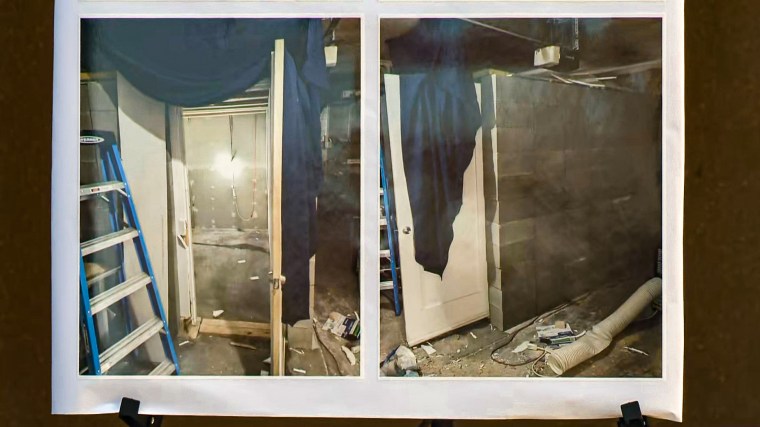 Fighting her way out
The victim "briefly slept and awoke to the realization that she would likely die if she did not attempt to escape," the criminal complaint said.
She started to fight her way out and "repeatedly banged on the door" until it broke open. Once out, she flagged down a passing motorist who called 911. 
"This woman was kidnapped, chained, sexually assaulted and locked in a cinderblock cell. Police say she beat the door with her hands until they were bloody in order to break free," said Assistant Special Agent in Charge, Stephanie Shark with the FBI Portland Field Office.
The Klamath Falls Police Department obtained a search warrant for Zuberi's home and found the cell as the victim described.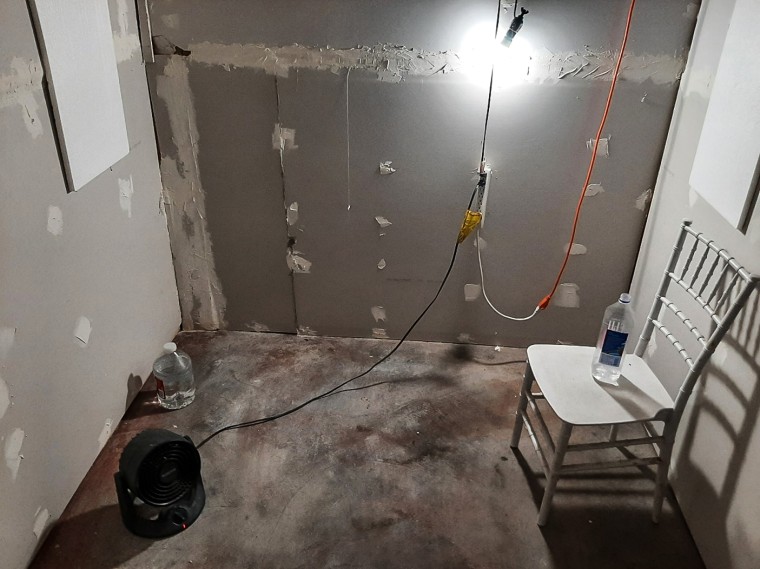 Investigators also found blood on a wooden fence that the victim had climbed to escape and her purse next to the makeshift cell, the criminal complaint said.
Inside the home, law enforcement also recovered handwritten notes including one that said "Operation take over" with the bullet points "leave phone at home" and "make sure they don't have a bunch of people in their life. You don't want any type of investigation," the complaint said.
Zuberi fled and he was ultimately found in Reno, Nevada, on July 16, with his family.
He was in a car, holding one of his children in the front seat, speaking with his wife who was outside the car in a Walmart parking lot when officials located him last month.
"He refused to exit the vehicle and cut himself with a sharp object causing him to bleed profusely. He also attempted to destroy his phone," the complaint said. The child was unharmed, the document said.
After a 45-minute standoff, he was taken into custody.
He has been charged with one count of interstate kidnapping, which carries a maximum sentence of up to life in federal prison. 
The booking report in Washoe County, Nevada, shows additional charges of false imprisonment, child neglect, false imprisonment with victim as a shield, fugitive from another state, and assault with a deadly weapon.
Zuberi appeared in federal court in Nevada on July 26, and U.S. Marshals are in the process of transferring him to Oregon, where he'll have a court appearance in the coming weeks, Assistant U.S. Attorney for the District of Oregon, Nathan Lichvarcik, said at a news conference Wednesday.
Zuberi does not have an attorney listed yet.
Other potential victims
Authorities are urging any other potential victims to come forward.
Shark said Zuberi has been linked to four additional violent sexual assaults in at least four states, though she did not disclose where those cases were.
She noted that Zuberi had been living in Oregon for several months before the alleged kidnapping.
Zuberi has lived in 12 states — California, Washington, Oregon, Colorado, Utah, Florida, New York, New Jersey, Michigan, Illinois, Alabama and Nevada — over the last decade, the FBI said. Officials said that he may have used several methods to target victims, including drugging drinks and impersonating a police officer.
The FBI launched an investigation website where potential victims or others with information related to the case can fill out a form to offer more information.
"Some of the encounters may have been filmed to make it appear as if the assault was consensual," the page noted. "The victims are threatened with retaliation if they notify the police."
Shark praised the courage of the victim who broke free from the cell saying, "Her quick thinking and will to survive may have saved other women from a similar nightmare."
Public records show a domestic violence restraining order requested in July 2020 against Justin Kouassi, one of the aliases provided by the FBI. The public record shows a Contra Costa County filing but it is unclear whether an outcome was reached in the case.
A phone call for the woman listed on the petition was not immediately returned to NBC News on Wednesday.