WILMINGTON, N.C. — At least nine people were killed after Hurricane Florence crashed ashore on North Carolina's coast Friday morning, ripping apart roofs with extreme winds, threatening massive storm surges and requiring hundreds of water rescues.
Duplin County, North Carolina, Sheriff Blake Wallace said Saturday that three deaths there are believed to be related to now Tropical Storm Florence, after three cars were washed away in floodwaters, killing one person in each vehicle on Saturday.
Most of the deaths have been in North Carolina, but one person was killed after the car they were driving struck a downed tree in South Carolina Friday night, authorities said.
"The flood danger from this storm is more immediate today than when it was, than when it made landfall just 24 hours ago," North Carolina Gov. Roy Cooper said at a news conference Saturday.
"More people now face imminent threat than when the storm was just offshore. I cannot overstate it: Floodwaters are rising, and if you aren't watching for them, you are risking your life — even in places that don't typically flood," Cooper said.
While the storm was expected to be downgraded to a tropical depression later Saturday, the threat of "catastrophic flooding" remained, and the Coast Guard said that around 20 to 30 people were rescued in a subdivision near Jacksonville, N.C. Saturday.
---
Here's the latest on Tropical Storm Florence:
Three people were killed in Duplin County, North Carolina, in separate incidents. Each person died after their vehicle washed away in high waters, according to Duplin County Sheriff Blake Wallace. The total dead from the storm in North and South Carolina was nine as of 4 p.m. ET.
The storm made landfall as a Category 1 hurricane at 7:15 a.m. ET Friday. As of 2 p.m. Saturday, its center was about 50 miles west of Myrtle Beach, South Carolina, and was moving west at 3 mph.
There were more than 736,000 people in North Carolina without power as of 3;30 p.m. Saturday, according to the state Department of Public Safety.
More than 300 people were rescued in New Bern, north of Wilmington. By Saturday afternoon all water rescues had been completed, the city said.
About 20,000 people in North Carolina sought refuge in more than 150 shelters, officials said. In South Carolina, there were more than 6,000 people in shelters Friday afternoon.
---
President Donald Trump declared a "major disaster" in North Carolina Saturday, freeing up federal funds for the state to use as it recovered from the storm.
Florence was a Category 1 storm when it made landfall but continued to carry maximum sustained winds of 65 mph and crawl along at just 5 mph Friday night. Forecasters warned of a potential storm total rainfall of up to 40 inches of rain in some parts. "This rainfall will produce catastrophic flash flooding and prolonged significant river flooding," the National Hurricane Center said.
More than 736,000 people in North Carolina were without power as of 3:30 p.m. Saturday, the North Carolina Department of Public Safety said. As the storm hit, social media users shared videos of snapped trees and water rushing onto coastal streets like rivers.
In Wilmington, first responders rushed to a neighborhood where a tree fell on the back of a home, trapping a father, mother and child, reported NBC News' Lester Holt.
The unidentified woman and 8-month-old infant were killed, Wilmington Police Chief Ralph Evangelous said at a news conference.
The father was freed and taken to the hospital with unknown injuries, although a fire official said the victim had a "crush injury" and may have had a body part amputated, Holt reported.
In neighboring Pender County, a police spokeswoman said a woman died after suffering a medical condition. She had called for assistance, but large trees blocked roads to her home, the official added.
Two people died in Lenoir County, county Emergency Services Director Roger Dail said. A 78-year-old man was electrocuted while attempting to connect two extension cords in the rain, and a 77-year-old man was found dead Friday morning and he is believed to have been killed after being blown down by wind while going outside to check on his hunting dogs, Dail said.
Wilmington was hit with wind gusts of over 100 mph on Friday morning, and drivers weaved through streets cluttered with debris.
But the city was spared from widespread flooding, at least so far; authorities warned that storm surges may still swell the Cape Fear River and its tributaries, which at some points looked perilously close to overflowing Friday afternoon.
North Carolina Gov. Roy Cooper cautioned that flooding and rising waters could inundate low-lying communities for days.
"This is an uninvited brute that just won't leave," Cooper said on "Today."
Wilmington Mayor Bill Saffo said earlier Friday that his city had gotten more than 100 emergency calls, but crews have had difficulty getting out while the storm rages ashore and there's been "significant" inland flooding.
"I've been here all my life, and I've never seen a hurricane that's here for two days and pretty much on top of you," Saffo told "Today." He said Friday afternoon that "we've had a tremendous amount of damage in the community," and warned that many deaths in a hurricane happen in the storm's aftermath.
Buddy Martinette, chief of the Wilmington Fire Department, added that crews have been unable to reach the city's beach neighborhoods and felled trees have turned accessing roads into a "jigsaw" puzzle.
"It is dangerous out there. There are live power lines, there are trees — it is a bad situation, and the winds are still pretty strong out there, and we expect more trees to come down," Evangelous, the Wilmington police chief, said Friday afternoon.
The National Hurricane Center said a gauge in Emerald Isle, about 84 miles north of Wilmington, reported 6.3 feet of inundation. More than 20 inches of rain was reported at Atlantic Beach, located on a North Carolina barrier island.
Fire and rescue officials in the riverfront city of New Bern, about 90 miles north of Wilmington, said water rescues were taking place and urged people not to take refuge in their attics unless they have a way to cut through the ceiling.
More than 360 people were rescued from flooded areas and teams had nearly 140 more people to get to, New Bern said on its website Friday evening. Saturday afternoon the city tweeted that all water rescues had been completed, and thanked volunteers who it said helped save lives.
In Jacksonville, North Carolina, more than 60 people, including one child, had to be rescued from a motel just after 12:30 a.m. ET as the storm threatened its structural integrity, Mayor Sammy Phillips told "Today." No one was killed, but there were reports of trees and power lines and other damage elsewhere in the city.
Military officials used two hardback Humvees and two assault amphibian vehicles to rescue approximately 20 people near Marine Corps Base Camp Lejeune, which is in Jacksonville, on Saturday morning.
Tropical storm warnings affected areas with a population of more than 13 million, according to data from the National Weather Service. Areas with more than 2 million people were under a storm surge warning. Days ahead of the storm, about 1.7 million people in North Carolina, South Carolina and Virginia were warned to evacuate before its outer bands reached the coast Thursday.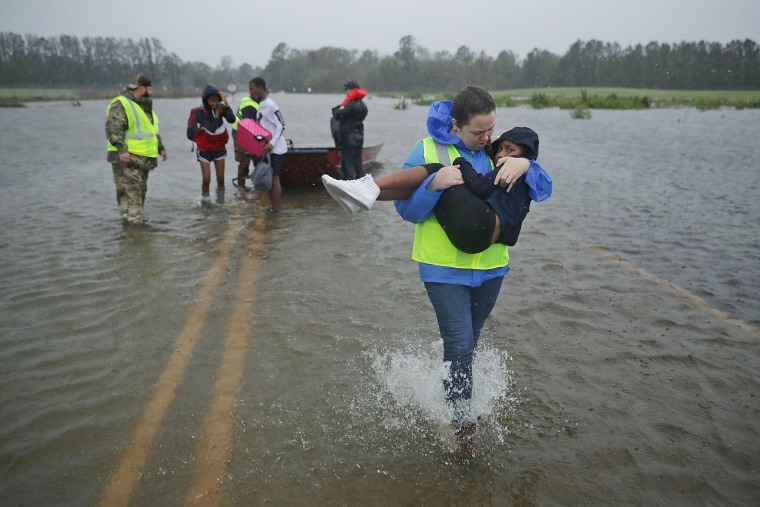 Downpours from Florence were expected to continue through the weekend into early next week, having already produced more than 10 inches as the storm moves through South Carolina and farther inland. Severe flooding is forecast from Charleston to Columbia in South Carolina and north in Charlotte, North Carolina.
South Carolina Gov. Henry McMaster said at a news conference Friday afternoon that the main concern is flooding because of the slowness of the storm and the fact that rivers in the state flow from North Carolina, which is also experiencing heavy rain.
"We are not going to have electricity for a large part of the state for days and maybe even weeks," McMaster said. "This is going to be a very trying period," he said.
On Twitter, President Trump thanked first responders and law enforcement for their "incredible job" during Florence.
Trump plans to visit areas affected by the storm in the middle of next week, once it is clear that the trip would not disrupt rescue and recovery efforts, a White House spokesperson said.
Jon Schuppe reported from Wilmington, and Erik Ortiz reported from New York.