More than 350 people were rescued from their flood-water-surrounded homes in a storm-ravaged city about a hundred miles north of where Hurricane Florence made landfall Friday, but emergency officials were still fielding a slew of calls from stranded residents.
By Friday evening, the city of New Bern, North Carolina, had received hundreds of new calls from people trapped in their homes as the deadly storm crippled the city with unrelenting rainfall, heavy winds and flooding.
"People surrounding me are under water. They have been trapped in their attics," said Tonya Moore, a New Bern resident, who was awaiting rescue with her mother, husband and five children ranging in age from 6 to 16. Their home had not yet flooded but was impossible to flee, and officials told her the area could expect up to 30 feet of water.
"Every road is flooded. There's nowhere to get out over here," said Moore, 34, adding that there was a National Guard bus waiting to take people to shelters, but it's a mile away, and the roads surrounding it are all flooded.
"We have to walk in waist-deep water to get to this bus that's leaving in an hour," she said.
New Bern Mayor Dana Outlaw said on "Today" that officials are "making every effort to expeditiously as we can to get these folks to a shelter."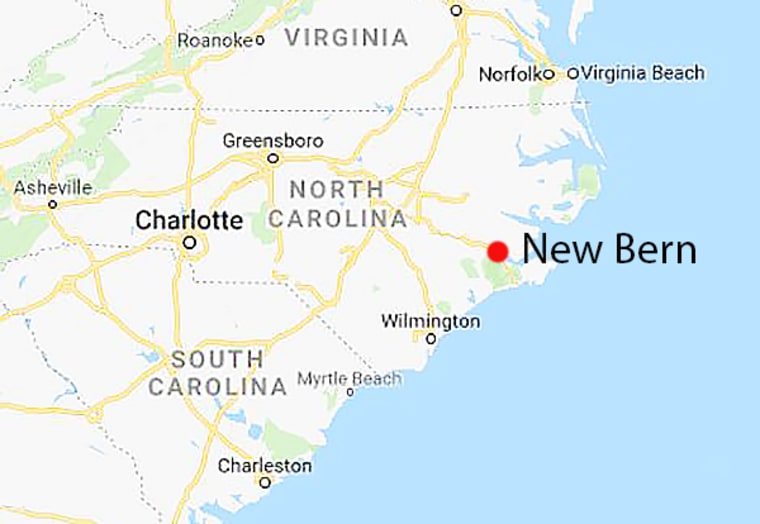 New Bern Police issued a 24-hour curfew starting at 7 a.m. on Friday as emergency officials rushed to pluck people from their flooded homes. But Coast Guard and North Carolina Emergency Management officials said rescue teams would probably have to wait until the storm passes or subsides before they are able to start most rescue operations.
"Winds are forecast to drop over the next 24 hours from 40 mph to around 23 mph. This will be good news for our many crews out in the storm," said city officials in a statement. "But the forecast isn't expected to change significantly until Sunday. That means we still have a lot of rain, flooding, and wind ahead of us."
"Be patient, we're on the way. We will get you rescued ... So just bear with us because we have to be so careful that our first responders are not put in harm's way in this type of weather," Outlaw said Friday morning, lateradding that many people would have to be rescued by boat.
"A lot of our staff have not had sleep for 36 hours now. They're very tired but they're very tenacious. They're going to make it happen. It's going to happen. We're going to get these folks back in a safe shelter," Outlaw said.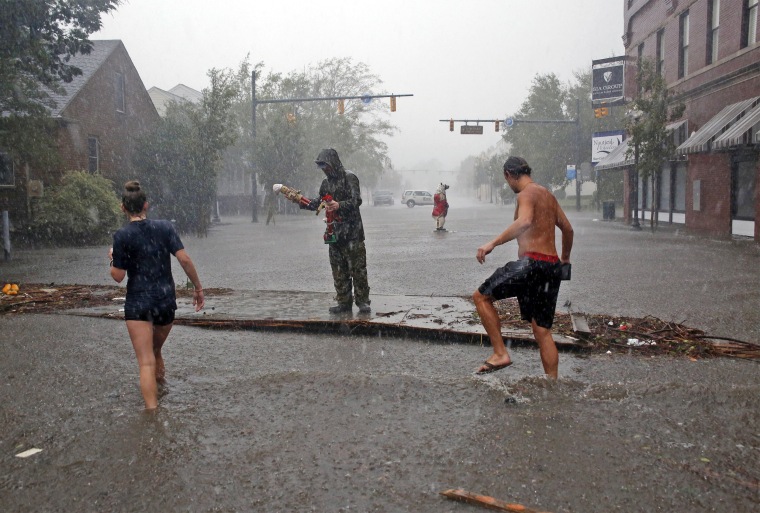 "We have 2 out-of-state FEMA teams here for swift water rescue. More are on the way to help us. WE ARE COMING TO GET YOU. You may need to move up to the second story, or to your attic, but WE ARE COMING TO GET YOU," said a tweet from the city of New Bern.
"We're not going anywhere for a while. I'm guessing five days," said Jay Schreiber, 57, who decided to stay in his New Bern condo with his wife. Even though the building was surrounded by about 5 feet of water, he didn't regret staying put because he'd rather be stranded at home than stranded from home.
Lisa Graber, 48, who moved to New Bern from California a year and a half ago, felt the same way. "I'm glad we didn't leave, because if we did leave, I'd be even more sick to my stomach not knowing what's going on here," she said.
"I still love it here. I wouldn't even dream of leaving, even sitting here in the middle of the hurricane," she added. "I couldn't sleep last night and I'm devastated that our town will look different because of the storm, but I would never leave. I love it here."
The flooding was so strong, some of the 50 ceramic bear statues erected in 2010 to celebrate the town's 300th anniversary, were spotted floating down streets away from their original bases.
"I don't know how they came loose of their cement foundations. They're as big as a live bear and strewn around town," Graber said.
But she's hopeful the town will recover after the storm. "I know whatever it takes to rebuild, the people of New Bern will do it together, because everyone here is fantastic," she said.
Other residents weren't as optimistic.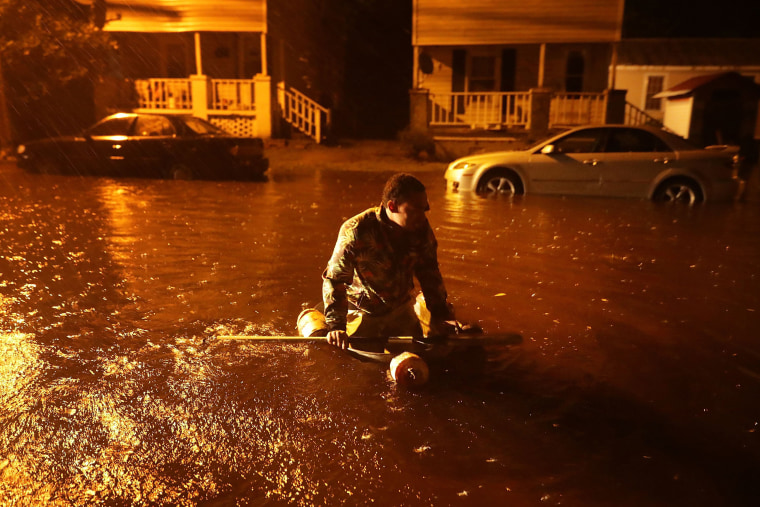 "Seeing that much water in that area is already terrifying because it doesn't typically flood that easily or quickly," said Natalie Kidwell, 26, a resident of New Bern, who evacuated with her family to Charlotte on Wednesday. "If you haven't evacuated already, please be safe," she pleaded with those in the city who she left behind.
"This is pretty significant. This is pretty horrific for a little town that's not used to this kind of stuff," echoed Jill Maxwell, 57, a New Bern resident and manager of Surf, Wind, and Fire, a local outdoor lifestyle store. Though she stayed at her home with her husband, she hasn't been able to get to the store to assess any damage but heard the roof had collapsed. "It's tragic. It's real tragic for the owner. It's real tragic for everyone," she said.
City officials said in a statement that 300 businesses and 4,325 homes were reported damaged in the storm. Boats had floated to the middle of a city street, and railroad tracks were washed away, cutting off train service to New Bern for the foreseeable future.
About two-thirds of the residents in the city of about 30,000 were without power, according to the latest numbers from New Bern. Nearly 650,000 customers in the entire state are without power.
As the Category 1 storm made landfall near Wrightsville Beach at 7:15 a.m. Friday, the National Weather Service announced tornado warnings in a swath of North Carolina, including New Bern.
"Hurricane Florence is powerful, slow and relentless. It is an uninvited brute who doesn't want to leave. The storm surge alone has overwhelmed the city of New Bern," North Carolina Gov. Roy Cooper said during a news conference Friday. He added rivers would continue to rise for days after the rain stops, which is not expected to happen for at least 24 hours.
"We had Hurricane Dennis and Floyd that produced around the same amount of rainfall that we are anticipating with Florence," said NWS meteorologist Chris Wamsley, referring to 1999 storms that devastated the area. "The only difference is back then it was within 14 days, and we're looking at the same amount of rainfall in three days," he said.