The brazen killing of the daughter of a prominent Russian ultranationalist over the weekend has sparked a host of theories about who might be responsible — and fears that it might lead to an escalation in Moscow's war in Ukraine.
Those fears were fueled Monday when Russia's FSB security agency said it had swiftly solved the case and blamed Ukraine's secret services for planting the car bomb that killed Daria Dugina outside Moscow late Saturday.
It offered no direct evidence for the claim, which Kyiv dismissed as Kremlin "propaganda." Ukraine has denied any role and experts expressed doubts that it would be involved.
Speculation has swirled about who might be behind what Russian President Vladimir Putin called a "vile, cruel crime," but most theories share a belief that her father, Alexander Dugin, a vehement supporter of the war and an ideologue sometimes referred to as "Putin's brain," was a more likely target.
NBC News looks at who Dugin is and what his daughter's death could mean.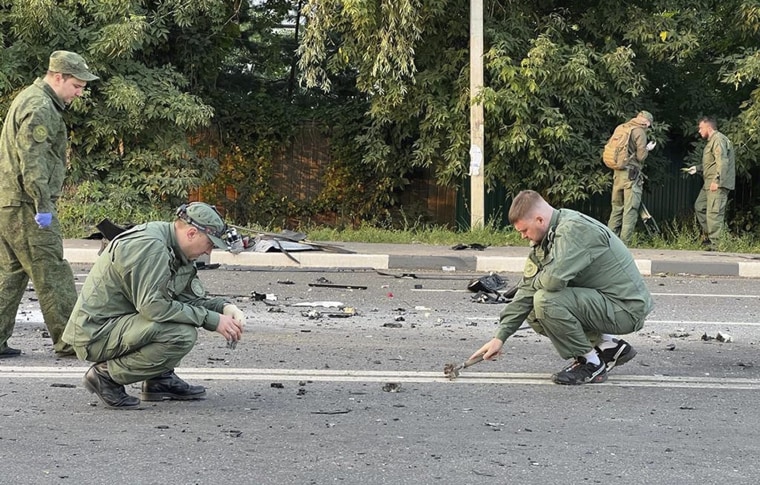 Who is Alexander Dugin?
Alexander Dugin, 60, is a prominent ultranationalist, philosopher, writer and fervent imperialist, who has advocated for the reunification of the Russian empire. He has also been a vehement supporter of Moscow's invasion of Ukraine.
Dugin has no official ties to the Kremlin. Both he and his daughter have been sanctioned by the United States for their actions to destabilize Ukraine. 
Although he has been frequently described as "Putin's brain," there is little indication he had much influence over the Russian leader's thinking or his foreign policy, experts told NBC News.
While Dugin has expressed popular nationalistic ideas about the nature of Russian power and how it should be exerted, he was not the main inspiration for it, according to Keir Giles, a Russia expert and a senior consulting fellow at the London think tank Chatham House. 
"President Putin would have been in sympathy with this view, even if Dugin had not existed," Giles said.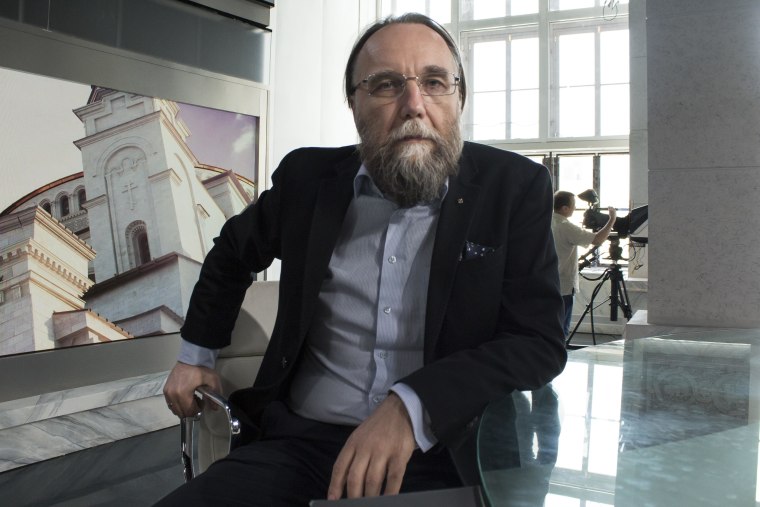 Who is Daria Dugina?
Dugin's daughter, Daria, who also goes by the pseudonym Platonova, has espoused similar hawkish views to her father, and was likewise an ardent supporter of the war in Ukraine. 
Although she is far less known than her father, Dugina, 29, has appeared on Russian state TV as a pundit. In one of her last appearances, on Channel One last week, she lamented what she said was the Western world's desire to wage war against Russia, labeling the West "a zombie society." 
The U.S. Treasury, which sanctioned her in March, said Dugina was the chief editor of the United World International website, which suggested that Ukraine would "perish" if it was admitted to NATO. 
Russian state media reported that Dugina was killed as she was returning from a festival of Russian culture called "Tradition," which she attended with her father and where he was one of the speakers.
In a letter addressed to her parents and posted to the Kremlin's website Monday, Putin praised Dugina and condemned her killing, though he did not assign blame.
"A vile, cruel crime ended the life of Daria Dugina — a bright, talented person with a real Russian heart — kind, loving, sympathetic and open," he said. "A journalist, scientist, philosopher, war correspondent, she faithfully served the people, the Fatherland, she proved by deed what it means to be a patriot of Russia."
Who could be behind Dugina's death?
Russia's FSB security service said on Monday that a Ukrainian citizen was behind the attack, saying the crime was "prepared and committed by Ukrainian special services." It said the citizen had traveled to Russia with her 12-year-old daughter a month ago, and fled to Estonia after the explosion. 
It offered no public evidence to support the accusation, which was met with skepticism by Western commentators, given the Kremlin's tight control of the media and past use of misinformation to further its goals at home and abroad.
Associates of Dugin told Russian state media that her father was most likely the intended target, given his body of work and reputation, although details provided by the FSB on Monday suggest Dugina may have been targeted specifically, and not her father. 
Almost immediately after Dugina's death, prominent Kremlin supporters and propagandists pinned the blame on Ukraine without citing evidence. 
Denis Pushilin, the Russian-backed leader of the breakaway Donetsk People's Republic in Ukraine's east, blamed the blast on "terrorists of the Ukrainian regime," while Russian foreign ministry spokesperson Maria Zakharova said that if his suggestion was true, "we need to talk about the policy of state terrorism implemented by the Kyiv regime."
NBC News has not verified the claims.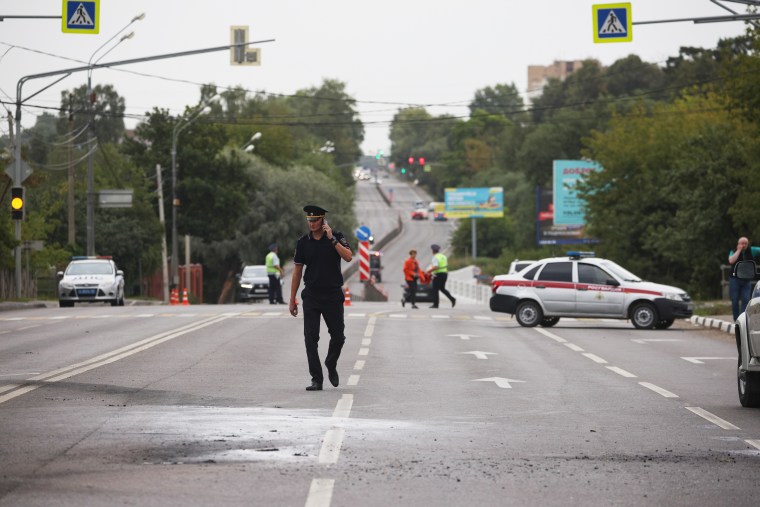 Mykhailo Podolyak, a top adviser of Ukrainian President Volodymyr Zelenskyy, denied Ukrainian involvement, adding that Ukraine is "not a criminal state, unlike Russia." He suggested it could be the result of an internal squabble. Podolyak dismissed the FSB's claims that a Ukrainian citizen carried out the attack as coming from "a fictional world."
Experts were similarly skeptical.
"Those responsible are either those who expect more aggressive actions in Ukraine from Putin, or those who want to provoke harsher repressions inside the country," Andrei Kolesnikov, a Moscow-based Russian political analyst and senior fellow at the Carnegie Endowment for International Peace, referring to the Kremlin's crackdown on internal dissent.
"That is, it's hardly the Ukrainians, and rather someone from the Russian special service," he said, speaking prior to the FSB accusation.
Meanwhile, a previously unknown group called the National Republican Army (NRA), emerged to unexpectedly claim responsibility for the bombing on Sunday, according to a former Russian lawmaker.
Exiled Russian opposition figure Ilya Ponomarev read out a message he claimed was from the group on Ukrainian TV. It called Putin "a usurper of power" whose regime should be overthrown. 
NBC News could not independently verify the group's existence or whether it was involved in Dugina's death, and reached out to Ponomarev for comment. 
Giles called the sudden emergence of the group "deeply suspicious," suggesting it's far more likely that Dugina's death is the result of an internal Russian intrigue — possibly even something as prosaic as a business dispute, like those that led to similar incidents in the chaotic fallout of the collapse of the Soviet Union. 
What effect could her killing have on the war in Ukraine?
Dugina's death comes as Ukraine is bracing for potential Russian escalation this week, as its Aug. 24 independence day coincides with the six-month anniversary of the war. 
It also comes on the heels of increasing Ukrainian attacks deep behind Russian defensive lines, including in annexed Crimea, which have been seen as a strategic and symbolic blow to Putin's war effort. 
Russia made gains in the eastern Donbas region over the summer but has seemingly seen its offensive there stall, while Ukraine has been seeking to launch a counteroffensive against areas Russian forces control in the country's south. 
Giles said killing Dugina — or intending to kill her father — in such a public and violent way would be counter to Ukraine's intentions. "Ukraine has a strong interest in remaining being seen as the good side in this conflict that will not resort to Russia's own methods," he said. 
"Whatever lies behind [it], it does provide an excuse for Russia to undertake all manner of actions in response — whether domestically or against Ukraine," Giles added.