The coronavirus pandemic has silenced soccer stadiums across the globe.
But one of the few countries refusing to let the virus interfere with its soccer season — or pretty much any other area of life — is Belarus.
The country's longtime president, Alexander Lukashenko, has dismissed concerns about the outbreak and the mass lockdowns that have followed as "coronapsychosis," suggesting that drinking vodka, going to saunas and driving tractors are the best ways to ward off the disease.
That has left Belarus as the only place in Europe where men's professional soccer is still being played, and in front of fans, too.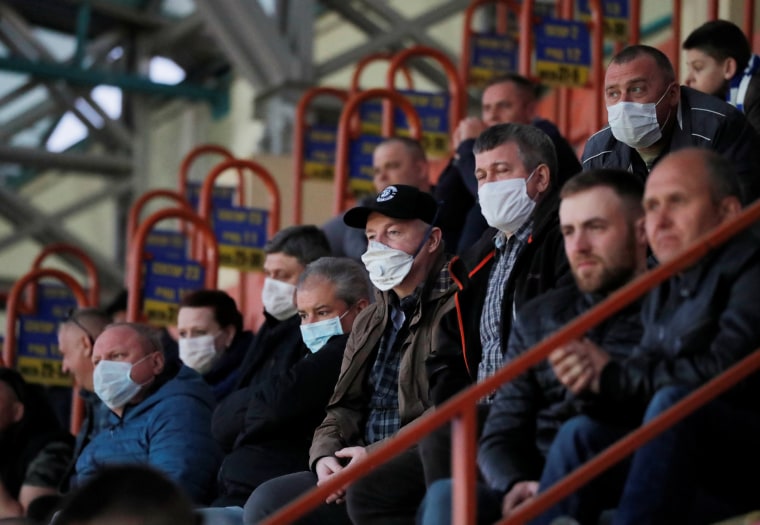 The country's premier league, Vysheyshaya Liga, hardly a draw for aficionados in normal times, is now being livestreamed by fans across the world starved for action since the season kicked off last month.
Several clubs told NBC News that they are enjoying their newfound popularity outside Belarus. Vitaliy Bunos, chairman of FC Slutsk, said the club had gained fans from Australia, England and the U.S.
"It's great that they found out about us, and this, of course, motivates our players," Bunos said.
At home, he said fans are still allowed into the stands to watch the games, but they have to get their temperatures checked at the entrance and are asked to wear masks and use hand sanitizer.
"Probably, you can't be absolutely calm in the emerging epidemiological situation, but each of us is trying to follow the recommendations of doctors so as not to be at risk," he said.
Some clubs are jumping on the sudden interest abroad as an opportunity to bring in more business.
Dynamo Brest FC, the league's reigning champion, has started selling "virtual" tickets to its foreign fans. As a token of appreciation, the club places cardboard cutouts of the faces of new supporters on mannequins in the stands during matches.
As to the well-being of their players, the club's spokesperson, Vladimir Machulskiy, said the team has been "taking all measures" to prevent infection, but as of now, they carry on playing as usual.
"No one is afraid or in panic," said the club's goalkeeping coach, Vasili Khamutouski.
The Football Federation of Belarus said last week that only three players in the league had been tested for coronavirus so far, and none were positive.
All major soccer leagues in Europe suspended their seasons last month, and the European Football Championship, scheduled for this summer, is postponed until next year. Turkey's league played games until mid-March before postponing play — leaving Belarus as the only game on the Continent.
"Belarusian football is completely out of kilter with the rest of the sporting world," said Simon Chadwick, director of the Centre for the Eurasian Sport Industry in Paris. "There are few competitive contests taking place anywhere, suggesting that the authorities in Minsk are perhaps not taking the virus as seriously as they should."
Belarus, with a population of 9.5 million, had 6,264 cases and 51 deaths as of Monday, according to the country's health ministry. But it has not closed restaurants or businesses or restricted people's movement as the rest of Europe and the world has. It even reopened schools Monday after an extended spring break.
Taiwan has also allowed sporting events to resume, without fans, as its baseball and soccer seasons opened behind closed doors over the weekend. But the island of 24 million has been far more successful at containing the outbreak, with six deaths so far from the coronavirus, according to Reuters.
Asked if Vysheyshaya Liga would shut down should the outbreak worsen in Belarus, the league's general secretary, Sergei Zhardetski, said only that "appropriate decisions will be made."
For now, Zhardetski said fans are allowed to attend games, albeit with safety precautions.
"We review the situation on a daily basis," Zhardetski said in an interview this month with ESPN. "We fully trust our health care system, and there are currently no reasons for stopping the league."
But health experts are skeptical.
Soccer matches are "an ideal environment for the coronavirus to spread," said William Schaffner, an infectious disease specialist at Vanderbilt University.
"Taking temperatures offers some additional protection, but we have learned that COVID-19 can be spread by persons who are completely without any symptoms, including fever," Schaffner said. "Unless done carefully, temperature taking can lead to false results — the tumultuous atmosphere at the time of a football match likely is such an occasion."
But for fans clamoring for competition, the hope is that Belarus will play on.
Josh Colbourne, 24, a teacher from Adelaide, Australia, has been watching the league since his home league shut down last month.
Now an FC Slutsk supporter, Colbourne has been watching all the club's games, even though some of them run well into the night.
Colbourne said he hadn't given much thought as to whether the league should suspend play, saying it has provided "an escape" for the millions of fans like him forced into isolation.
"Selfishly, I'm sure everyone would love to see football still being played," he said.