A teacher was killed and 14 of her students injured when a car drove into a crowd in a popular Berlin shopping district on Wednesday, German officials said.
A man was detained following the incident in the west of the German capital, the Berlin police press office told NBC News. Members of the public restrained the suspect until officers arrived on the scene, police confirmed.
Police later tweeted that the teacher died instantly and 14 of her schoolchildren were among the injured, some of them seriously. The tweet said they were from the state of Hessen, situated to the west of the German capital. No further details about the victims was provided.
A 29-year-old German-Armenian who lived in Berlin was arrested, police said in an earlier post on the social media site. They did not give further details.
Investigators did not yet know whether the incident was intentional or accidental, the press office said. The force later tweeted, "the driver is said to have first driven into a group of people and then into a shop window." The incident took place on Tauenzienstraße, a major shopping street.
Around 130 officers went to the scene and the small car, a Renault, had been secured, police said in a tweet. Photos appeared to show the vehicle smashed through a large storefront window.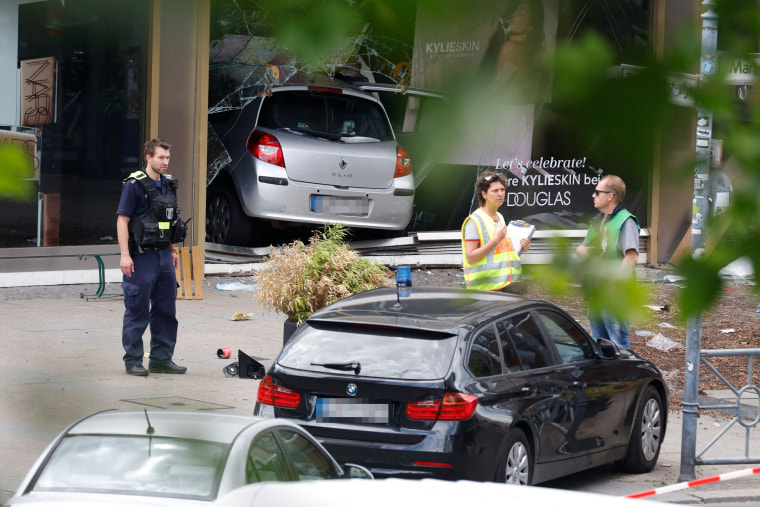 Bild newspaper released a picture of the driver being detained, wearing a yellow pullover, jogging trousers and red trainers.
Local media also reported armed officers were among the large number of emergency services at the scene
Scottish-American actor John Barrowman was across the street when it happened.
"We came outside to see police zooming down the road," he told British broadcaster Sky News. "We saw the dead person in the middle of the road," he added, and "where we had dinner last night, there were a lot of casualties being focused on by emergency services."
The site of the incident is near Breitscheidtplatz, where 13 people were killed in December 2016 after a man deliberately drove a hijacked truck into a Christmas market.
Anis Amri, a failed Tunisian asylum seeker with Islamist links, hijacked a truck, killed the driver and then plowed it into the crowd killing 11 more people and injuring dozens of others.
Amri then fled to Italy, where police shot him dead.