As the coronavirus death toll tops 40,000 in the United States, President Donald Trump said some governors were taking lockdown restrictions too far and expressed support for protesters demanding a return to work.
Trump's criticism of states' handling of the crisis on Sunday came amid a debate over which jurisdiction the burden of testing for the virus — crucial to reopening the economy — falls.
On Monday, Vice President Mike Pence is expected to lead a call with governors about testing capacity. He has said that more than 5 million Americans are expected to have been tested for the virus by the end of the month.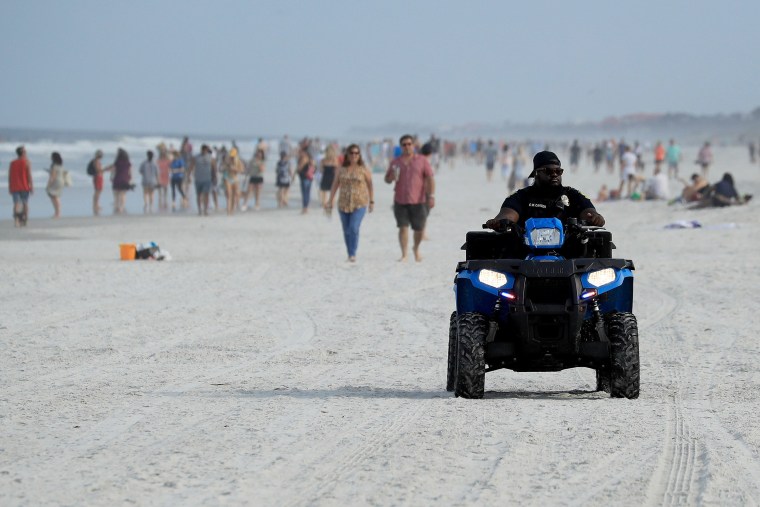 Experts have suggested testing would need to double if not triple from current levels before it's safe to open America's economy, and several states say they are scrambling to find the resources to do so.
Still, some states have gone ahead with easing restrictions aimed at curbing the virus' spread. Florida reopened some of its beaches on Friday while South Carolina plans to open its beaches this week.
Meanwhile, protests seen over the weekend were expected to continue with demonstrations in Pennsylvania and Arizona on Monday.
"Some governors have gone too far," Trump said during a press briefing Sunday, despite an outcry from governors calling the support for protesters dangerous, without naming individuals.
He also defended protesters claiming they appeared to by adhering to social distancing measures by standing six feet apart.
"It was a very orderly group of people," Trump said.
Download the NBC News app for latest updates on the coronavirus outbreak.
Last week, the president cheered protesters' efforts in Michigan, Minnesota and Virginia, three states with Democratic governors, on Twitter late last week and called some stay-at-home orders "too tough."
But other lawmakers are condemning the protests, and saying Trump's support for the demonstrators contradicts his own policies.
"The president's policy says you can't start to reopen under his plan until you have declining numbers for 14 days," Maryland Gov. Larry Hogan, a Republican, said on CNN's "State of the Union."
"So then to go encourage people to go protest the plan you just made recommendations on Thursday — it just doesn't make any sense," he added.
Austin Mayor Steve Adler told MSNBC's Alicia Menendez on Sunday that the demonstrations are "selfish" amid efforts to curtail the spread of the virus.
"I think that any group gatherings for any reason right now is really an unfortunate thing. There are better ways to express your First Amendment," Adler said.
The president has also disputed calls from some governors for federal support to conduct testing.
The virus has killed 40,615 people in the U.S. and infected another 755,428 as of 3:20 am (ET), according to NBC News' tracking.
Worldwide, at least 165,257 have died due to the virus while another 2.4 million have been infected, according to Johns Hopkins University on Monday.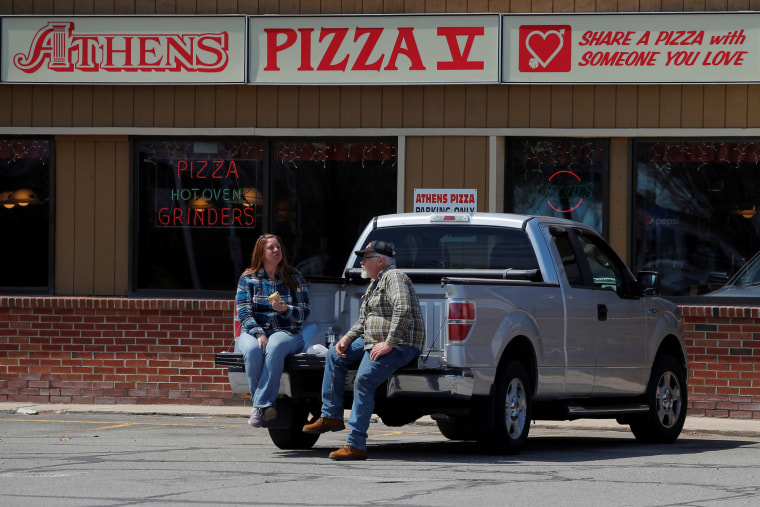 In Europe, countries seeing their rates of new infections level off are exploring options to lift lockdowns as the regional WHO authorities issue guidelines on how to navigate the next phase of the pandemic response.
In parts of Europe, eased restrictions are seeing children return to school on Monday.
In Norway, kindergarten-age children could return to class, marking the first phase of easing the lockdown. Older children in grades one through four are expected to return to class next week.
Similarly in Denmark, daycare centers and schools were allowed to open this week.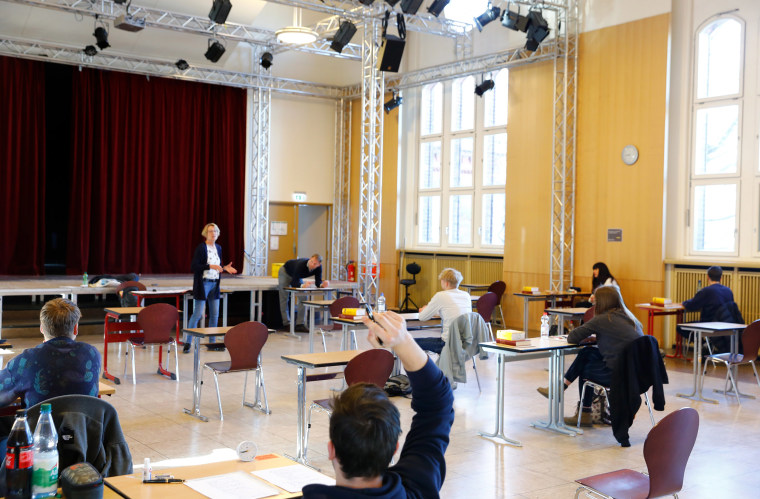 German Chancellor Angela Merkel announced last week that students would gradually begin returning to the classroom and shops would reopen, although social distancing measures would remain in place.
In Spain, the hardest-hit European country next to Italy, children under the age of 12 will be allowed to play outdoors again for short periods of time beginning next week despite intentions to extend the nationwide lockdown to May 9.
Prime Minister Pedro Sanchez said in a televised address Saturday the country will "progressively lift the confinement during May" but cautioned "if we see any setback, we will react."
Although Spain has seen among the world's highest death tolls with more than 20,000 lives lost, Sanchez said it has also seen one of the highest rates of recovery.
"We must not forget that we've saved the lives of tens of thousands of Spaniards and we have stopped the spread of COVID-19," he said, adding that the situation remains "fragile."
At the source of the outbreak in mainland China, officials reported no new deaths over the weekend, although a total of 28 new cases were confirmed Saturday and Sunday.
Reuters contributed to this report.