PARIS — Emmanuel Macron pledged to unite France as he was sworn in as president Sunday, becoming the country's youngest leader since Napoleon Bonaparte.
"The division and fractures in our society must be overcome," the 39-year-old former investment banker said. "The world and Europe needs France more than ever."
Macron was handed the keys to the country and the nuclear codes by predecessor Francois Hollande in an inauguration ceremony at the Elysee presidential palace in Paris.
In Pictures: France's Young President Takes Charge
The independent centrist won a resounding victory last week against far-right candidate Marine Le Pen to become the eighth president of France's fifth republic.
The political newcomer has never before held elected office and only formed his political movement a year ago.
Macron was sworn in, watched by around 300 guests in the sumptuous Salle des Fetes.
Representatives from every level of government, as well as members of different faiths, joined 100 personal guests as Macron received the Grand Necklace of the Order of the Legion of Honor, the highest award the country can offer.
Related: France's New Leader: The Young 'Knight' Who Defeated Far-Right — and Married His Teacher
Macron invited his entire family, including his parents and the children of his wife, Brigitte Macron, 64.
The new first lady wore a powder blue dress with a double breasted matching jacket designed for the occasion by Nicolas Ghesquiere. She carried a Louis Vuitton handbag on loan to her. The President wore a dark blue suit.
Also invited to the ceremony was the partner of the police officer who was killed on the Champs Elysee by a terrorist just before the first round of voting in the presidential elections.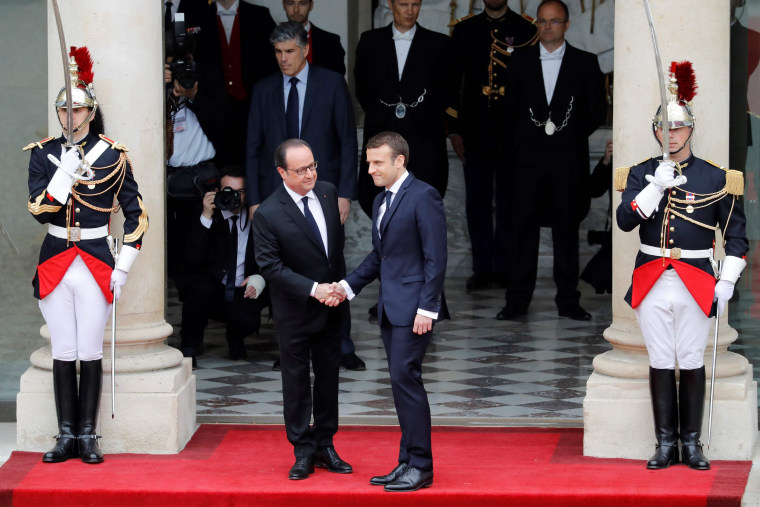 PHOTOS: France's Young President Takes Charge
Security was tight across the city for the inauguration with many parts closed to traffic.
Macron was later due to visit the Arc de Triomphe to pay his respects at the tomb of the Unknown Soldier, before heading to Paris City Hall for a third and final ceremony.
France has been under a state of emergency since terror attacks in 2015 and remains on a high alert.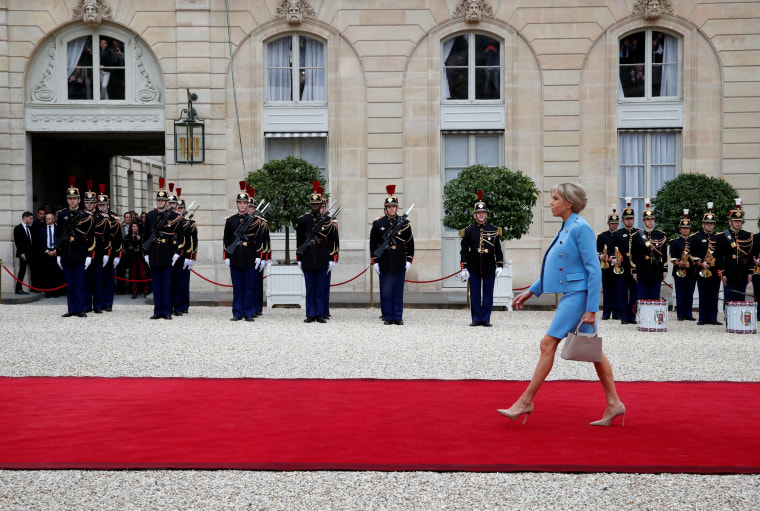 In the days before the first-round of voting in April, a gunman ambushed three Parisian police officers on the Champs-Elysees, killing one and wounding two others. ISIS claimed responsibility for the shooting and President Hollande said it was likely a terrorist attack.
The weeks following the inauguration ceremony will be tough as the new president prepares for June's parliamentary elections, which have been dubbed the third round of the presidential vote.
Related: Emmanuel Macron: France's Youngest Leader Since Napoleon is Tougher Than You Think
Macron's movement, renamed after his victory as "Republique En Marche!," will try to win a majority to ensure he can push through legislation.
It will be Macron's first test as president, as his new party currently holds no parliamentary seats.