It was a desperate plea from a city under siege: "CHILDREN" in huge bold letters.
Satellite images from Maxar Technologies, a U.S. Defense contractor, this week showed the word clearly written in front of and behind a theater that Ukraine says was sheltering women and children in the port city of Mariupol.
But on Wednesday, the building was blown up with hundreds of civilians inside, according to the Mariupol City Council.
"Russians could not have not known this was a civilian shelter," Foreign Minister Dmytro Kuleba said.
The number of casualties is not yet known — and the Kremlin denies targeting civilians — but experts say the incident is an indication that Russian President Vladimir Putin has turned to a familiar and pitiless playbook.
With his troops bogged down in the mud, running out of food and fuel and hemorrhaging casualties, many analysts believe that Putin's battle plan is in the mire — and in desperation he has pivoted to the brutal tactics used in the Russian republic of Chechnya in 1999 and in Syria in 2015.
In both campaigns, Putin's missiles and jets bombed and besieged residential areas, reduced apartment buildings to rubble, and targeted schools and hospitals in what watchdogs say could have constituted war crimes.
Now the Russian president is doing these things in Ukraine.
"It's exactly the same playbook as we've seen before in Grozny, in Chechnya and in Homs and Aleppo in Syria," said Justin Bronk, a research fellow at the Royal United Services Institute, a military-focused think tank in London.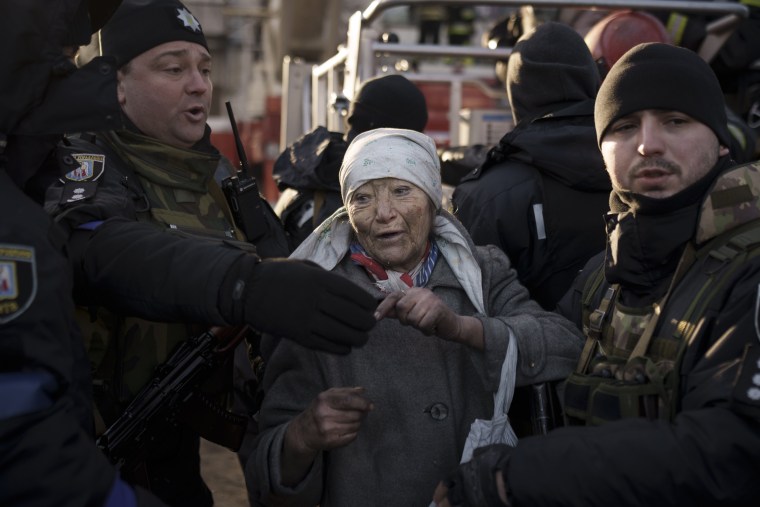 "Their forces are not really capable of taking the cities street-by-street," Bronk said. "So instead they are now trying to starve out and bombard the defenders into surrendering."
It was one such onslaught that bookended the start of Putin's leadership and shaped his current approach.
He had just been nominated prime minister by then President Boris Yeltsin. In the mid-1990s, Yeltsin had tried and failed to put down a guerrilla rebellion in Chechnya, a restive region governed by Moscow under different guises for most of the past 200 years.
Yeltsin's forces failed "because they performed so miserably, and in part because the rationale for the war was not embraced by either the Russian army or the population as a whole," Michael McFaul told the U.S. Senate Committee on Foreign Relations in April 2000.
McFaul was then a senior associate at the Carnegie Endowment for International Peace, and later became Washington's ambassador to Russia before becoming an MSNBC analyst.
Download the NBC News app for breaking news and politics 
Whereas Yeltsin had failed, he gave his blessing for Putin to launch another counteroffensive against Chechen rebels in 1999 after they invaded the neighboring republic of Dagestan.
Putin's strategy was unrelenting — razing large parts of the capital, Grozny, and pounding entire apartment blocks into dust. His campaign was so ferocious that it became "the most destroyed city on Earth," according to a United Nations report in 2003.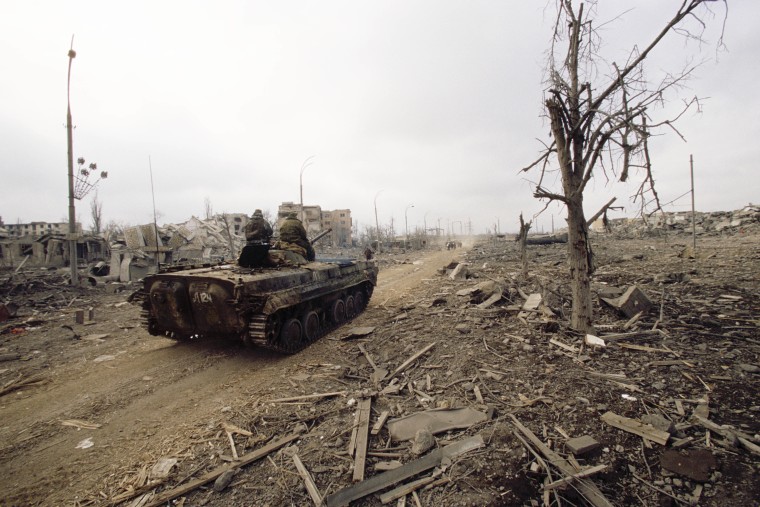 "The complete demolition of Grozny is the gruesome result of this change in tactics," McFaul told the Senate committee of Putin's approach. The ratings boost from the second Chechen war, as it become known, was also what helped Putin win his first presidential election in 2000, McFaul said.
Putin declared direct rule over Chechnya that year. But he did so at the expense of the capital itself, and the insurgency lasted another 10 years.
Fast forward to 2015 and Russian missiles were once again the architects of urban devastation, this time in Syria.
Putin stepped into Syria's civil war on the side of President Bashar al-Assad's regime, the first time Russia had launched a foreign military offensive since the end of the Cold War.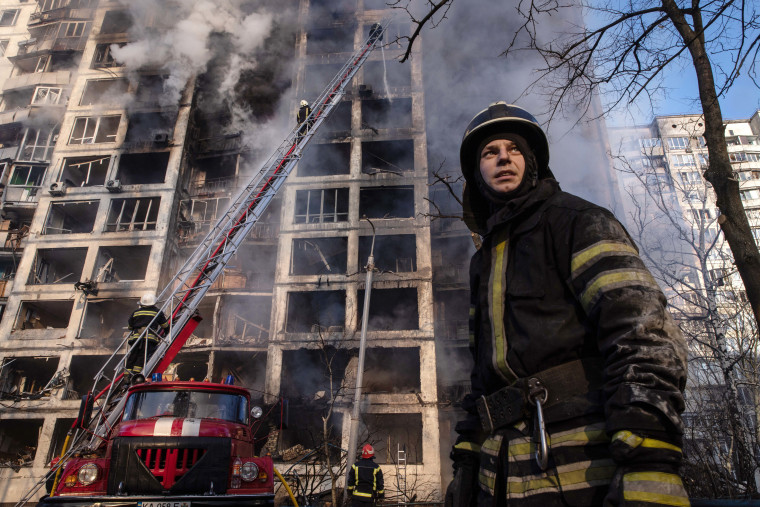 Russian jets and missiles were key to Assad beating back rebel groups and ultimately turning the tide of the war. But those bombs also transformed vibrant cities such as Aleppo into modern-day ruins, a graveyard of concrete husks rendered skeletal by the might of the Kremlin's air power.
Russia has always maintained that it only targets "terrorist groups." At the same time, it has justified its actions by saying that the United States has itself bombed civilians and thus has "no right to lecture Russia."
Nevertheless, the human suffering from Russia's military actions is undeniable, and rights groups have produced countless reports detailing how Russia and Syria indiscriminately bombed hospitals, schools and homes.
A report in 2020 by the U.N.'s Human Rights Council, for example, said it had "reasonable grounds to believe" Russia was guilty of war crimes after its aircraft bombed a marketplace and a compound for displaced civilians.
As in Ukraine, humanitarian corridors were created around rebel-held areas to allow civilians to flee. Assad and his backers were often accused of violating the cease-fires that upheld these corridors, and Russia accused the rebels of breaching these cease-fires, too.
In Ukraine, Russia denies that it is even waging a war at all, instead calling it a "special military operation" against the "neo-Nazis" running the government in Kyiv and limited to legitimate military targets — claims that have little basis in reality.
"Violations of the Geneva protocols or violations of laws of armed conflict have certainly been prevalent in their operations not only in Syria, Chechnya, Georgia, but now also in Ukraine," said retired Lt. Gen. David A. Deptula, a former three-star Air Force general who oversaw aerial operations in Iraq in 1991 and Afghanistan in 2001.
"One of the elements of the Russian way of war that is common to all of these conflicts is a disregard for civilian life," he said.
For many Syria-watchers, there was also an echo of that conflict this week when Russia warned that Ukraine was developing a "biological weapons program" — a conspiracy theory also nurtured by the American far-right. Likewise when Assad and his Moscow backers were accused of using chemical weapons in Syria, they often claimed it was a staged attack by rebels on their own people.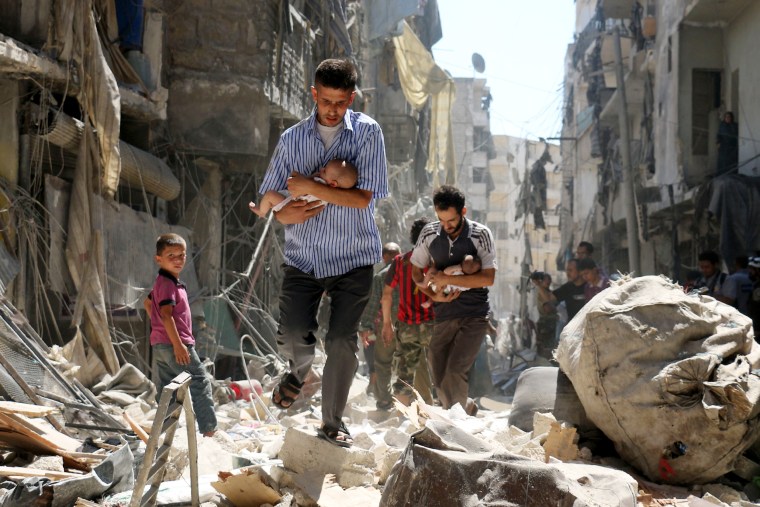 A U.S. administration official said last week that the U.S. is worried that the Russians were making this claim "to justify a false-flag operation" or to use "chemical or biological weapons" themselves.
Regardless, it's clear to most that Putin's original game plan has shifted dramatically. It's not clear what his end goal now is.
Most experts in the West believe Putin expected to roll into Kyiv and topple the government relatively unopposed while expending as little blood and treasure as possible.
In reality the Russian military has suffered an unknown number of casualties, and social media has been awash with videos of its tanks either destroyed or abandoned and being towed away by smiling Ukrainians on tractors.
War studies experts are mystified at how Russia's imperious air force has been unable to control Ukraine's skies, or complement its land assault with effective, coordinated cyberattacks.
Instead Putin has resorted to the blunt instrument of trying to bomb Ukraine into submission, according to Bronk and other experts.
Cities such as Kyiv, Kharkiv and Mariupol have been deafened by the sound of air-raid sirens and shelling; the World Health Organization says Russia has bombed 18 hospitals and other medical facilities; and an estimated 3 million people have fled, half of them children.
It is difficult to see how Putin's stated goal of regime change will work if he has leveled his new satellite state, Bronk said.
"I would suggest that their original goals are now completely unattainable," Bronk said. Instead he sees the relentless bombing as a way to put pressure on Ukraine and the West to accept a cease-fire that allows the Kremlin to consolidate its gains.
"From there, they can organize rigged referenda in the areas they control — and potentially push forward again when they're ready."