RAMALLAH, West Bank — Clad in the traditional black and white checked keffiyeh scarves made popular by their long-deceased leader Yasser Arafat, a group of young Palestinians marched through the West Bank city of Ramallah, their anger palpable.
They carried signs and flags, chanting their disgust at the treatment of their fellow Palestinians in Gaza hours after last week's deadly blast at the al-Ahli Hospital in Gaza City that killed hundreds of people, according to figures shared by the Palestinian Health Ministry.
Unplacated by a U.S. assessment that the strike had come from within Gaza and not Israel, their fury focused on the patients, caregivers, doctors and displaced people who had lost their lives while seeking shelter.
More protests are expected Friday.
"It's important to keep in mind that this process of dehumanizing Palestinians isn't just affecting the population in Gaza but also in the West Bank," Diana Buttu, a lawyer and former adviser to Arafat's Palestinian Liberation Organization, told NBC News last week.
The protest in Ramallah was far from isolated. From the city of Nablus in the north to Hebron in the south, young men marched on Israeli checkpoints, throwing stones and burning tires in the streets. The Palestinian Health Ministry said many were met with live ammunition.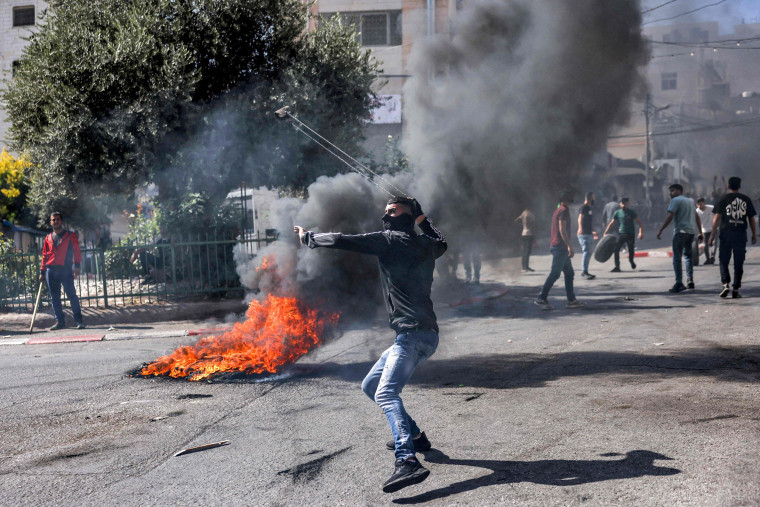 "We're seeing the army shooting randomly at people. We're also seeing that the army has been going after anyone who has been expressing support with the idea of resistance or otherwise, and the situation is very grave," Buttu said. "We have nobody who is able to support us."
The rising violence in the West Bank comes amid Israel's full-on war against Hamas following the militant group's unprecedented Oct. 7 attack on Israel, which resulted in the killing of 1,400 people and the capture of 222 hostages, including children and grandmothers, according to officials in the country.
Israel has since launched intensive air strikes and shelled the Gaza Strip, which it has blockaded with help from Egypt since 2007. More than 7,000 people have been killed in the enclave since the escalation, according to the Palestinian Health Ministry. In the West Bank the death toll since Oct. 7 stands at 103, including two Israeli prisoners.
The health ministry blamed Israeli "bullets and missiles" for the deaths. The Israeli military has also said that it launched a drone strike on "terrorists" in the densely populated Jenin refugee camp in the West Bank, where it said "armed terrorists fired and hurled explosive devices at Israeli security forces." In both Gaza and the West Bank, noncombatants are among the dead.
Both territories were captured by Israel during the Six-Day War in 1967. Situated along the coast of the Mediterranean Sea near the southwest corner of Israel, Gaza has been governed by Hamas since 2006. The larger of the two territories, the West Bank is led by President Mahmoud Abbas and the Palestinian Authority.
Israeli settler tensions
Even before the Hamas attack on Israel, 152 West Bank Palestinians were killed between January and July, according to data from the United Nations, making it one of the most violent periods for the territory since 2005.
This has been fueled by a surge in attacks by Jewish settlers and almost daily arrest raids by the Israeli military. In the first six months of this year, the United Nations Office for the Coordination of Humanitarian Affairs recorded "591 settler-related incidents resulting in Palestinian casualties, property damage or both," it said in a statement.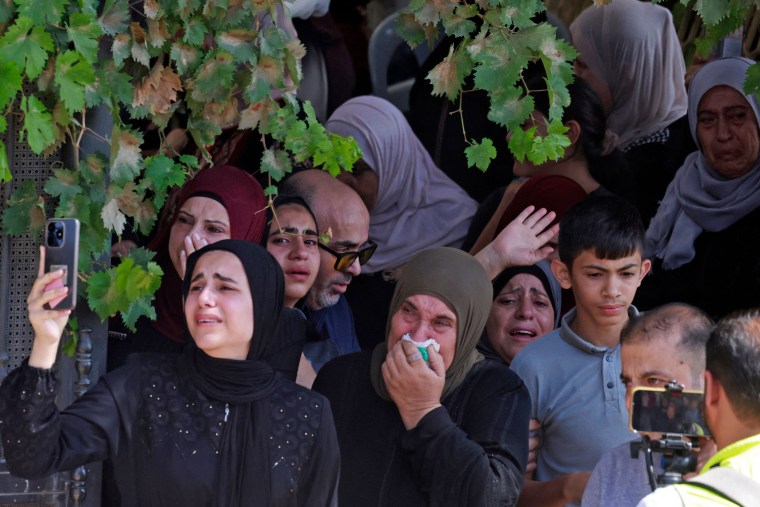 About 700,000 Israeli settlers live in the West Bank and East Jerusalem, which are territories the Palestinians want to use to build a future state. The international community, including the Biden administration, considers the Israeli settlements illegal.
President Joe Biden said at a news conference Wednesday that the Jewish settler attacks amounted to "pouring gasoline" on the already burning fires in the Middle East. "It has to stop. They have to be held accountable. It has to stop now," he said.
As tensions have risen, some Palestinians have been setting up neighborhood-watch-like groups that patrol villages close to settlements.
'Weak' Palestinian leadership
Back in Ramallah, anger was also directed at Abbas for what some saw as his slow response to Israel's Gaza bombardment and blockade with Egypt.
During a meeting with U.S. Secretary of State Antony Blinken earlier this month, Abbas called for an immediate end to aggression toward Palestinians and the need to provide humanitarian aid to Gaza, as well as water and electricity in the enclave. And he has since made similar statements.
At the protest last week, one worker with a nongovernmental organization, who did not wish to be named for security reasons, said Abbas's stance had been "weak." Calling for him to step down, the worker said Abbas's "attempt to remain neutral and to play nice with the Americans is a testament to his weakness as a president."
Abbas was voted into office in 2005, but no elections have taken place since then — in part because he has quashed attempts to hold them. There have been no legislative elections in Gaza since Hamas took power in 2006.
In Ramallah, protesters threw stones and hurled chairs at Palestinian Authority security forces, who responded with tear gas and sound bombs, prompting more criticism from the NGO worker.
"Where are they when we need them, when settlers attack us in the fields or on the roads?" the worker asked, adding that security forces only flexed their muscles on other Palestinians and not on Israel.
NBC News has reached out to the Palestinian Authority for comment.
Israel tightens control
Meanwhile, Israel is also cracking down in the West Bank, where 1,380 Palestinians have been arrested since Oct. 7, according to the Palestinian Prisoners Society, a detainees rights organization. Israeli security forces said Wednesday that 60 people were arrested Wednesday night, 46 of whom they said were Hamas members.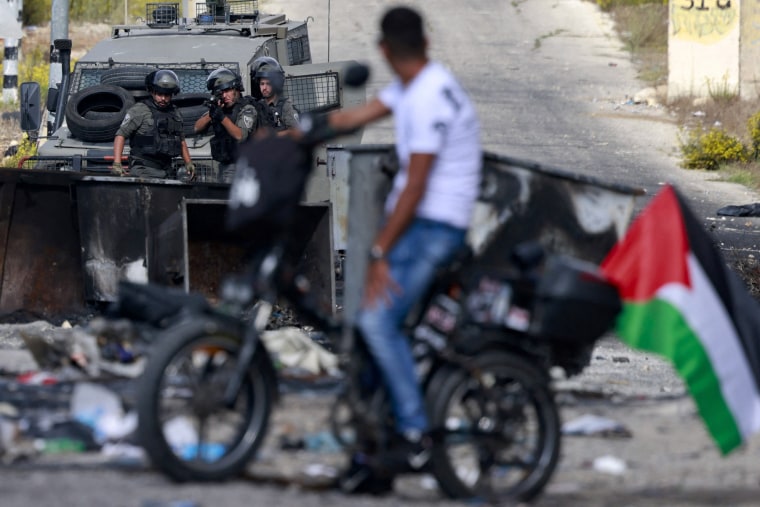 A blanket Israeli military closure has left movement between West Bank towns and cities almost at a standstill.
Entry into East Jerusalem from most checkpoints is disallowed, even for those with Israeli-issued permits, and tensions at the Al-Aqsa Mosque compound in the Old City, where Israel's army has long cracked down on worshippers, threaten to inflame the situation further.
Right-wing Israeli politicians like Itamar Ben-Gvir, the minister for national security, have been pushing for expanded Jewish access to the compound, challenging the status quo at Islam's third-holiest site.
Hamas cited this as one of the reasons for the Oct. 7 attack.