LONDON — The turmoil of the Israel-Hamas war is causing reverberations far beyond the Middle East, as close U.S. allies grapple with the limits of free speech while political and public tensions rise.
On Monday, British Prime Minister Rishi Sunak fired the interior minister, Suella Braverman, days after she accused police of being too lenient with pro-Palestinian demonstrators whom she labeled "hate marchers" supporting terrorism.
Braverman's departure led to a government reshuffle that saw the unexpected return of former Prime Minister David Cameron as foreign secretary. Cameron will now be responsible for leading Britain's response to the war, which has helped to fuel polarization in politics and in the population at large.
The moves offered a dramatic signal of how ripples from the crisis in the Middle East are being felt from London to Paris and Berlin, where Europe is struggling with how to balance fears of rising antisemitism and the rights of protesters who for weeks have marched in the streets of the continent's biggest cities.
"The war is just deeply polarizing European societies," Luigi Scazzieri, a senior research fellow at the Centre for European Reform think tank in London, told NBC News.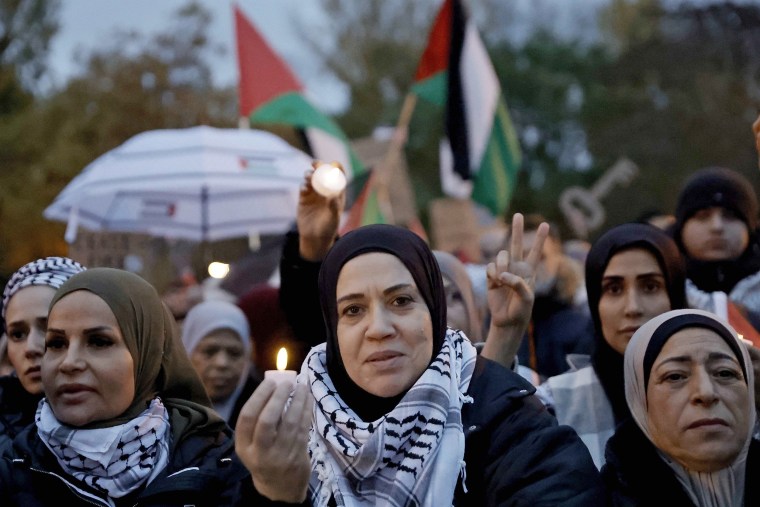 "You have the mobilization of parts of the left, that which starts being in favor of Palestine, but kind of spills over into then being mobilization against the policies that the West is pursuing in relation to the conflict," he said.
According to officials, some 300,000 protesters turned up to march through London calling for an end to Israel's bombing campaign in the Gaza Strip. Organizers put the figure at closer to 800,000.
Saturday's march was overwhelmingly peaceful but London's Metropolitan Police is looking for people it said were carrying antisemitic placards. The force added several pictures to X showing protesters it wants to speak to, including a woman holding a placard with a swastika inside a Star of David, with the caption: "No British politician should be a 'friend of Israel.'"
Headlines were grabbed by a group of far-right counterprotesters who sought to confront the pro-Palestinian marchers and disrupt a minute's silence held Saturday to commemorate Britain's war dead — a traditional event held every year on Nov. 11 to mark the end of World War I. Police arrested 145 people in total and charged seven with public disorder offenses and drug possession.
What happens in Gaza will have an impact throughout the West because it is broadly perceived as being "complicit" in Israel's policies toward the Palestinians, Scazzieri said.
"That in turn ... creates a countermobilization by the right, including anti-immigration sentiment," he said.
While many marchers Saturday said they did not support Hamas or its actions, the group itself delighted in the dismissal of Braverman, saying in a statement that it was "a victory for the overwhelming popular action in Britain."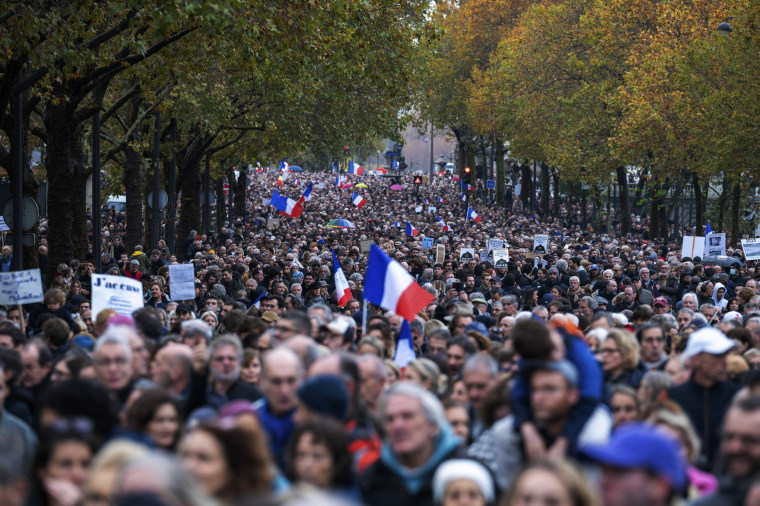 The political turmoil in Britain comes as some 180,000 people staged marches in France against antisemitism, and Germany stepped up efforts to curb elements of pro-Palestinian protests, including by criminalizing the slogan "From the river to the sea," which is seen by many Jews as calling for the eradication of Israel.
France's march was notable for featuring far-right politicians, including Marine Le Pen. She was among 100,000 people to demonstrate in Paris on Sunday against rising antisemitism. The three-time presidential candidate — who has worked hard to publicly distance the party she leads and founded by her father from the elder Le Pen's antisemitism — would be considered a major contender if she chooses to run in 2027.
Her father, Jean-Marie Le Pen, the founder of the National Front, the forerunner to the National Assembly Party, was convicted of antisemitic hate speech on multiple occasions and sought to downplay the Holocaust's impact. Marine Le Pen has tried to clean up her party's public image and distance it from its antisemitic past.
The radical leftist party France Unbowed, however, boycotted the Paris event because, according to its leader Jean-Luc Mélenchon, it was organized by "friends of unconditional support for the massacre" in Gaza.
In Germany, pro-Palestinian protesters have complained that heavy-handed policing and political measures have curbed their efforts to protest.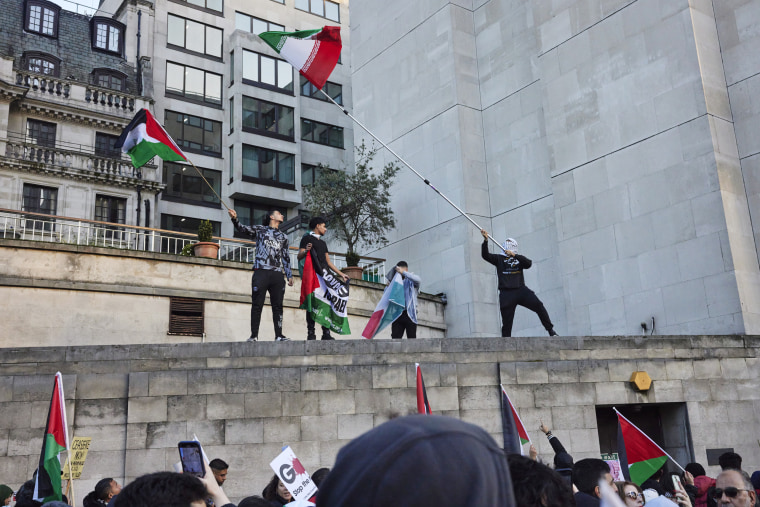 Berlin officials have allowed schools to stop students from wearing Palestinian colors or flags. In Hamburg, pro-Palestinian protests were banned and then allowed, with a restriction on the number of flags.
There is little sign of these divisions slowing down.
"I think we're probably at the beginning of this phenomenon rather than at the end, simply because the conflict doesn't seem to show any sign of slowing down," Scazzieri said. "And Israel's aims are what they are."