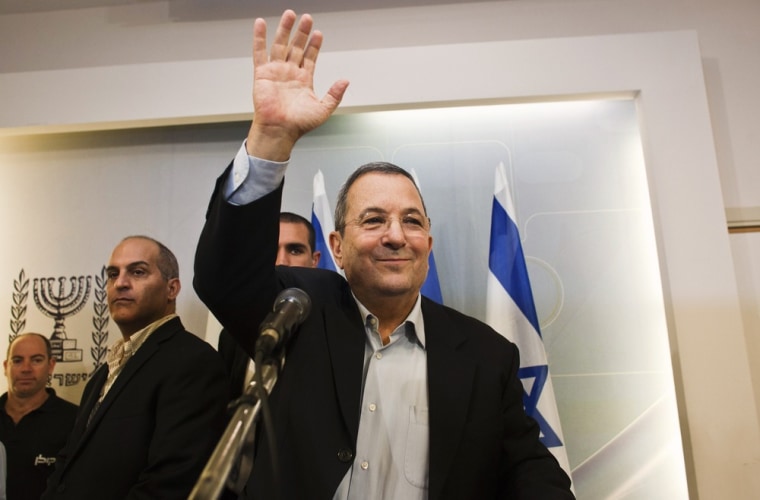 JERUSALEM - Defense Minister Ehud Barak, a main architect of Israel's policy toward Iran's nuclear program, said in a surprise announcement on Monday that he was quitting politics and would not run in the Jan. 22 national election.
"I have decided to retire from political life and not to run for the next Knesset ... I will end my term as defense minister once the next government is established, in about three months," he told a news conference.
"I want to dedicate more time to my family. I feel I have exhausted dealing with political life, which has never been a passion of mine, and I feel there is room to allow other people to serve in senior roles in Israel," he said.
ANALYSIS: It may not be over for Israel's Barak
Opinion polls had predicted a poor showing for the small centrist Independence party that Barak currently leads, but recently indicated that voter support had strengthened as a result of Israel's eight-day offensive in the Gaza Strip that ended in a cease-fire on Wednesday.
Barak, 70, has been a key player in Israel's tough policy toward curbing Iran's nuclear ambitions and has been Prime Minister Benjamin Netanyahu's unofficial envoy to Washington in order to smooth over differences with the Obama White House. However, the two, who enjoyed a close working relationship for most of the past four years, have reportedly fallen out over whether to defer to the U.S. on any attack against Iranian nuclear facilities.
Americans tied to Israel caught in the chaos of Gaza conflict
He has been defense minister since 2007 and served as prime minister from the Labor party from 1999 to 2001.
Before getting involved in politics, Barak was an army commando who rose to the highest ranks of the military, becoming Israel's most decorated soldier. As prime minister, he initiated Israel's withdrawal from southern Lebanon in 2000. Then, two years after becoming prime minister, he lost an election to Ariel Sharon.
After his resignation, Barak says he plans to "study, to write, to live and have a good time."
The Associated Press and Reuters contributed to this report.
More world stories from NBC News: