The death toll in Italy's devastating earthquake rose to 291 Saturday as the country began a day of mourning and prepared for a mass state funeral for some of the victims.
Rescuers continued to search the rubble for survivors but it has been three days since anyone was found alive in the ruins of the worst-hit mountainous towns.
Hundreds of grieving families have also been left homeless by Wednesday morning's temblor, including 150 who spent the night at a gym in Amatrice that has been turned into a makeshift emergency shelter.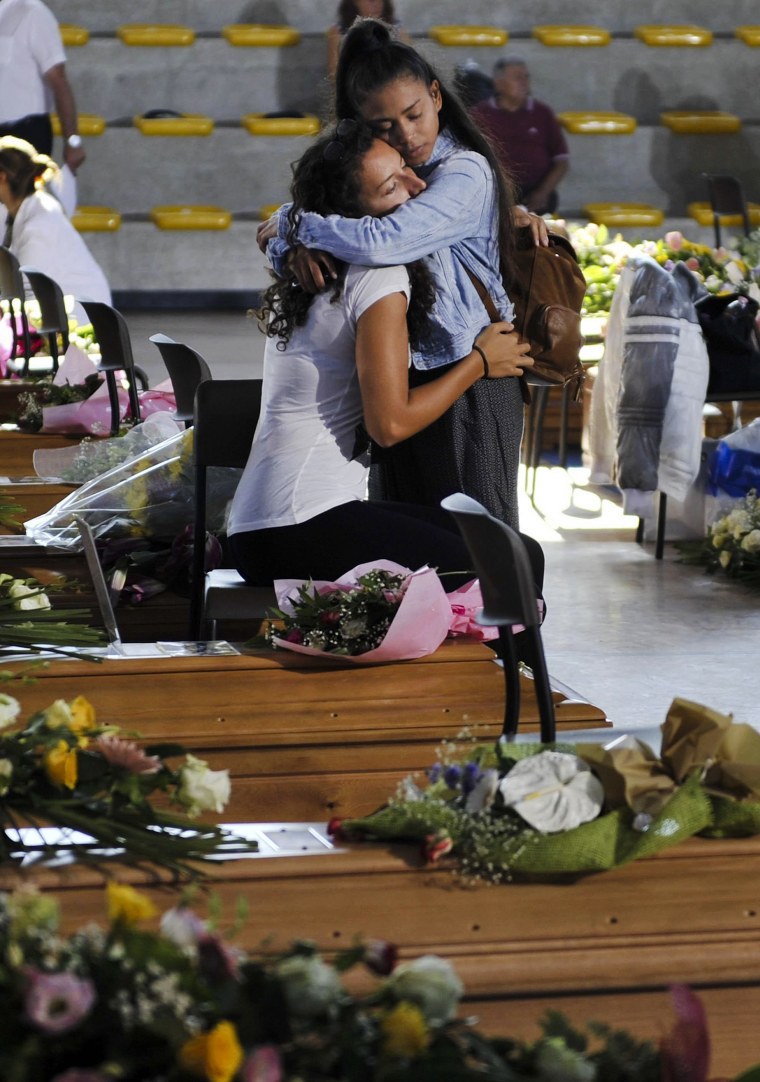 In an update Saturday, Italy's civil protection agency said its latest total of 291 victims included 230 in Amatrice, 11 in Accumoli and 50 in Arquata del Tronto after a man hospitalized there succumbed to his injuries.
Italian President Sergio Mattarella flew to Amatrice by helicopter Saturday to see the damage first hand before traveling on later in the morning to the nearby city of Ascoli Piceno for the funeral of 35 of the victims.
Photos: Italy Mourns Earthquake Victims in Mass Funeral
"Thank you for the work you are doing," he told Red Cross volunteers.
Premier Matteo Renzi also joined the grieving families.
Mourners gathered at a sports center in the town, where the 35 coffins were lined up by early Saturday.
"Even if I didn't know them my heart broke for them. My thoughts are with them because there are people who have lost everything, homes, loved ones and the sacrifices made in life," said local resident, Luciana Cavicchiuni.
"These things should not happen," she said.
Overnight, the area was rattled by yet more aftershocks. The strongest, at 4:50 a.m., had a magnitude of 4.2, according to the U.S. Geological Survey.
A memorial service will take place Wednesday evening in Amatrice, according to state news agency, ANSA.