Kim Jong Un and Vladimir Putin held hours of talks at a Russian spaceport Wednesday in a rare encounter that has fueled Western concerns the North Korean leader will provide military support for the Russian president's war in Ukraine.
The two leaders smiled and shook hands as they met at the Vostochny spaceport in Russia's far eastern Amur region, bringing together their increasingly isolated regimes engaged in intensifying confrontations with the U.S. and its allies.
It was a rare trip abroad for Kim, his first after three years of pandemic isolation and a sign of how the Kremlin's war has raised the importance of its few remaining friends.
Support for Russia's 'sacred fight'
The two men met at the entrance to a launch vehicle assembly building, where Putin said he was "happy to see" Kim and Kim thanked him for having invited him to visit Russia "despite being busy."
Putin also congratulated Kim on the 75th anniversary of his country's founding, which North Korea celebrated Saturday. The Soviet Union, Russia's predecessor state, was the first country to recognize North Korea when it was founded in 1948, and it supported North Korea in its 1950-53 war against South Korea.
Now it appears to be North Korea's turn to come to Russia's aid.
Kim offered Putin his country's "full and unconditional support" for what he called Russia's "sacred fight" to defend its security interests — an apparent reference to Putin's February 2022 invasion of Ukraine — and vowed that North Korea "will always be together with Russia in the fight against imperialism."
After they inspected the spaceport, they held talks between their delegations and then had a one-on-one meeting.
Before his meeting with Putin, Kim wrote in a guest book: "The glory of Russia, which gave birth to the first space explorers, will be immortal."
The two leaders dined on local specialties, including duck salad with figs and nectarine, crab dumplings, fish soup, sturgeon and Russian white and red wines.
Asked by reporters whether he and Kim would discuss arms sales, Putin said that they would address "all the questions" and that "there is time," the state news agency RIA Novosti reported. Putin also suggested that Russia could help North Korea develop satellites, noting that Kim was "showing great interest in rocket technology."
"They are trying to develop space, as well," he said.
Tours and technology
After the meeting, Putin said Kim had a "big program" ahead and would continue his tour of Russia, with visits planned to the far eastern cities of Komsomolsk-on-Amur and Vladivostok, where he will view plants where civilian and military equipment is produced, among other stops.
Komsomolsk is home to the factory that builds most of Russia's modern fighter jets.
Kim's private armored train arrived in Khasan, a Russian station just across North Korea's northeastern border, early Tuesday local time. He was greeted on a red carpet by Natural Resources Minister Alexander Kozlov and regional Gov. Oleg Kozhemyako, as well as an honor guard and a military band, the North Korean state news agency KCNA said.
Kim said his visit to Russia, which is his first since 2019, showed that his government is "prioritizing the strategic importance" of relations between the two countries.
During his tour of the spaceport, Kim appeared to ask detailed questions about the technology used there. In recent months, his government has tried and failed twice to launch what it says is a spy satellite.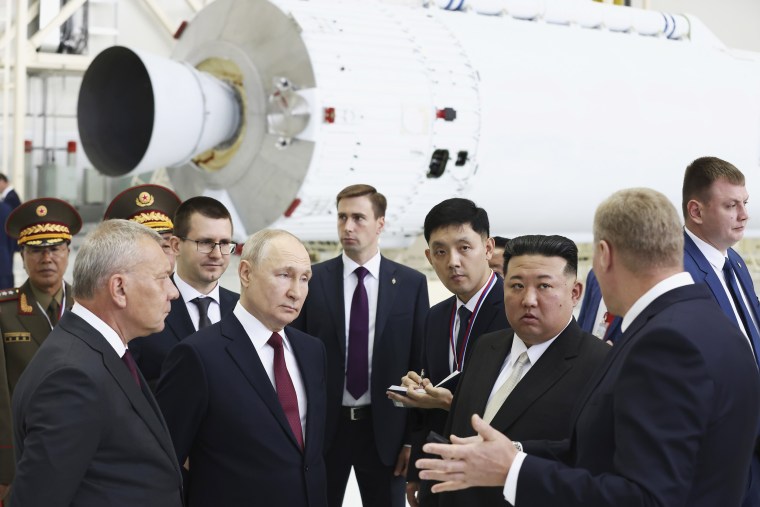 The two U.S. adversaries have been drawing closer as their leaders face deepening diplomatic isolation — Putin over his 18-month war in Ukraine and Kim over his continued development of nuclear weapons and ballistic missile programs in violation of international sanctions.
Experts say Russia needs artillery shells as it tries to rebuff a Ukrainian counteroffensive, while North Korea is seeking energy and food aid, as well as Russian assistance in advancing its weapons programs.
The White House has repeatedly warned North Korea against making any arms deal with Russia, which would violate multiple United Nations Security Council resolutions that Russia has supported in the past. Both countries have denied past U.S. accusations that Pyongyang was supplying arms to Moscow.
Kremlin spokesman Dmitry Peskov said that while Russia maintained its position in the U.N. and on the Security Council, "this cannot, should not and will not be an obstacle to the further development of Russian-North Korean relations."
Much of what was agreed at the Kim-Putin meeting was probably decided in advance, said John Park, director of the Korea Project at the Harvard Kennedy School's Belfer Center for Science and International Affairs.
"The Russians and the North Koreans don't meet like this unless deals are already concluded," he said.
Russia's far east is sparsely populated and largely undeveloped, and the Vostochny spaceport, a pet project of Putin's that he has visited multiple times, is one of the few places in the region that would be suitable for a high-profile meeting between the Russian and North Korean heads of state.
The extremely remote, high-security facility is a four- to six-hour drive from the closest population center, Blagoveshchensk, with little infrastructure along the way.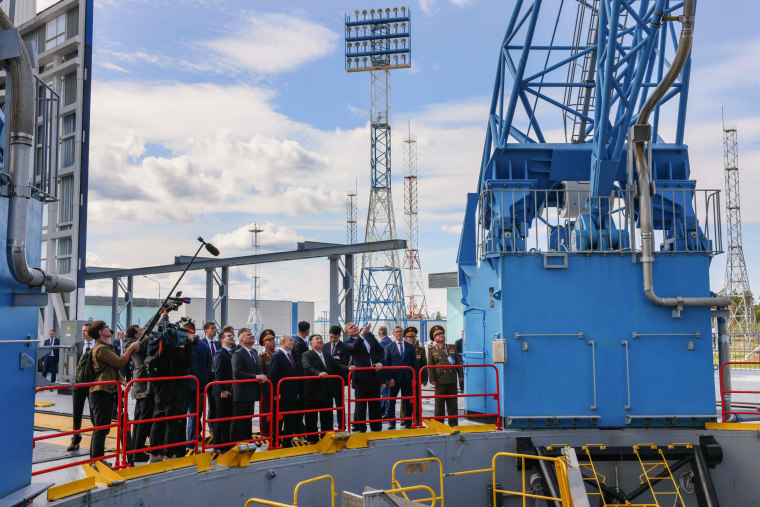 The paved approaches are long and open from all directions, punctuated only by monuments to Russian space exploration and multiple layers of internal checkpoints. Inside, there are facilities designed to accommodate large foreign delegations.
The military focus of Kim's trip was indicated by the makeup of his entourage.
Photos published by North Korean state media showed Kim was accompanied by Foreign Minister Choe Son Hui and senior military officials Ri Pyong Chol and Pak Jong Chon, as well as Jo Chun Ryong, an official in charge of munitions. Kim's influential sister, Kim Yo Jong, was also with him.
The Kremlin said Tuesday that Russian Defense Minister Sergei Shoigu, who visited North Korea in July, would also join the Putin-Kim talks. During his North Korea trip, the first by a Russian defense minister since the Soviet Union collapsed in 1991, Shoigu appeared with Kim at a massive military parade in Pyongyang that included intercontinental ballistic missiles believed to have the range to strike anywhere in the U.S.
Putin and Kim met as North Korea continued its recent barrage of weapons tests earlier Wednesday, when it fired two short-range ballistic missiles from its east coast toward the sea, South Korea's Joint Chiefs of Staff said. Officials said it was the first time North Korea had launched a missile while Kim was abroad.
One of Kim's long-held ambitions is to be treated like a full citizen on the international stage, "so meeting with Putin in this really official, ceremonial way is a step forward for Kim Jong Un in that goal," said David Silbey, a military historian at Cornell University.
"He's likely to get aid, but it's really that recognition that he craves," he added.
Putin, meanwhile, is looking for as many munitions as North Korea can provide. The country is believed to have a large stockpile of artillery shells, many of them based on Soviet designs, though their quality is unclear.
It is also unclear whether Russia would actually provide North Korea with advanced weapons technology in exchange for relatively crude munitions.
"It depends on how desperate Putin is for shells," Silbey said. "I don't think he's going to give them anything that would allow them a substantial leap in what they're doing."