The earthquake that devastated much of Morocco has killed almost 3,000 people and destroyed thousands of homes, leaving many sleeping on the streets for a fourth night.
A huge rescue operation was underway, with teams from Spain, Britain and Qatar assisting the Moroccan military — but hope is fading of finding survivors.
Most of the dead were in the mountainous Al Haouz region in the High Atlas Mountains, near the earthquake's epicenter. Many of those killed were "buried" by falling debris, the government said.
This liveblog has now ended. Follow the latest updates here.
Latest on the Morocco earthquake
More than 2,862 people are dead and more than 2,500 are injured after Friday night's magnitude-6.8 earthquake in the High Atlas Mountains southwest of Marrakech, Morocco.
A desperate search for survivors continues as armed forces and international aid teams fight through rubble and devastation to reach remote mountain areas.
The United Nations estimates 300,000 people across the region have been affected — many slept outside for a third straight night.
No Americans have been reported killed, and the State Department described the number of injured U.S. citizens as "small."
NBC News crews are on the ground and reporting from Morocco.
How to help the victims of the Morocco earthquake
The powerful earthquake that struck Morocco late Friday, killing and injuring thousands, caused widespread damage in the popular tourist city of Marrakech and surrounding villages.
The United Nations estimates 300,000 people in the region were affected, with many sleeping outside amid concerns over aftershocks. Now, international aid groups are raising money to help those in need as the desperate search continues for survivors of Morocco's deadliest earthquake in more than six decades.
Map: Where the earthquake was the most intense
Video from rooftop restaurant captures moment quake hits
BBC's 'Race Across the World' postponed; first episode took place in Marrakech
The first episode of the British television show "Race Across the World" has been postponed after the earthquake, the BBC said.
"We of course started off our journey in Marrakesh — it's a beautiful city and we were so warmly welcomed by everyone during filming," it said a statement on X, formerly Twitter. "Our hearts go out to the people of the country, and our thoughts are with them."
It wasn't clear whether or when the show will air.
"Race Across the World" is a competition show that airs on the BBC. This year's show was meant to feature celebrities and their family members as they traveled from Marrakech to Tromsø, Norway, a journey that spanned 24 countries and more than 10,000 kilometers, according to the BBC.
'We are looking for people still,' rescuer says
Service d'Aide Medicale Urgente, or SAMU, first response teams are in Morocco today looking through rubble to find any survivors.
International operations director Borja González told NBC's "TODAY" show that he was in the middle of the epicenter of the earthquake assisting in the search-and-rescue effort.
"We are looking for people still with the rescue dogs," González said. "It's hard, because the construction, you can see, is very basic. It's full of mud and earth, and it's not easy to find a pocket of space for the survivors to be in."
There has been little equipment to assist the SAMU members, he noted. "Neighbors, volunteers and ourselves are moving all the earth and the rocks and everything to try to look for the people," he said. "There's no machinery here. It's very remote in the mountains. It's not easy for machines to arrive here."
Asked whether he's hopeful survivors will be found in the rubble days after the earthquake, González said, "There's always hope."
Death toll rises to more than 2,680
The death toll has risen to more than 2,680, with more than 2,500 people injured, officials said.
The Moroccan Interior Ministry said today that at least 2,681 people were confirmed dead, while at least 2,501 people were injured.
It said rescue efforts were still underway as responders continue to care for the injured.
U.K. firefighters arrive in Morocco to assist with rescue effort
Firefighters from the United Kingdom have arrived in Morocco to assist with the rescue effort.
Firefighters from services across the country, including the London Fire Brigade and the West Midlands Fire Service, volunteered with the U.K. International Search and Rescue Team to travel to Morocco and offer support.
"They've established a base in Amizmiz," David O'Neill, the search-and-rescue coordinator, said in a statement shared by the London Fire Brigade. "They're undertaking needs assessments in remote villages — they'll be prioritizing those in need of rescue, medical aid, water, food & shelter."
Areas where help is needed are also the 'most difficult to reach,' Doctors Without Borders says
Teams from Doctors Without Borders, also known as Médecins Sans Frontières, are in Morocco to help assess the needs of those affected and support local authorities.
"We expect most of the uncovered needs to be in the mountainous areas in the High Atlas," the group said on X, formerly known as Twitter. "These areas are also the most difficult to reach as roads have also been affected by the earthquake."
Doctors Without Borders personnel arrived in the country Saturday and have been in the assessment phase, the group said in a separate statement.
"We are extremely saddened by the tragic news of the earthquake that hit Morocco and the high number of victims already reported," it said.
Blinken offers condolences in call with Morocco's foreign minister
Secretary of State Antony Blinken spoke by phone with Moroccan Foreign Minister Nasser Bourita yesterday.
Blinken "expressed his deep sadness and extended his condolences" to Bourita, State Department spokesman Matthew Miller said.
"The Secretary and Foreign Minister Bourita discussed how the United States can best support the Government of Morocco's leadership of the humanitarian response to this tragedy," Miller said in a statement. "The Secretary and Foreign Minister pledged to stay in close contact as response efforts continue."
Least affluent areas hit hard
The devastation of this earthquake — as with so many disasters — is not distributed evenly, and it's often the poorest who are hit the hardest.
In the village of Moulay Brahim, about 30 miles east of the epicenter, many homes are unscathed, but it appears to be the least affluent areas where houses have collapsed completely.
Another factor appears to be the age of the buildings, with older buildings collapsing more than modern ones.
In the village market, the roof of a 150-year-old mosque had fallen in. A crumbling tower now marks all that's left of what was once a shrine to a revered local sheikh.
Rescue efforts continue in the High Atlas Mountains
Civil defense responders carried away an injured survivor of the earthquake in the village of Moulay Brahim in the High Atlas Mountains of central Morocco today.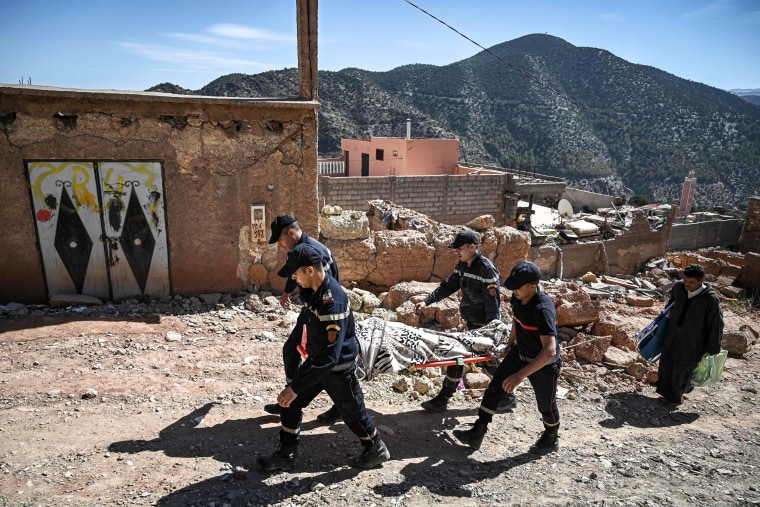 Distraught man who lost his family says 'authorities are not coming'
A man who lost his family in the earthquake said Morocco's authorities were not coming to his aid.
"My children. My children. They are all gone. Country authorities are not coming. What do they think, that we are not from Morocco?" he said on the French-language news channel Le7tv.
NBC News spoke to the man, named Lahcen Ait Abdallah, outside his ruined home yesterday. He lost his wife, three daughters and 3-year-old son in the disaster.
"I want to just know if my children and my wife are still alive, if someone can search, look inside if my wife and my children are still alive," he said before he discovered his loved ones had died.
Photos show the extent of destruction in the remote village of Moulay Brahim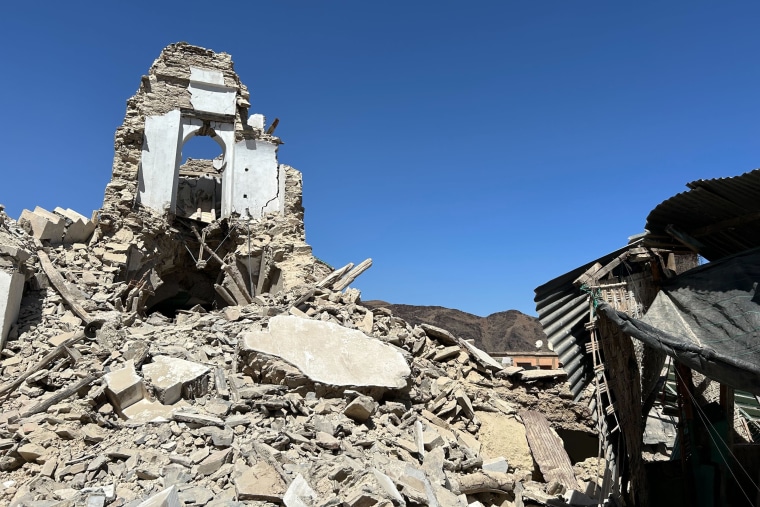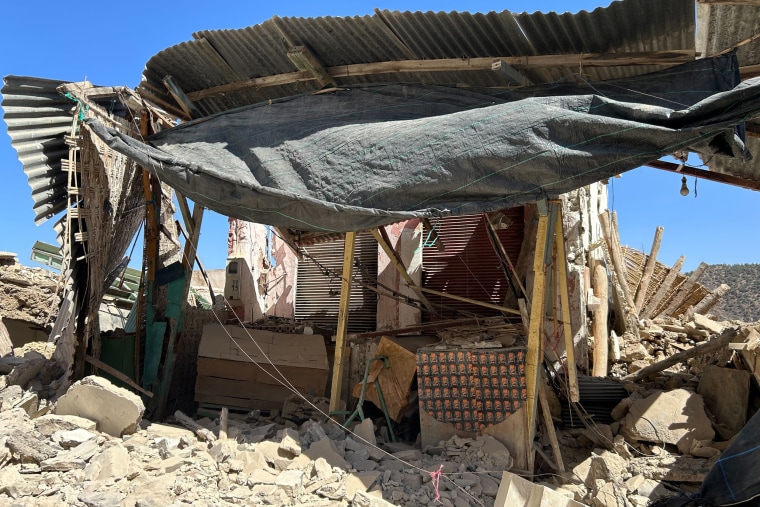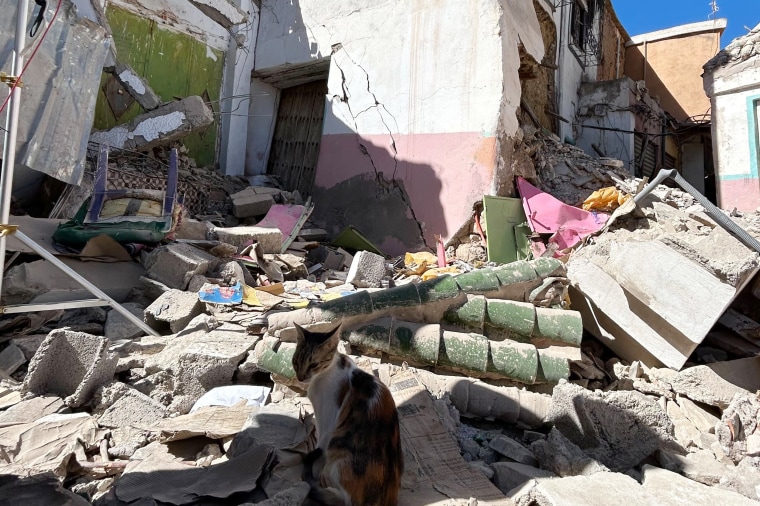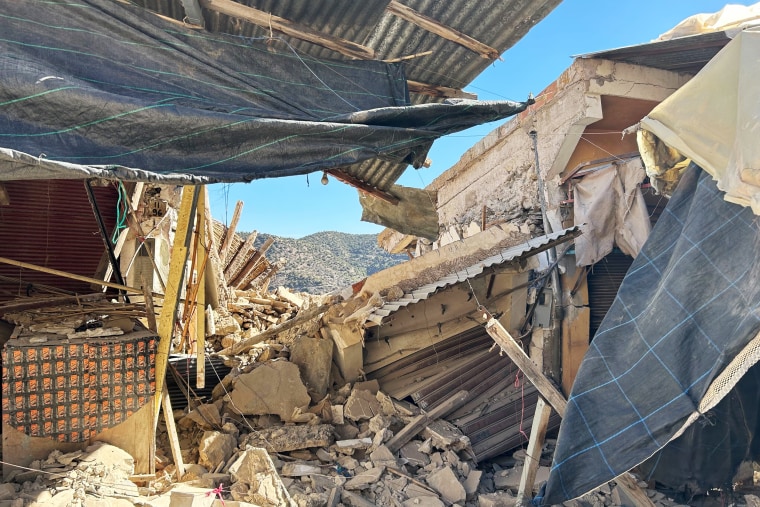 A mosque and a marketplace have been left in ruins in the mountainous settlement of Moulay Brahim.
Earthquake death toll reaches almost 2,500, with almost as many injured
The number of people killed in the earthquake has reached almost 2,500, Morocco's military said.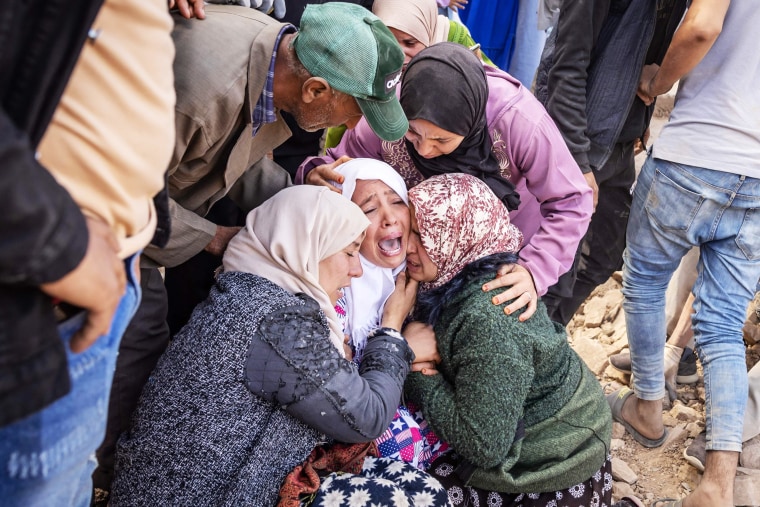 The Royal Moroccan Armed Forces said in a statement on X, formerly known as Twitter, that 2,497 people had died as of 10 a.m. (5 a.m. ET) today, with 2,476 injured.
A government statement said 1,452 of those killed were in the mountainous province of Al Haouz, the earthquake's epicenter.
Survivors grieve loved ones killed in remote communities
MOULAY BRAHIM, Morocco — The desperate search for survivors is in a critical phase, bringing moments of breathless joy as some are pulled to safety but others of heartache when the rescuers arrive too late.
In the remote town of Moulay Brahim, usually an hour's drive from Marrakech, locals say 40 people were killed, 1% of the entire community. One man lost his wife, three daughters and his son, who was 3.
"I'm all alone now. I had a home and a family. Now I have nothing," Lahcen Ait Abdallah, 44, said through tears of despair. "We were always together, but now I feel like I am homeless."
New images reveal scale of devastation in the High Atlas Mountains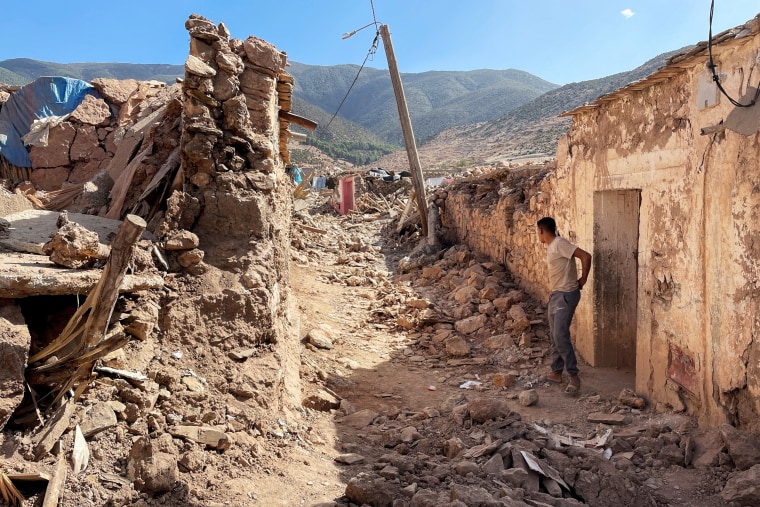 U.K. sends 60 specialist rescuers and search dogs to Morocco
The United Kingdom sent an experienced team of 60 rescuers, complete with specialist gear and four dogs, to assist the Moroccan military in the desperate search for survivors today.
Simon Martin, the British ambassador to Morocco, posted a video on X, formerly known as Twitter, showing him standing in front of a Royal Air Force plane on a runway in Marrakech.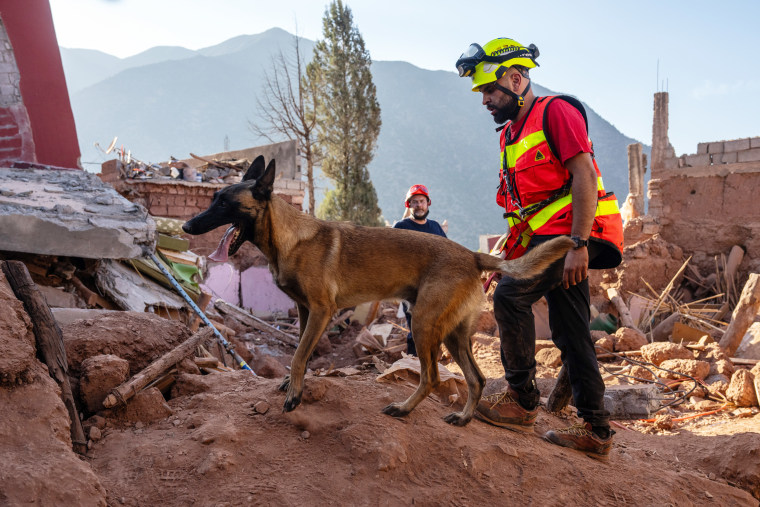 "It's with such terrible sadness that I've witnessed the devastation of this region has suffered as a result of this earthquake. My condolences go out to everyone who lost someone in this disaster and indeed to all the Moroccan people," he said.
Morocco has also accepted aid from Spain, the United Arab Emirates and Qatar.
Hope is fading in Talat Nyakoub amid 'overpowering' smell of dead bodies
There is hope that loved ones didn't die when the quake hit the Atlas Mountains here in Morocco, but the smell of dead bodies is at times overpowering, and the grim faces of rescue workers speak volumes.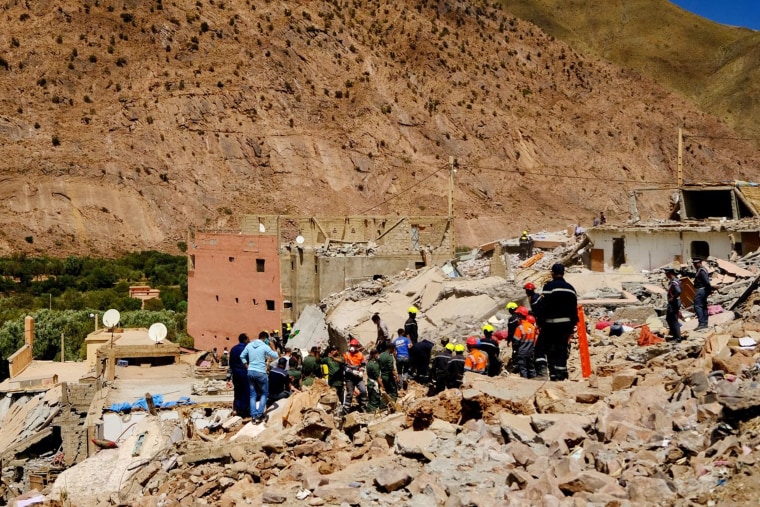 Dozens, sometimes hundreds, of people gather at a newly formed road created when the street below disintegrated.
Beneath them, groups of rescue workers operating in teams of six to 12 dig their way through the rubble.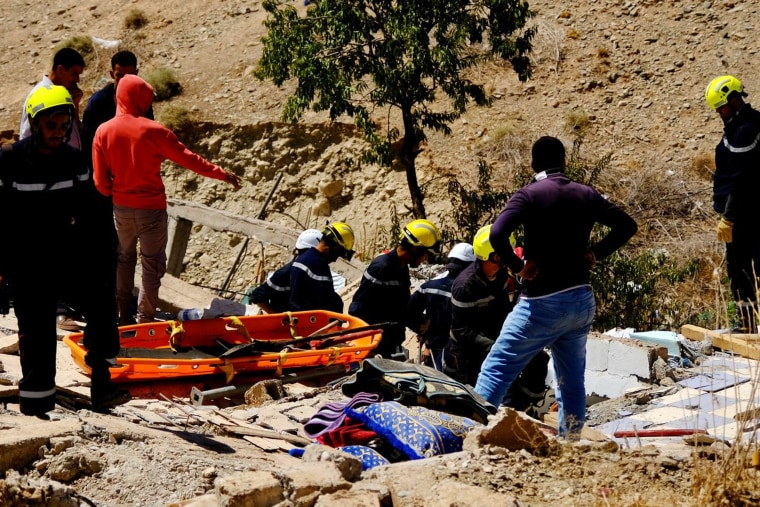 There is little chatter; the sounds of drills and pickaxes fill the air. The occasional sound of somebody wailing punctuates the near silence, a sad indicator that another body has been found.
This is a desperate race to save lives, but as each hour passes here, hope fades.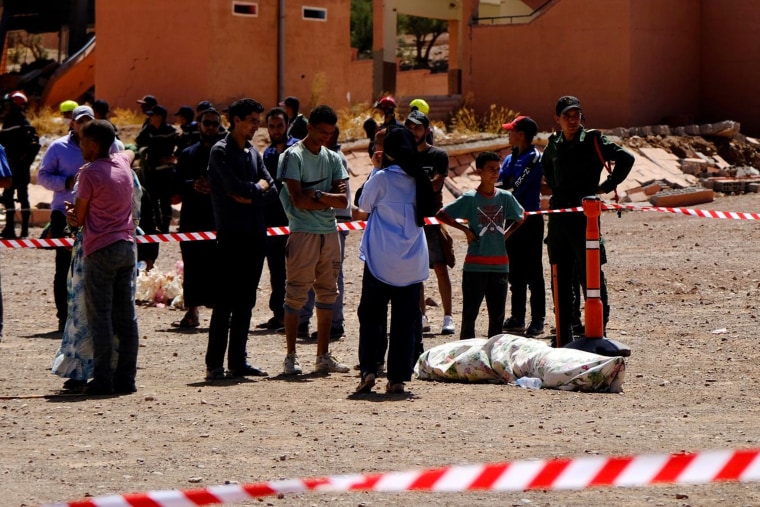 Rescue workers say finding survivors is difficult, not only because of the heat, but also because of the time that has passed since the earthquake struck — and the severity of the impact.
Stuart Ramsay is the chief correspondent for Sky News. Read the full story here.
Moroccan armed forces send aid to stranded mountainous communities
A huge army transport helicopter was loaded with aid bound for mountainous villages that have been cut off by the earthquake, according to pictures the Royal Moroccan Armed Forces released today on the social network X.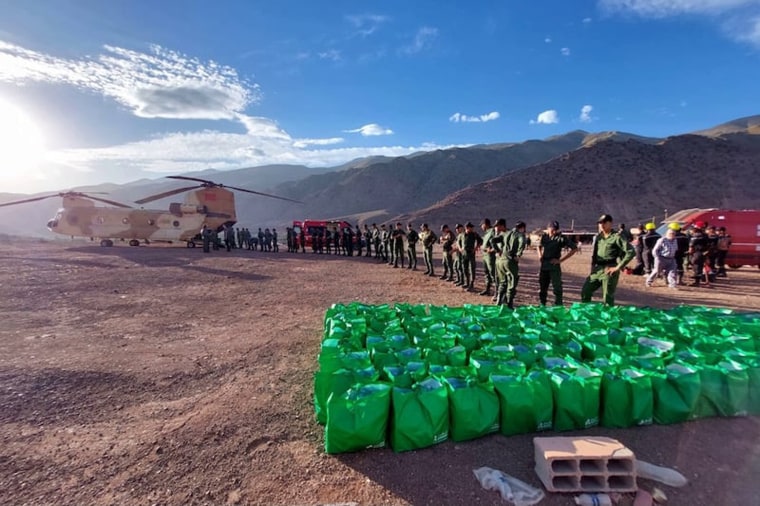 The army said it was taking "emergency humanitarian aid" to people living near the epicenter, in the High Atlas Mountains, which have been cut off because of repeated landslides.
Boulders block aid to hard-hit areas as rescuers dig by hand
MOULAY BRAHIM, Morocco — The roads to get to this remote village are narrow, winding and treacherous — in some places blocked by boulders and rubble.
Throughout this village, you can see homes that are either destroyed or partly collapsed. This village was home to 3,000 people, but residents tell us 40 were killed Friday night, part of the huge national toll.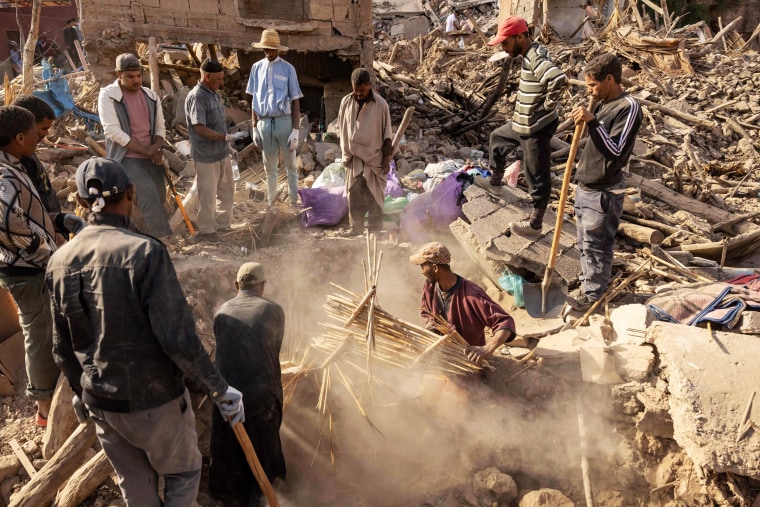 The rescue effort is extremely complicated, with the devastation spread throughout remote villages like Moulay Ibrahim rather than concentrated in one area. Yet residents are leading the effort, digging by hand in a desperate search for survivors.
Satellite imagery reveals earthquake damage in Morocco
An image Maxar Technologies released yesterday shows collapsed building in the town of Amizmiz in the High Atlas Mountains of central Morocco.