This live blog is now closed. For the latest updates please click here.
Russia could begin the next phase of its military campaign in Ukraine as soon as this weekend or early next week, according to two senior U.S. defense officials, and Ukraine is rapidly running through artillery rounds.
The officials, whose briefing was given under the condition of anonymity, said that the U.S. is working to convince allies to send more artillery and ammunition to Ukraine so it doesn't run out when the offensive ramps up. A U.S. assessment said this could happen in the coming days, they added.  
It followed explosions that rocked the outskirts of Ukraine's capital, Kyiv, early Saturday. One person was killed and several people were injured in the strike on the Darnytskyi district, Kyiv Mayor Vitali Klitschko told Ukrainian television. NBC News has not been able to verify this claim.
In Kharkiv, Mayor Ihor Terekhov said three people were killed and 34 wounded by missile strikes Saturday. Four members of World Central Kitchen were injured in one of the attacks, the organization said.
Elsewhere, Maksym Kosytskiy, the governor of the Lviv region, said in an online statement that an air raid had been launched on the city. There were no reported casualties.
The attacks came after Russia's defense ministry vowed to increase missile strikes after the Moskva, its flagship in the Black Sea, sunk Thursday.
The Russian military could begin moving some of its forces back into Ukraine as soon as this weekend or early next week, according to two senior U.S. defense officials.
One person was killed by a Russian strike on the Darnytskyi district on the outskirts of Kyiv, Mayor Vitali Klitschko told Ukrainian television.
Attack came after Russia's Defense Ministry promised to step up missile attacks on Kyiv in response to Ukraine's reputed assaults on Russian territory.
Full coverage of Russia's war in Ukraine.
Four staffers at Chef José Andrés' World Central Kitchen injured in attack
Four staffers at a World Central Kitchen operation in the Ukrainian city of Kharkiv were injured in a Russian attack on a partner restaurant, the not-for-profit organization's CEO said Saturday.
In a video posted to social media sites, WCK chief Nate Mook said the four were expected to be "OK," and that he was going to visit them at a hospital later in the day. At least one person unaffiliated with the kitchen was killed in the strike, he said.
Speaking with mangled structures in the background, Mook said a Russian missile struck the kitchen area of a local restaurant WCK was using as part of a partnership.
The organization has been preparing an estimated 250,000 meals a day for Ukrainians in liberated areas and at border crossings. The effort is part of celebrity chef and WCK founder José Andrés' ongoing mission to bring food to areas of the world struck by tragedy, disaster and war.
According to The Associated Press, Kharkiv Mayor Ihor Terekhov said three people were killed and 34 wounded by missile strikes in his city Saturday. NBC News has not independently confirmed the WCK missile strike.
Mook described the injured workers in heroic terms, saying, "Coming to work, cooking, for people that are hungry, is an immense act of bravery."
Zelenskyy says Russia reneged on evacuation: 'They don't care if it's Easter or not'
As residents seek safer ground away from the besieged city of Mariupol, Ukrainian President Volodymyr Zelenskyy said Russia has continued to turn its back on a vow to help provide an evacuation route for the wounded, women and children.
"There are babies there," Zelenskyy told reporters during a discussion Saturday, and said the situation in the city was not improving.
"There is a humanitarian crisis. There is a lack of food, water, no medicine," he said.
Zelenskyy said Russia agreed in negotiations moderated by Turkish President Recep Tayyip Erdoğan to provide a safe corridor from Mariupol through Berdyansk.
"At some point, Russia refused," Zelenskyy said. "That is why I say that there is not much trust."
A cease-fire would require an evacuation corridor as a logical first step, the president said.
"It already depends on the desire of the Russian Federation," he said. "But they don't care if it's Easter or not." 
Dozens gather for Lviv street musician who sings Ukrainian ballad
LVIV, Ukraine — A crowd gathered on a street just outside this city's historic Rynok Square on Saturday night, just a few hours before curfew, as a young Ukrainian singer performed a popular Ukrainian ballad.
Young and middle-aged people here in the city danced and sang the song "Sleep Alone" on a street corner. The song, originally written and performed by the band Skriabin and its frontman Andriy Kuzmenko, is a deeply reflective one that has become an anthem for some here.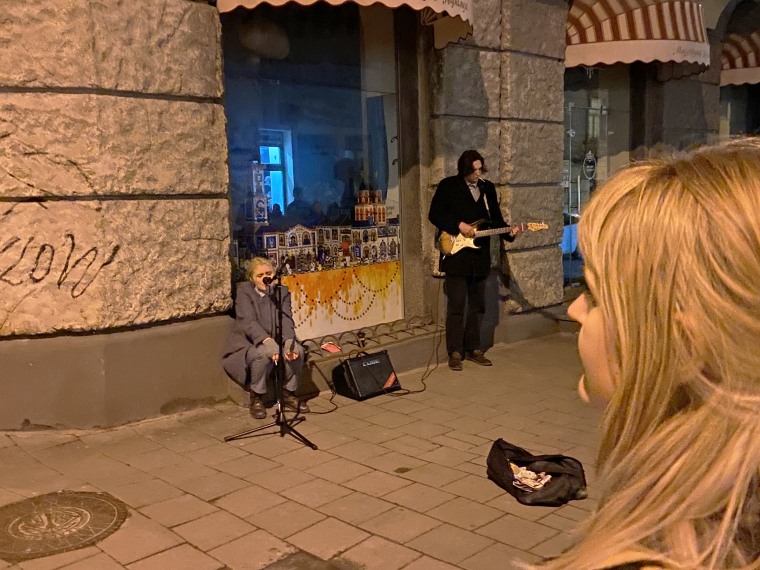 Kuzmenko was supportive of the Maidan Uprising, a series of demonstrations between 2013 and 2014 that challenged government corruption and opposed the government's decision to more closely tie itself to Russia and refuse to sign an agreement with the European Union.
In 2014, he helped wounded troops and supported the Ukrainian military's efforts in the eastern part of the country after Russia supported separatists in the Donbass and Crimea.
Though Kuzmenko tragically died the following year, his music has lived on and deeply affected those in downtown Lviv on Saturday night.
Another Russian general dies in war with Ukraine, officials say
LVIV, Ukraine — A leading Russian general was buried in St. Petersburg on Saturday, Russian officials said, adding to the number of Russian military leaders who have died in the Kremlin's war with Ukraine.
Deputy commander of Russia's 8th Army, Maj. Gen. Vladimir Frolov, was killed in combat in Ukraine. While it is unclear when exactly he died, Russian officials said he was participating in the fight in Ukraine's Donbass region close to Mariupol.
Radio Sputnik, a Russian media company, reported the general was buried in St. Petersburg in a ceremony attended by Alexander Beglov, the governor of the city, who praised Frolov's participation in the war.
Numerous military experts observing Russia's invasion of Ukraine have noted the large number of deaths among Russian officers and generals. Some have theorized it is due to the Russian military's hierarchy structure, which does not empower noncommissioned officers, such as sergeants and corporals, to make strategic decisions in the field.
That has forced generals and officers to the front, making them vulnerable to attack.
Putin speaks with Saudi Crown Prince Mohammad bin Salman, their second call since the start of invasion.
RIYADH — Russian President Vladimir Putin spoke with Saudi Crown Prince Mohammad bin Salman on Saturday, their second call since the start of Russia's invasion of Ukraine. The Saudi Press Agency said the two discussed bilateral relations and "ways of enhancing them in all fields."
The Saudi readout of the call said the crown prince affirmed support for efforts that would lead to a political solution to the crisis in Ukraine. The kingdom recently announced $10 million in humanitarian aid for Ukrainian refugees.
The Kremlin's statement added the two also discussed the ongoing conflict in Yemen, where a Saudi-led coalition has been at war for years, as well as their joint work on an oil output agreement, known as OPEC+. The oil pact has kept a cautious lid on production by major producers, supporting oil prices.
Ukraine has urged nations around the world to cut their dependency on Russian oil imports that it says finance Russia's military war on Ukraine.
Kyiv Mayor says one dead, several wounded in Saturday morning airstrikes
KYIV, Ukraine -- Kyiv Mayor Vitali Klitschko said that one person died and several more were wounded in the Saturday morning airstrikes on the Darnytski district of the capital, as Russian forces resumed scattered attacks on the capital in western Ukraine.
"Our air defense forces are doing everything they can to protect us, but the enemy is insidious and ruthless," Klitschko said on the Telegram messaging app.
The attacks, which the Russian Defense Ministry said targeted an armored vehicle plant in the Ukrainian capital, was an explosive reminder to Ukrainians and their Western supporters that the whole country remains under threat despite Russian forces pivot to the east, where a new offensive is feared.
Klitschko urged Ukrainians not to return to Kyiv just yet in televised remarks Saturday, warning that strikes on the capital are likely continue and its suburbs are rigged with explosives. "We're not ruling out further strikes on the capital," Klitschko said. "We can't prohibit, we can only recommend. If you have the opportunity to stay a little bit longer in the cities where it's safer, do it."
The mayor of Kyiv added that because of the mines, Kyiv residents are barred from visiting parks and forests in the northeastern areas that border with liberated territories formerly occupied by Russians.
Russian forces shell oil refinery in Lysychansk
KYIV, Ukraine — Russian forces shelled an oil refinery in the Ukrainian city of Lysychansk on Saturday, and a large fire erupted, a regional governor reported.
Luhansk regional governor Serhiy Haidai said it wasn't the first time the refinery was targeted and accused the Russians of trying to "exhaust" local emergency services. He underlined there was no fuel at the refinery at the time of the attack and "the remains of oil sludge" were burning.
Ukraine's presidential office reported Saturday that missile strikes and shelling over the past 24 hours occurred in eight regions: Donetsk, Luhansk and Kharkiv in the east, Dnipropetrovsk, Poltava and Kirovohrad in the central Ukraine and Mykolaiv and Kherson in the south. The strikes underlined that the whole country remained under threat despite Russia's pivot toward mounting a new offensive in the east.
In Kharkiv, nine civilians were killed and more than 50 were wounded on Friday, while in the wider region two were reported dead and three wounded, according to the report.
The southern Mykolaiv region was battered Friday and Saturday. According to the presidential office, airstrikes Friday killed five and wounded 15. The head of regional legislature, Hanna Zamazeyeva, said Saturday that 39 people have been wounded in the past 24 hours.
Zamazeyeva said the targets included several residential blocks "where there are no military facilities."
The besieged Ukrainian port city of Mariupol is still holding out, but the situation there is critical.
Almost 2,000 Ukrainians killed since invasion, U.N. says
The deaths of more than 1,900 civilians have been recorded since the start of Russia's invasion of Ukraine, according to the Office of the United Nations High Commissioner for Human Rights (OHCHR).
Of the 1,982 civilians killed between Feb. 24 and April 14, 162 were children the OHCHR said in a report published Friday. It added that 256 children were among the 2,651 civilians that had been injured.
"Most of the civilian casualties recorded were caused by the use of explosive weapons with a wide impact area, including shelling from heavy artillery and multiple launch rocket systems, and missile and air strikes," the report said.
Almost half of the civilian casualties reported in Ukraine's eastern regions of Donetsk and Luhansk, the report said.
It added that the real number of casualties was expected to be "considerably higher."
How the war with Ukraine could color Victory Day in Russia this year
Russia's annual Victory Day, celebrated on May 9, arrives this year with the shadow of war in Ukraine looming over it. 
The holiday commemorates Russia's World War II triumph with a patriotic display of raw military power: Troops parade through Moscow's Red Square alongside military hardware including intercontinental ballistic missile launchers. President Vladimir Putin has stood at the center of celebrations since 1999, either as president or prime minister, and has been joined by Soviet war veterans.   
But as this year's parade approaches, the military pomp and pageantry will contrast starkly with the hard-fought battles and setbacks the Russian military is reportedly experiencing in Ukraine — leaving some experts wondering how Putin will be able to present Russia's stalled invasion as a success on Victory Day. 
Read the full story here.
At least one killed and 18 injured by Russian rocket in Kharkiv, regional governor says
At least one person was killed and 18 people were injured when a Russian rocket hit the center of Kharkiv on Saturday, the regional governor said.
"The Russians continue to terrorize the civilian population of Kharkiv and the region," governor Oleh Syniehubov wrote on his official Telegram channel which was translated by NBC News.
"Unfortunately one person died on the spot," he said, adding that "18 people were injured and hospitalized."
U.K. PM Johnson and other British politicians barred from entering Russia
British Prime Minister Boris Johnson and 12 other British politicians including Chancellor Rishi Sunak, Foreign Minister Liz Truss and Defense Minister Ben Wallace were barred from entering Russia on Saturday.
Former Prime Minister Theresa May and Priti Patel, the U.K.'s interior minister were also prevented from traveling to the country, Russia's Foreign Ministry said in statement.
"This step was taken as a response to London's unbridled information and political campaign aimed at isolating Russia internationally, creating conditions for limiting our country and strangling the domestic economy," the statement said.
"In essence, the British leadership is deliberately aggravating the situation surrounding Ukraine, pumping the Kyiv regime with lethal weapons and coordinating similar efforts on the part of NATO," it added.
Britain has imposed a slew of sanctions on Russian politicians since the country invaded Ukraine in late February and has frozen the assets of several oligarchs which is said were close to President Vladimir Putin.
Russia may begin new offensive soon, U.S. officials say, as Ukraine runs through its stock of artillery shells
The next phase of the Russian military campaign in Ukraine could begin in the next few days, according to two senior U.S. defense officials, and Ukraine is rapidly running through artillery and artillery rounds.
The officials said a U.S. assessment is the Russian military could begin moving some of its forces back into Ukraine as soon as this weekend or early next week.
Russian troops retreated from around Kyiv and northern Ukraine about two weeks ago, moving north into Belarus and Russia.
At the time, U.S. officials assessed the Russians intended to re-group and then begin another invasion, focusing on the Donbas region and southeastern Ukraine. 
Read the full story here.
Ukraine has received $924 million in charitable donations since invasion
Ukraine has received a total of almost $924 million in charitable donations from private citizens and corporations across the world, the head of the country's presidential administration said in a statement Saturday.
Andriy Yermak said most of the money went into the accounts of the United Nations and internation humanitarian organizations before it was distributed to refugees in different countries.
He said that most of the money came from the U.K., the Netherlands, The Czech Republic and the United States.
The statement added that around 270,000 tons of humanitarian aid had also been sent to Ukraine since the Russian invasion began.
Hundreds of buildings damaged in Kyiv region since Russian invasion, governor says
Almost 2,000 buldings in the Ukrainian capital Kyiv and its surrounding areas have been destroyed or damaged since Russia launched its invasion, the regional governor said Saturday.
Citing preliminary data, Oleksandr Pavliuk said that 546 buildings including 441 private homes had been completely destroyed, in post on his Telegram channel that was translated by NBC News.
Eight educational institutions and four healthcare facilities had also been wiped out, he added.
Another 1,329 buildings were partially damaged, Pavliuk said.
Explosions rock outskirts of Kyiv
Explosions rocked a district on the outskirts of Ukraine's capital Kyiv early Saturday, the city's mayor said.
"In the morning Kyiv came under fire. The explosions took place in Darnytskyi district on the outskirts of the city," Vitali Klitschko said in a statement posted to his Telegram channel and translated by NBC News. Thick smoke could be seen rising above the area.
He added that residents who had left the city should refrain from returning home and "stay in safer places."
In a later interview on Ukrainian television, Klitschko said one person was killed and several people were injured in the strike. NBC News has not been able to verify this claim.
Biden genocide comment raised concern among some U.S. officials 
President Joe Biden's declaration this week that Russia is committing "genocide" in Ukraine raised concerns among some officials in his own government and has so far not been corroborated by information collected by U.S. intelligence agencies, according to senior administration officials.
At the State Department, which is tasked with making formal determinations of genocide and war crimes through an independent legal process, two officials said that Biden's seemingly offhand declaration during a domestic policy speech in Iowa on Tuesday made it harder for the agency to credibly do its job.
U.S. intelligence agencies collect information when allegations are made of actions that could amount to genocide, but policymakers are the ones who actually decide whether to declare it. Intelligence reports on Ukraine currently do not support a genocide designation, officials said.
Read the full story here.
Photographing the war in Ukraine
Devastated roads, infrastructure hampering humanitarian aid in Ukraine, U.K. says
Roads in Ukraine have been devastated by the war launched by Russia, which is causing a "significant challenge" in getting humanitarian aid to parts of the country, the United Kingdom defense ministry said Saturday.
Russian troops have made the damage worse "by destroying bridges, employing land mines and abandoning vehicles along key routes as they withdrew from northern Ukraine," the defense ministry said in its daily update.
At least 7.1 million people in Ukraine have been internally displaced, on top of the more than 4.5 million who have fled the country as refugees, the United Nations' humanitarian office said this week. The war has caused a humanitarian crisis, officials have said.