An Afghan military officer has written a moving open letter to the wife and seven children of a Utah mayor who was killed while serving in the country, describing him as "an inspiring man who loved you all."
Maj. Abdul Rahman Rahmani, a special mission pilot and U.S. Marine Corps University graduate, penned a tribute to Maj. Brent Taylor, a Utah National Guardsman fatally shot on Saturday.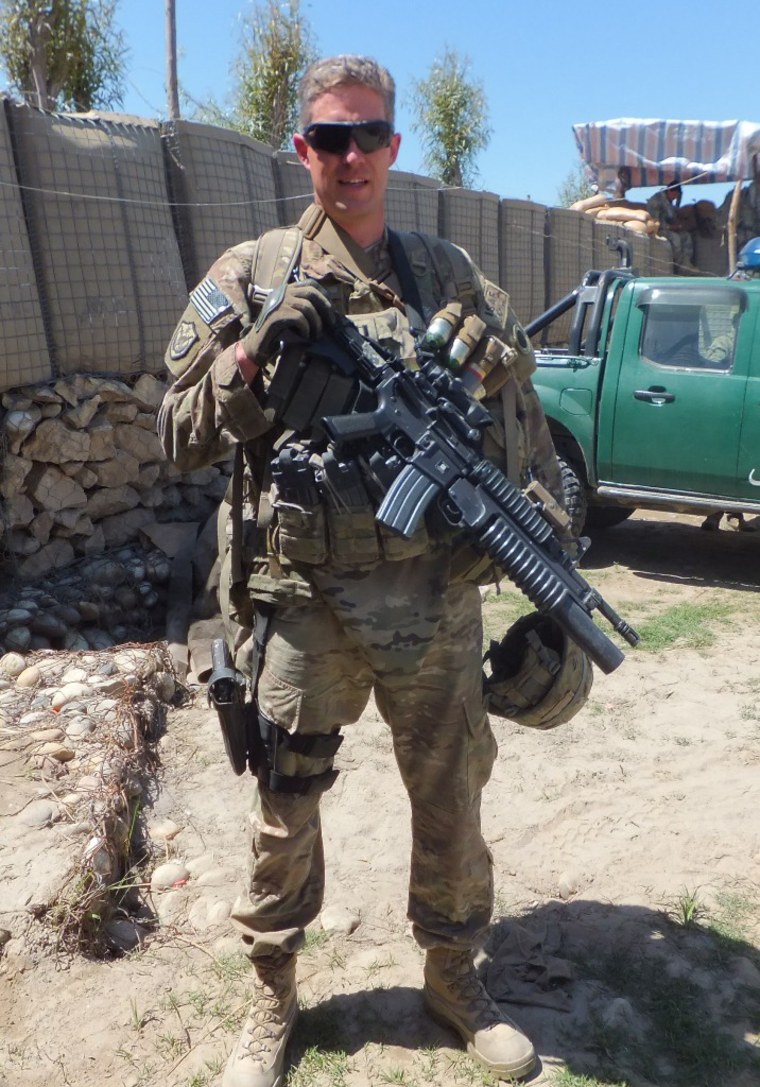 "I gained a great deal of knowledge from him and I am a better person for having met him," Rahmani wrote in a message posted on Twitter.
Taylor was killed in an apparent "insider attack" by a member of the Afghan National Defense and Security Forces he was helping to train in Kabul. The assailant was subsequently killed by other Afghan forces.
Taylor's body was flown back to the Dover Air Force Base in Delaware overnight.
The 39-year-old was also the mayor of North Ogden, Utah. He leaves behind his wife, Jennie, and seven children aged 11 months to 13 years.
"He died on our soil but he died for the success of freedom and democracy in both our countries," Rahmani wrote. "I want you all to know that Afghans feel extreme sorrow and pain over the loss of your husband and father … please don't think that the violent act that took his life is representative of us or our sentiments toward Americans."
After receiving her husband's body early Tuesday, Jennie Taylor urged Americans to vote, saying it "seems only fitting" he had "come home to U.S. soil in a flag-draped casket on our election day."
"It is a timeless and cherished honor to serve in our country's armed services," she said. "The price of freedom surely feels incredibly high to all of us who know and love our individual soldier. But the value of freedom is immeasurable to all who know and love America and all that she represents."
Rahmani, who learned to fly at Fort Rucker in Alabama and was trained by U.S. forces, said he had learned about American cultural values from Taylor.
"Here, a woman cannot express herself fully, either inside or outside the house. Here, most families treat children unfairly," Rahmani wrote. "Let me admit that, before I met Brent, even I did not think that women and men should be treated equally. Your husband taught me to love my wife Hamida as an equal and treat my children as treasured gifts, to be a better father, to be a better husband and to be a better man."
"I flew missions with him," the pilot added. "He was an inspiring man who loved you all."
The tribute was shared widely on social media, including by Utah Senator Orrin Hatch and Col. Dave Butler, a U.S. military spokesman in Afghanistan.
Rahmani, who graduated in May from the USMC Expeditionary Warfare School in Virginia, is also author of a collection of stories from Afghanistan.
Days before he died, Taylor posted a message on Facebook describing recent elections in Afghanistan "beautiful to see" and called on Americans to vote in Tuesday's midterms.
"I hope everyone back home exercises their precious right to vote," he added. "And that whether the Republicans or the Democrats win, that we all remember that we have far more as Americans that unites us than divides us."