SINGAPORE — President Donald Trump and North Korean leader Kim Jong Un arrived in Singapore on Sunday ahead of their unprecedented nuclear summit, which will kick off with a one-on-one meeting between the two leaders, two senior White House officials said.
Air Force One touched down early Sunday morning amid huge security precautions on this city-state island. The president was greeted on the ground by Singapore's Foreign Minister Vivian Balakrishnan and the U.S. Embassy's chargé d'affaires, Stephanie Syptak-Ramnath.
Kim arrived hours earlier to meet with Singapore Prime Minister Lee Hsien Loong. Trump is also due to meet with Lee.
After shaking hands with Singapore's foreign minister, the North Korean leader sped through the city's streets in a massive limousine, two large North Korean flags fluttering on the hood, surrounded by other black vehicles with tinted windows and bound for the luxurious and closely guarded St. Regis Hotel.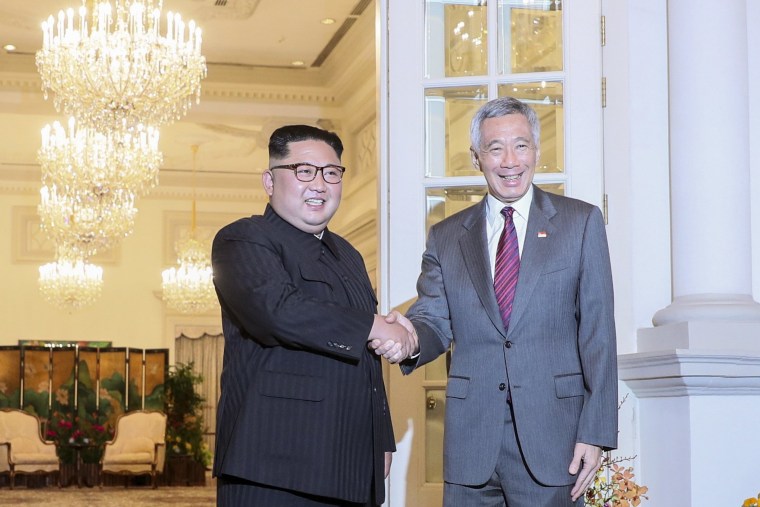 Kim smiled broadly as he met with Lee.
"The entire world is watching the historic summit between (North Korea) and the United States of America, and thanks to your sincere efforts ... we were able to complete the preparations for the historic summit," Kim told Lee through an interpreter.
Trump sat down with Lee and their respective delegations for lunch on Monday. "We've got a very interesting meeting in particular tomorrow," Trump said. "I think things could work out very nicely."
Secretary of State Mike Pompeo said U.S. Ambassador to the Philippines Sung Kim, who helped arrange the summit, had "substantive and detailed" meetings with North Korean officials on Monday.
Among the North Korean delegation was Vice Foreign Minister Choe Son Hui, who called comments by Vice President Mike Pence comparing North Korea to Libya "ignorant" and "stupid." The comments, in part, prompted Trump to cancel the summit before finally committing to it.
The high-stake talks will be scrutinized by around 3,000 journalists on the ground in Singapore.
The U.S. delegation includes Pompeo, National Security Adviser John Bolton, White House Chief of Staff John Kelly and White House Press Secretary Sarah Sanders.
Trump said Saturday that the summit represents a "one-time shot" for Kim to show he's serious about nuclear disarmament.
"I feel that Kim Jong Un wants to do something great for his people and he has that opportunity," Trump said at a press conference just before he departed a G-7 summit in Charlevoix, Canada, for his historic Tuesday rendezvous with Kim.
"He won't have that opportunity again."
Pope Francis prayed on Sunday that the summit will be successful in laying the groundwork for peace on the Korean peninsular. The Pontiff invited the thousands of faithful in St. Peter's Square to pray with him so that the Virgin Mary "accompany these talks."
Trump departed one summit for the other, leaving chaos in his wake. The president announced Saturday that he was pulling the U.S. out of the Group of Seven's official statement of common values and accusing Canadian Prime Minister Justin Trudeau, the host of the conference, of "false statements."
But with the G-7 in his rearview mirror, Trump seemed ready to focus on North Korea. At a minimum, he said, he wants to begin a relationship and, he predicted, it won't take him long to figure out whether Kim is genuinely interested in a making a deal that includes denuclearization.
"I think within the first minute, I'll know — just my touch, my feel," he said.
This is the furthest Kim has traveled since he became leader in 2011, meaning North Korean officials have little to no experience of preparing for diplomatic trips to other nations where they may be vulnerable to hacking, surveillance or even attack.
Despite Singapore's strict laws and ubiquitous surveillance, the North Korean delegation are not taking any chances when it comes to security.
Refrigerator trucks were also at the ready, reportedly to transport food flown over from North Korea for its delegation. Chae Kyou-chir, chief executive of Top Guard, a prominent South Korean security and protection firm said the North Korean leader is likely to be served food prepared by a traveling chef.
Kim is due to stay at the St. Regis hotel as neither the North Korean embassy, nor the ambassador's residence, were reportedly suitable to accommodate the North's leader. An advance team of officials have reportedly been at the hotel since Saturday.
Experts said that the security measures will likely surpass those seen in April for the inter-Korean summit, where 12 lanky male bodyguards jogged alongside Kim's Mercedes-Benz vehicle whenever the North Korean leader moved across the border.
Bill Neely reported from Singapore, and Saphora Smith from London.